I started this page about local travel quite a while ago, before COVID-19 was a thing, never knowing that all travel, even local would come to a halt. Now, with short adventures to get some fresh air at a safe distance have become a mainstay, I was inspired by an outing yesterday to get back to work on this. Hopefully, the open road / skies will soon be open for adventuring again in the not to distant future but in the meantime, you can look for the lovely places in your own State, New Jersey or otherwise. Keep in mind a lot of this was written pre-pandemic, so please check on availability of restaurants, museums and other attractions at this time and stay safe.
Originally my thought was to share places within a day drive of our home base in South Jersey. Some of these might not reach Road Trip status for Steve and I, but if you are coming from another area and looking for interesting places or healthy eating in the area ranging from Philadelphia, Northern Delaware, New Jersey or New York City, this could be a place to include and update them.
Places of Interest:
Having grown up in South Jersey, Philadelphia was taken for granted but is full of things to see and do and more recently lots of great healthy dining options (see below). You can find lots of Philly tourist information on line but a few of my favorites not to miss are listed here.
Philly has great Arts. After the Pandemic there will be once again an abundance of live theater, music, dance and more. You can always find out what is going on, even now at PhillyFunGuide and sign up for discounts.
Places to Eat in Philly – these are numerous but these are some favorites
PS & Company – Amazing! Totally vegan, gluten free, organic and kosher. The food is all good, the baked goods and desserts stupendous! A little pricey, but you are paying for quality. Currently they are doing mostly catering, but check their web site.
Bar Bon Bon – Another vegan joint. The menu is a little limited, but everything we've tried has been good. Perfect for brunch.
El Fez – I'll admit we've only gotten here twice, but it was great Mexican, though being trendy a bit noisy and crowded.
Sazon – It's a little off the downtown beaten path, but always good Venezuelan food with plenty of gluten free and dairy free options, for dinner or brunch. They also have their own chocolatier. He makes amazing treats and drinking chocolates and loves to talk about his passion if you have an interest.
Reading Terminal Market (see above)
There are other places where Pennsylvania and New Jersey intersect and the higher up the Delaware you travel North the more lovely spots you will find, up to and including the Delaware Water Gap area. New Hope, Lambertville and Lahaska are adjacent towns have lots of good strolling, shopping and eating. New Hope on the Pennsylvania side of the Delaware River, has lots of art galleries and artsy stores, jewelry, handmade crafts, funky clothing and more. There are a variety of restaurants and dessert places. Just over the bridge on the New Jersey side, yes you can walk or drive, is the smaller but also lovely Lambertville. Lahaska, a few miles north of New Hope, is know for Peddler's Village with it's shops, eateries and year round special events. Great for gift shopping or just a stroll. The puzzle and game store is great if you love to play at any age. If you are visiting any of these towns you can make it a day or a weekend by visiting Washington Crossing State Park, walk along the canals in New Hope or other spots, visit the other small towns, wineries, waterfalls and more. Tubing on the Delaware is a great summer activity, starting up above these towns along the River. Bed and Breakfasts abound in these areas, as well as a limited number of traditional motels/hotels. One of our favorite eating spots is Havana, where you can sit outside and people watch. Heard good things about this newer vegan restaurant but haven't checked it out yet, Sprig & Vine. If you want more choices Princeton is a hopping college town with all kinds of dining choices.
Day Trips or shorter around New Jersey
Grounds for Sculpture – Like no other place we have visited (yet), sculptures of all types are placed over this large property. Some sections are themed, others more random but all impressive. There are indoor exhibits as well and different programs available. You can spend a lot of time or come back for different experiences. This was one of the passes we were able to borrow from the library, so it was free as well.
Cape May – This is the trip that put me back on track writing this entry. If you are a beach person, Cape May is great in the Summer, if you aren't looking for a boardwalk and amusement rides (though if you like those, Wildwood is only a short ride). If like me, you are not a beach person until there is a chill in the air, Cape May is great every other time of year. There is a lovely downtown with cute shops. They do a big Christmas gift business, with lots of special events, at least in ordinary years. There are all kinds of restaurants, of course I'll share my healthy choices shortly. There are wonderful B&B's and Inns. The Physic Estate is worth the tour price and has lots of events as well.
When our children were little and I needed a break I would go to Cape May for a weekend / or night, stay in a B&B and relax while my family ran Sci-Fi marathons. It became family lore, as the kids started to ask when mom was going to Cape May, so they could watch their favorite shows ad nauseum with Dad.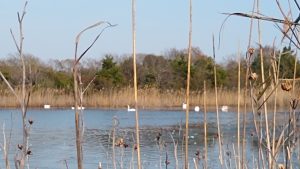 Some of the best parts of Cape May are actually in West Cape May. The Cape May Lighthouse, which you can climb for the view and the exercise if you choose, is a great one time adventure but don't just climb and leave. In the same parking lot, there is access to a wonderful wildlife sanctuary. You will be sure to see swans, ducks and other waterfowl, often egrets and other migratory birds. If you are actually a birder, you can geek out with others of your kind. There are trails through all kinds of marshy and wooded habitat and access to their beach area.
Here is a great page that talks about lots of bird, wildlife and sea animal adventures in the Cape May Region. You can also access the big sandy beach from the parking lot of the light house. It is a no-swimming area but you can walk, play in the sand or the small waves, watch for see mammals swimming near shore or other favorite beach activities. This is also a migratory area for Monarch Butterflies which you can see in the early Fall. These pictures were taken yesterday, which was an incredibly warm day in the week of Thanksgiving.
Down the road a piece is a beach area know as Diamond Beach or Sunset Beach. There are ruins of a concrete ship visible. You can find cool sea glass while walking this area, thus the Diamond Beach name and a ceremony marks lowering the flag at sunset. There a also a few shops, restaurants and a mini golf course.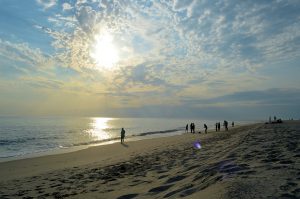 There are numerous wineries as in other South Jersey locations. Cape May Winery was the original. They have a lovely upper level porch over looking the vineyards where you used to be able to bring a picnic (now you must buy their food) and sit with a bottle of wine. It's become much more crowded over the years and they have build other sitting areas inside and out. Check out the other wineries using the NJ Wine Growers link below.
The Cape May Zoo, is not actually in Cape May proper but in Cape May County. It is a great Zoo, set in a lovely park. They ask for donations instead of a set admission charge. Not only do they have quite an impressive collection of animals, they continue to expand the habitats, walkways and exhibits. You can get pretty close to a lot of large animals and smaller ones as well. Always a great outing.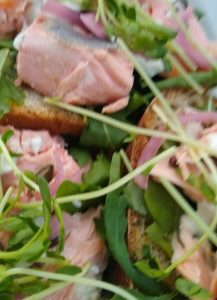 Favorite Cape May Eateries :
Good Earth Organic Eatery is run by an Italian Family and they try to create the Mediterranean style diet, with fish served but no dairy or meat. They offer lots of gluten free options and an ever changing list of specials. We definitely plan excursions to Cape May around getting their food. They are not open all year and hours vary, so visit their web site and/or facebook page to learn more. Even when indoor dining isn't limited, they have a small space, so reservations are necessary for dining in, especially during the Summer months.
Also in West Cape May is Bella Vida Garden Cafe, a great place for lunch or breakfast. They have a lot of options to meet all dietary needs.
If you are in the downtown area and want to stay there, a short walk will take you to The Mad Batter, a Cape May institution. They don't have a huge gluten free menu, but we've always found something delicious there that works for us.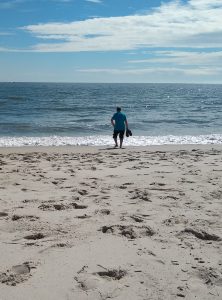 Other South Jersey Shore Towns: Every Jersey shore town has it's famous places. Atlantic City with it's Casinos, Wildwood and Ocean City with their amusements and water parks. If you've never had it make sure to try the salt water taffy (though it doesn't go with the healthy theme). Everyone has their favorite spots and beaches. In the Summer there are different fees, beach tag requirements and such for each town, so if you want a Summer beach day, check the towns web site. Otherwise, drive through and see what you like or if you want a less congested tour drive Route 9.
Here are a few spots you should check out to eat: . The Margate Dairy Bar (in season) serves all kinds of treats. They don't make their own non-dairy ice cream but scoop "Coconut Bliss" in several flavors and if you are at the shore, ice cream is important. Greens and Grain is an expanding local plant based casual chain, that started in the Shore area and has several locations. Not far away is a No. 7311, a small bakery in Ventnor that always has lots of gluten free and other allergy free options.
The Pine Barrens cover a large area of New Jersey and are full of lovely woods, history and lore. Hikes, geocaches and historic villages abound. A great way to enjoy "The Pines" is canoeing. We are big fans of Pine Barren's Adventures, who tend to give you some area information on the way to your launch. They did a great job making things safe during the Pandemic, so a family canoe day was one of our best days out this Summer. Make sure you read up on and look for the Jersey Devil.
New Jersey is the "Garden State". There are farms of all kinds and there are many that give you the opportunity to pick fruit and / or veggies right from the trees, bushes or plants. Growing organic apples in this region is very difficult but many places use Integrated Pest Management / Low Spray. There is one farm in Pennsylvania (near Media), Indian Orchards, that does grow organically. They charge a fee to pick, but the apples cost the same for buying at their farm stand. We usually go at the end of the season and buy big batches of their seconds to dehydrate and make sauce / apple butter. For picking we like Terhune Orchards, which also has a winery and more at their farm (the apple picking is a few miles away), so it can also be a day destination.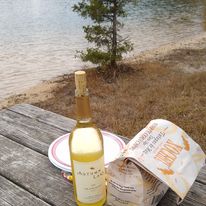 Wineries: If you have been following our adventures you might have read how we won a trip to Portugal from the Garden State Wine Growers, if not, check it out here. Wine has become a big industry in New Jersey. Wineries all compete for not only sales but experiences, day trippers, wine tours, event business and more. You can taste and buy wines from the very traditional reds and whites, to a large number of fruit based wines ranging from the semi-sweet to the super sweet, so everyone should find something. Many of the fruit wines, which are some of our favorites, feature Jersey blueberries, cranberries and apples. Wineries tend to offer seating outside and sometimes inside. Entertainment is a mainstay on weekends, including local musicians, firepits and festivals. You can learn more at the Garden State Wine Growers site, though not every winery is a member so Yelp can work to if you are looking in a certain area. I do want to do a shout out to a local winery we visited for the second time recently. Most of the wineries these days do not let you bring your own foods, as they want you to buy from them. This limits options when you have special dietary needs, we can usually find a snack, ie. some hummus and veggies or such, but not a lunch. Autumn Lake Winery in Williamstown is one of those places that still allow you to bring you own food (until they finish their ongoing renovation which will include a kitchen, so go soon). On a lovely Autumn, weekday afternoon, for the price of a bottle of wine, we sat and picnicked by their lake, strolled around their lovely property and had a relaxing afternoon in relative solitude.
New Jersey, besides it's farms, has hundreds of lovely parks and other areas to walk, hike, bike and explore. Throughout the Pandemic, we've been out walking in different parks as often as we can and of course some of our regular local haunts. Even if you don't geocache, the geocaching maps can lead you to all kinds of places you didn't know existed. We recently found a wildlife are with lovely wide trails right next to the Tacony-Palmyra Bridge. I have crossed the bridge hundreds of times and the park is about a half mile from where I went to High School, and never knew about this cool place until we found it on the geo-map. Palmyra Cove Nature Park has a variety of habitats and inhabitants.
Ceres Park in Sewell is a favorite with lovely scenery year round and extensive paths. I can't begin to list all the other places to walk in New Jersey, but will link to some places to start. Do be aware that there are a large number of WMA's (wildlife management areas) that are lovely, but allow hunting in season. Finding out what "in season" is can be difficult and not every hunter follows the rules, so if you are planning to visit these areas, where blaze orange and be careful. These websites are packed with information so you can always find and adventure: Only in Your State – New Jersey , Here is their list of short hikes: https://www.onlyinyourstate.com/new-jersey/short-hikes-nj/ .
There is a similar list of the "best" picnic spots in NJ https://www.onlyinyourstate.com/new-jersey/nj-best-picnic-spots/. Wanted to try some of them and finally got a chance for a day trip on June 18, a Friday. We drove to Duke Farms in Hillsbourgh. There is over 1000 acres, obviously, we only saw a small bit. There is a lot of interesting history, some of the property, more of the Duke Family. I looked it up after, as the buildings are all closed, besides the rest rooms. I understand there is also a tram that helps move people to various places in the property when things are fully open. We were walking, but there were a lot of bikers, due to the lovely paved paths, there is even a bike share program. There are paved paths, gravel paths, woodland paths and that is only what we saw. There are manmade lakes (no swimming), water features, small water falls and one larger one that only is turned on for scheduled views. There is no set picnic area, we just sat on the grass but there are benches and we did see one picnic table. Lots of geocaches, though we only had time for a few. At some point we might go back and explore further on bikes. There is also a lot of other places in the area both natural, wineries, and more. On the way back we stopped in Princeton and had lovely non-dairy ice cream at the Bent Spoon.
Make sure to check out Weird New Jersey for some of the most unusual sites to visit. Speaking of which, there is a fascinating place we visited a number of years back and wound up with a private tour, know as the Palace of the Depression, it's been under restoration for years and now is set back yet again by the Pandemic. Once it reopens for tours, check this one of a kind site out. The UFO is in Willingboro NJ and is known as the Futuro House, designed as a ski chalet. Anyone who has grown up in this area can name this elephant. I don't usually use photos we didn't take in this blog, but I didn't have a picture of Lucy. I can also say I've never been inside, but tours are available.
I almost forgot to include some of my favorite local, eateries.
Que Ricas – these days this family owned Venezuelan Restaurant in Oaklyn is one of our favorites. South Jersey is full of pizza, Italian, Chinese and other Asian food and limited on other choices. This place opened about six months before the Pandemic, as mostly a take out place; they only had about three tables, so have survived well. The food is great, lots of vegan (and non-vegan) choices, lots of gluten free and very kind to work with. The have regular specials posted on their web site.
Pinto Thong – As I mentioned, lots of Asian food, but this Thai restaurant in Deptford is one of our favorites and great with meeting dietary needs. Also family run by some really nice people. Also, in the same category, but a little further from us in Voorhees is Lai Thai Cuisine.
Colonial Diner – in Woodbury, have to have a shout out to these guys. The chef, a lovely man, has been on a vegan journey for several years and the diner now has a whole vegan menu with great choices. Not a lot are gluten free but the things they do gluten free are great and we've met friends there with no dietary restrictions and they were also quite happy. If you've never been to a NJ diner their menus are huge with choices including lots of breakfast any time of the day or night, full course dinners, fresh baked desserts and lots more.
Indiya in Collingswood and Cross Culture in Haddonfield are two go to choices for Indian Food.
Naked Lunch – no it's not clothing optional, but it's a take out spot located in Mom's Market in Cherry Hill, a great way to do a little shopping and bring lunch home or to a nearby park.
Norma's – in Cherry Hill is a long time local favorite for Mediterranean Food. They are good with gluten free and subbing in their platters to meet dietary needs.
Via Roma – This one is much further from home, but also an occasional destination. Now lots of places do gluten free, dairy free pizza, some better then others, but one of the originals is in Tom's River, NJ. They also have plenty of other gluten free and vegan choices.
WOW – that section on dining got longer then I expected.
New York City is certainly a doable day trip. Before the Pandemic we might drive in, park at Port Authority right after the tunnel and then make our way to see a show or visit a museum. Most people either love NYC or it's not their kind of place. It certainly has everything to see, do and eat. I am not a NYC person, but go to see a show (we miss you Broadway) or more often to meet out of town family or friends who have reason to be there.
There are some places I think are worth the trip besides the theaters. The Metropolitan Museum of Art is so much more then an art museum. You could spend days, even if art is not your interest. We went with a large group a few years ago and only had a short time to spend. The admission fee was hefty for the time we had, but we learned that if anyone in the group has New York State residence they not only can pay a donation they see fit, but bring in the rest of the group. Fortunately our group included two Long Islanders, so we made a donation for the group and didn't have to debate the merits. Ellis Island can be accessed by boat from either NYC or Liberty State Park in New Jersey. It is fascinating and if you have relatives who arrived through this port of entry, you can research them there. The ride takes you past the Statue of Liberty, which is worth visiting once to say you went to the top but the best views are from the water. On our last visit to meet a friend, we visited Spyscape, an interactive spy museum. I gather there is a similar one in Washington D.C. It was a lot of fun, as well as a learning experience.
Restaurants of all types abound in NYC. Of course it's known for it's bagels, Jewish Deli's, Chinatown, upscale dining and of course never closing, so food and drink at all hours. On our last trip we had lunch at Beyond Sushi, a local chain that specializes in vegan sushi and other vegan Asian style dishes. The food was interesting and really good.
Check back as traveling increases or as others give me contributions to this page, I will expand places in visit in the New Jersey, Pennsylvania, Delaware areas.
New 7/2023
We recently discovered two wildlife refuges that besides walking trails, have amazing drive-through portions that allow vehicles to slowly drive through marshes, wetlands, and other habitats, pulling over to observe a variety of birds, turtles, and other small creatures that change with the seasons. One is part of the Edwin B. Forsythe National Wildlife Refuge in Galloway, New Jersey. The other is in Northern Delaware and is part of the Bombay Hook National Wildlife Refuge. Don't forget your best camera, as Steve did when we visited Bombay Hook, though we still got great pictures.
Pick Your Own Farms – there are many farms that let you pick one or many crops in South Jersey and of course other States as well. These are three favorites in South Jersey.
Rowands Farm is local to us and has the most wonderful cherries. The crops only last for weeks each summer, depending on the weather, so if you want to go, like their page on Facebook and be vigilant for updates in early June or you'll miss the cherries, especially if you are looking for sour or Rainer cherries, the Bing cherries last a bit longer. One of the farmers told me this year was the best crop in 15 years. I went two Fridays in a row and picked lots of them. We have simple pitters my husband put together years ago. I pit and freeze on cookie sheets covered with parchment paper one at a time until I fill several bags. This year I put a bunch of pitted ones in our dehydrator, which came out great and make a great trail mix addition. Of course, we eat and bake with them, fresh and throughout the winter as long as they last. They are also great from the freezer for smoothies.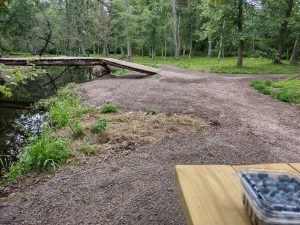 This was my first year visiting DiMeo Organic Blueberries in Hammonton. The place was geared to a great experience. They give each person or group twelve pint containers to fill. They invite you to take all the time you want. They have lovely, shaded picnic tables for a cooling break or a picnic. They have a stream you can wade in or take one of their kayaks down. They have soft music playing. I asked and they said they have late varieties, that allow picking through August. The berries were plentiful on my visit in mid-June and picking went quickly with a picnic lunch in the middle.
Most Falls we visit Terhune Orchards near Princeton to pick apples. There are no organic apple growers in New Jersey and only one I know of Eastern, Pennsylvania, Indian Orchards. We usually go there and buy seconds in the fall for applesauce and to dry. The ones from Terhune are IPM (integrated pest management, which means the lowest possible amount of spraying), so we will pick those to eat and make some pies within the season. They also have a lovely farm market a few miles away from the orchard, with a winery and play areas for children. They do offer the picking of other crops as well.