My goal with this blog post was not just to share our trip in general,  but also  to take the tips I gleaned from different web searches and the tips I gained during our travels and share them in one place.  We eat a very nutritious diet with a lot of restrictions on the "Standard American Diet" and were concerned about that during two weeks of travel, so I want to share tips about eating well while traveling with others.  One of our hobbies is geocaching and we wanted to make sure we could play in Alaska with uncertain cellular service, so I want to add tips for those with that  interest as well.
My husband, Steve and I  have learned and confirmed through this trip that we like flexibility and choosing our own adventures in travel, combined with enough information and assistance that we learn and see the things we want.  I hope these writings will help you if you want to travel with any of these same needs, if you are just planning a trip to Alaska and / or if you just want to enjoy the reporting of our adventure and some amazing photographs.
We started the planning for our trip years ago, in a way.  We had hoped to go to Alaska for our 25th wedding anniversary.  Due to some changing financial circumstances at the time, that did not happen.  Our 30th anniversary found us with a happy family event that we needed to travel for.  Shortly after that trip my husband had a heart attack, from which he is now well recovered, but it was a real message  – not to put this off any more.
The actual plans for the trip started last Winter.  We are both slow to make decisions and I do not like to plan far ahead.  Once we started thinking about what we wanted – not sure about the cruise, more interested in land, looking for alternatives – we started searching the Internet and getting overwhelmed.  We decided that having an Alaskan travel agent, would be better then a local agent and this was an excellent decision.  The local agents, though helpful, could only show us set packages.  We contacted Marjy from Alaska Cruises & Vacations by Tyee Travel .  She was patient and emailed and phoned with us through multiple itinerary ideas, but she kept telling us things book up quickly in Alaska.  We really didn't understand that until we got there.  Alaska is a huge State with very limited road systems.  Since most of  the towns you want to visit are small and only have about 4 months of tourism each year, the number of places to stay are limited and most are small.  The number of tourists is huge.  So as soon as you know what you want to do, book it and of course consider travel insurance, it's inexpensive and allows you to worry less.  We met at least two parties on the cruise who had couples that  need to drop their plans due to medical emergencies.
From the outset, we knew we wanted to tour mostly on land but also see the Inside Passage and the Glacier Bay area. We considered not doing the cruise but there are limited roads, so we would have only seen small parts of Alaska, but not the Inside Passage (more on that in part II).  You can do the water part of the trip by ferry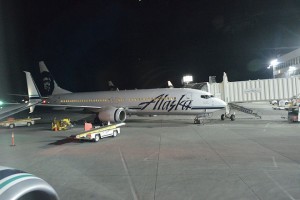 but not only is it hard to get the information, we met one couple traveling that way and you have to be prepared for things not running on schedule, sometimes not running at all.  The other route is by using small planes, but not only is that expensive, but you also need to be ready to expect changes because of weather.  There is one final way we found out.  You can drive into Skagway, which is on the Inside Passage, through Canada.  If you drive or fly into any of the Inside Passage towns there are options for small boat excursions out onto the water to see scenery, glaciers and wildlife so if you really don't want to cruise, check these out.  Since we were able to do two full weeks, which was a great amount of time, we packed a lot into the land and then found the cruise a very relaxing way to see more places with good down time. There are a lot of rental RV's everywhere that you can drive to in Alaska, so that seems like a favorite way to see the State.  We might look into it if we go back again some day.  Then there are bike tours, hiking tours, small boat cruises and probably a lot more.
So as I mentioned, healthy eating was a concern.  Doing some searching I learned that Fred Meyer, a local Supermarket chain, especially the one in Anchorage is known to have a good selection of organics.  We chose to fly in overnight, so we arrived at about 3AM Alaska time.  After getting our rental car we drove around a little and took a little nap until the store opened at 7 AM.  We had brought a big cooler bag from home along with a lot of dehydrated fruits, nuts and some nut butter just for safety – the dried fruits and nuts I mixed in small bags so we had good plane snacks as well.  At Fred Meyer we were able to buy nice organic fresh fruit (not really more expensive then home). They also had a good selection of nuts, snacks and just about all the other things I can find at Whole Foods at home, so even if you are camping you can get mixes / flours you may use.  I believe they have organic meats as well, though we didn't look.  We did buy some pre-made guacamole and some healthier chips and carrots which we had for lunch one day.  Basically when we were on the road we ate out at the most two meals a day, usually only one and snacked on the things we had bought.  Everywhere we stayed had a small refrigerator so we would put the fruit and butters in overnight and put them back in the cooler bag in the back seat the next day.  I will tell you about the places we did eat out as they come up.  Having snacks and a few bottles of water is a must even if you are not on a particular diet as there are often few places to stop and if you are on long tours or going to do any hiking you want those things in your ever present backpack (another suggestion).   We took our two refillable water bottles from home, filled one after going through security at the airport, most airports have special taps for this now a days.  Then we bought two jugs in Anchorage to keep in the car for refills.
Ready for breakfast, we headed to the Snow City Cafe, the most popular place to have brunch in Anchorage it seems.  We had quite a wait, even though they had only been open an hour, but it was well worth it.  Plus we got to sneak up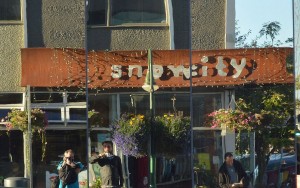 the street for a great view of the mountains in the distance, across the harbor.  The Cafe has lots of gluten free options and can do lots of adapting, so we were able to get dairy free, gluten free omelets and potatoes.  You can choose your own ingredients, so there are lots of options for that.  If you are  vegan there are also choices, as well as gluten free baked goods and more.  See the menu to make sure it works for you of course.
The cafe is walking distance to many of the sights and tourist shops in Anchorage.  We walked a little, checked out a few shops and decided we wanted to get on the road to our first stop.  One of the items we were shopping for were jackets for the trip.  We brought winter coats from home, but by suggestion on a travel site, it is easy to get water resistant (or water proof if you want to spend the money) rain wear branded Alaska, at any gift shop in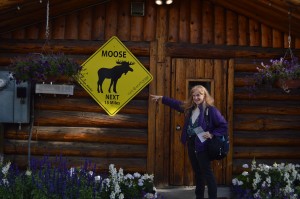 Alaska.  Since we were told to expect a lot of rain, we weren't sure what we needed.  It was beautiful and sunny that day, as it was most of our days in Alaska, maybe just luck, maybe because the weather is so changeable.  As I mentioned we are terrible as decisions.  We waited until Seward to finally settle on the jackets we wanted before going out on the water and were pleased with our choices.  Having started our trip the last week in August there were also lots of good bargains because the tourist season was ending so we got really good deals as well.   We wound up with water resistant, mine fleece lined, my husband's a windbreaker and both served us well.  Be careful of quality though, they both need a few seam repairs.
Not wanting to hang in Anchorage we decided to start heading North.  We had plenty of time because our final destination for the evening, Talkeetna, was only supposedly about 2.5 hours drive.  I say supposedly because even if you drive straight through in Alaska, we learned quickly, there is always road construction.  Every so many miles you will need to wait for the traffic in your direction to be let through.  That though was only a small part of what slowed us down.  The scenery is breathtaking everywhere, there are lots of places to see, hiking trails galore if you want a detour, some tourist attractions – though not as many as you would think and of course for us – geocaching.  Our touristy map said there was a Salmon viewing spot on the way out of town.  It appeared on our geocaching list as well.  So began our true adventures.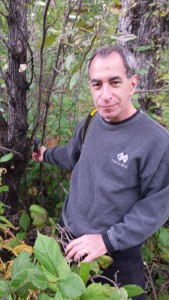 We were told by Sprint that we would have cell service most of the time, until our cruise of course, but we would be turned off on data roaming if we used too much.  We thus prepared for geocaching by creating gpx files and static maps.  We found quickly that was only "so" effective.  It did work where we did our homework well but we didn't have all that we wanted.  After a time we started turning on our roaming and never went over our allotment.  We also, did not have gps or any way to get directions except old fashioned maps.  Thus armed we looked for our first cache and the salmon that should have went with it.  With only crossing the river a few times in circles we found the spot, found out the fish were already past there but it was still lovely and found our first cache.  Then we commenced to drive North for real.
Scenery is everywhere in Alaska and we never went any place we didn't oooh and ahhhh, even when we were in the infrequent areas with civilization there were always mountains to be seen.  One of our tour guides explained Alaska well, "in the lower 48 there are lots of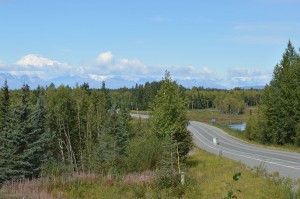 areas of civilization and a few natural areas set aside to enjoy, in Alaska there are abundant natural areas with a few areas set aside for civilization".  We had also been prepared that we were visiting in the rainy season and that we could have rain every day.  The first two days we were in Alaska were warm and sunny.  We wore short sleeved shirts and got to see the elusive Mt. McKinley.  The statistics say that only 28% of Summer travelers get to see Mt. McKinley because it is so often shrouded in fog.  We not only saw it on both of our days driving Northward, but were among the last to ever see it as the following week, as we were on our cruise, President Obama officially changed the name to "Mount Denali" , as the Alaskans already referred to it.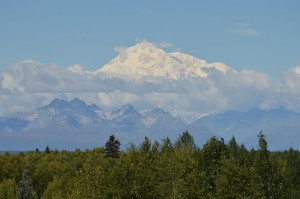 There are abundant rest stops where you can view the scenery, read about what you are viewing and usually pick up a geocache or two as well.  So with making those stops, even stopping for a nap in the car at one pull off we went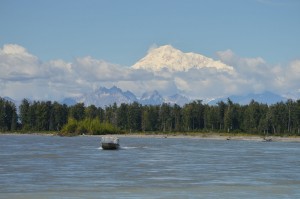 on to Talkeetna. Talkeetna is a lovely little touristy town, with you guessed it…great views of Mt. Denali.  By water you can reach one side of  Denali National Park.  You can also catch the Alaska railroad there to the park and it's where those who attempt to climb Mt. Denali get flights into base camp.   We spent a lot of time at the beachfront staring at the ever changing views, walked around town and into some of the shops.  There was a pizza place in town that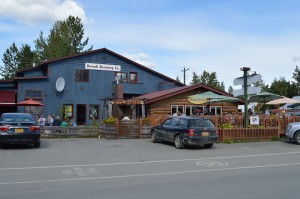 advertised that they had gluten free pizza crust with Diaya brand cheese (a non-dairy brand we eat occasionally for a treat).  Since we were on vacation we thought this was a good way to start, also none of the other restaurants really met our needs, lots of fish but none plain.  As it turned out they had run out of gluten free crust an hour before and hadn't received a shipment of Diaya for a while, so we chose nice salads with different fish on top which we both enjoyed.  We shared a hard cider to toast our first night in Alaska and sat out in the lovely weather.
Our lodgings in Talkeetna were in a lovely building, that also had cabins, but we were in an upstairs suite.  Susitna River Lodge was right on the river and in the morning we took breakfast from our packed food out onto a picnic table and watched the birds and the scenery.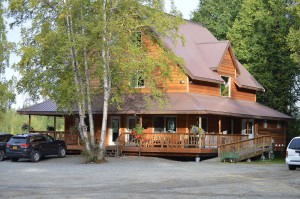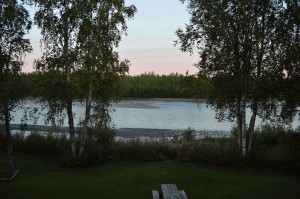 After our breakfast we headed to the waterfront past town for a few more geocaches and a little more exploring.  We found that there were a number of people camped along the shore who probably were Summer employees of the boat company.  Another came speeding over the walkway on the railroad bridge from the island  on the other side riding an ATV carrying his brief case.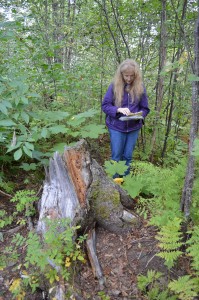 There was one little cafe on the way out of town that looked cute and advertised some gluten free but since we had eaten breakfast and really didn't think we'd find anything right for us there we skipped it.  But you could check out the Flying Squirrel Bakery Cafe.  Also, on the road out of Talkeetna, close to where it rejoins Route 3 is the Kahiltna Birch Works.  They claim to be the "world's largest producer of pure organic birch syrup."  We got a lesson -birch syrup's a lot more work then the maple syrup back East, we got to taste the batches from different times throughout the season and of course purchased a few gifts.
Now heading to Denali on another sunny, lovely day we got to see more of the gorgeous scenery.  Did lots of picture stops and geocaching stops, taking our time.  Watched for wild life though we weren't fortunate enough to see any except some interesting birds.  Finally at one of our stops we had a picnic lunch with our food supplies.  I think there was one restaurant for most of the way and it didn't really look that inviting.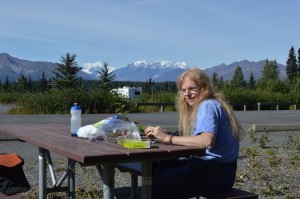 It was early evening when we arrived at Healy Family Cabins near Denali National Park.  This is lovely little family owned business where we stayed in the "Aspen Cabin" or the "Cabin in the Woods" as we referred to it as a shout out to one of our youngest son's favorite movies.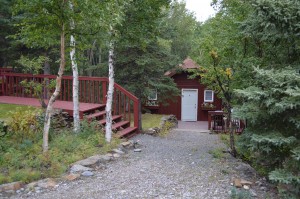 And the view from the Healy Cabin's property: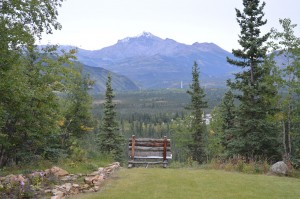 We asked the owners about a good place to go to dinner, not feeling like scouting out places at that point.  The told us the Black Diamond Grill at the golf course down the road has good food, which sounded perfect after a long day of driving.  The food was not fancy, but good.  They were able to do plain fresh fish and vegetables to meet our needs.  They had a nice selection of wines and Steve had a good, local blueberry wine.
So here is probably the place to insert our Northern Lights odyssey.  When we arrived at Anchorage we overhead some of the passengers talking about seeing the Northern Lights from the plane.  Not only were they on the other side, but it was probably during the short while when we actually both slept that they were visible.   The next night we were too tired to even think about it.  Well Steve started talking to the Cabin's owner about the Lights and he showed him some great pictures from a facebook group taken on the previous night.  He said if  it was clear that he'd be out photographing that night and Steve planned to join him.  I figured he could wake me up if he saw them. Well we finally got the Alaska rain that we kept hearing about that night.  Several other nights proved too cloudy.  Once we were on the cruise ship Steve and many others went on deck in the middle of each night to look.  One night I even bundled up and went up with him for 45 minutes.  The night after that when I stayed tucked in bed, Steve got up on deck and found out that they had been seen earlier that night very clearly, he did get to see a bit and get a few pictures but not what he had hoped for.  So the moral is, do your research ahead of time.  We learned from other travelers that if you are staying in some of the larger hotels they will give you a wake up call if the Lights appear if you ask to be put on their list.
The next morning we needed to be down to the starting place for our Denali tour about 6:30 in the morning.  The lodge where the bus left from had a coffee counter so we got some hot drinks and had them with some of our own food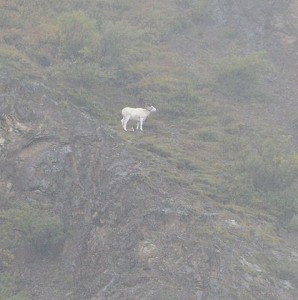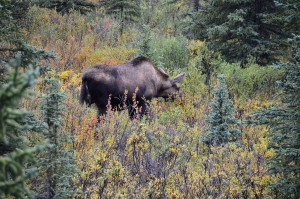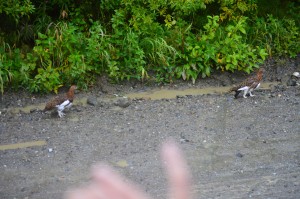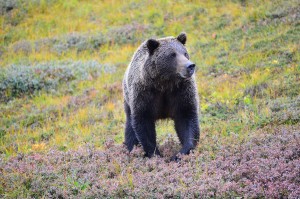 while waiting for our tour to arrive.  Our tour, and there are many options, was the 13 hour Kantishna Wilderness Tour that covers most of the 95 mile road through the park.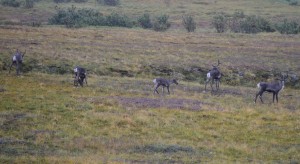 We figured we wanted to see as much as we could and we were well rewarded.  Our driver was interesting and informative on geography, flora, fauna, history and of course wildlife.  We saw Dahl Sheep, Moose, Bears, Caribou, Tarmigans, Grouse and of course fantastic scenery everywhere.  We had lunch at the Kantishna Road House, which was included in the tour. To our surprise they were able to do a gluten free version of the soup (basically tomato soup) and a hummus and veggie wrap on a rice wrapper.  Although it's not what I usually would eat, it was perfect for Steve and I ate some, supplemented with our snacks that were always with us.  Then we got to pan for gold (didn't find any) and see some Alaskan sled dogs harnessed to a tractor – how they train in Summer.  On the way back were some of the best sightings of the above mentioned wild life and the sky even began to clear some for even better views.
So after the long day on the bus we were ready for a nice dinner.  Here there was another Pizza restaurant that advertised gluten free pizza with Diaya cheese substitute.  When we got to Prospector's there was quite a wait, but they confirmed that they had both the gluten free crust and the Diaya so we decided to relax and wait.  It was worth it, we both really enjoyed our personal pizza's with our favorite toppings and some lovely gluten free ale (no, we don't normally drink this much, but we were on vacation and really enjoying the special treats).
The next morning we started our trek South in the most rain we had seen so far, but since we had already driven the road and it was still lovely to look at we were okay.  Our destination that night was Wasilla, about 45 minutes North of  Anchorage.  Since we had lots of time we decided to take a road that would take us East to Palmer part way down Route 3.  The maps were a little sketchy about  Hatcher Pass Road (aka Fishhook Road), noting that it was closed in the Winter.  About 20 miles of  the road, after we had already traveled about that many miles, are packed gravel, and wind and climb up and down in the mountains.  Steve drove cautiously, trying to do no damage to our rented car and succeeded other than in keeping it clean.  The road was full of interesting and beautiful scenery; high mountain glaciers, waterfalls coming from them, valleys, signs for active gold claims and streams.  Lot of trucks with empty trailers hinted at people ATVing on what are the cross country ski and snowmobile paths of Hatcher's Pass in the Winter.  At the end of the gravel we came to the Independence Mine.  This abandoned historical mine has lots of interesting old structures and abandoned machinery to view.  The visitors center was closed and due to the cold rain we only explored a little, but on a nice day there you could walk up higher and see more of what's left.
Instead of hanging at the Mine we drove on to Palmer and decided to check out the Musk Ox Farm.  After looking at the small museum we were unsure
about taking the tour but the weather cleared and we were glad we did.  This farm is a project to domesticate  Musk Ox, which were once wild in Alaska.  There have been Musk Ox reintroduced into the wild in other parts of Alaska, but here they are raised only for the gathering of their qiviut, which is a prized fur that is supposed to be many times warmer then wool.  The tour guides tell you about the history of Musk Ox in Alaska, their care and handling on the farm and introduce you to their favorite animals.
I asked at the Farm for a recommendation for dinner in Palmer, we had been eating our packed food all day.  They recommended the Turkey Red as a great place to get fresh, delicious food.  They were certainly right. As I looked at the menu I wondered if they could make the Chicken with Figs gluten and dairy free.  When the waitress came over, the first thing she told us is that they had one order of Chicken and Figs left, after checking that it met my needs, she went to the kitchen to reserve it for me.  Then we ordered hummus with vegetables to share and Steve ordered their Portobello Salad.  That was plenty for us, but for those who eat gluten free baked goods, those were offered as well, along with specialty coffees and more.
From there we went to our hotel in Wasilla, the Best Western Lake Lucille Inn, which was just a chain hotel, but had a dock on the water, with a lovely view (have you seen a theme here yet).  The next morning we ate some of the continental breakfast – scrambled eggs and fruit on the back deck.  Then on again Southward, skirting Anchorage to pick up the Seward Highway which is designated a National Forest Scenic Byway, All-American Road and Alaska Scenic Byway.  You get the idea, lots of lovely spots to stop, take pictures and of course pick up a few geocaches.  This day also rained on and off  but not enough to be annoying.  We stopped among other places at "Orca Point" but saw no orcas, then just a few miles further along we both started seeing white bodies popping in and out of the water.  Later we confirmed that these were the bellies of Orca Whales we were seeing.
By the afternoon we arrived in Seward, the Southern most point on this stretch of  road.  We explored the several blocks of the downtown, had a simple lunch and area and completed our jacket search.  There was a nice little health food store in town,  Frontier Trading Post.  We found falafel chips and olive dip that would later become part of our dinner.  Our new jackets were purchased just in time as the rain got harder and we wore them for the few blocks walk to the Alaska Sealife Center.  This aquarium featured fish, birds and animals from Alaska and the Northern Pacific regions.  They have a mission to rehabilitate and release stranded sea mammals. Besides the exhibits related to this, we could view from an upper window the seals and sea lions in their enclosures below.  A good way to spend the rainy afternoon.
Since our cabin for the night was off of the Exit Glacier Road, we drove up first to see the Exit Glacier.  We decided it was too wet to do the almost 2 mile round trip hike, so we just got a view from the road.  We then drove back down the road to Misty C Cabins.  When we got there we could find no one around.  As we were deciding what to do we pulled around the circle in front of one of the Cabins and realized our names were on a sign by the door.  The key was inside, so we just moved in.  We then went to check out the laundry in the next building and met another guest who filled us in.  It winds up the owner was having some surgery (I hope all went well and he has/had a full healing).  A friend was watching the cabins for him and we did meet him a little later.  We started some laundry and then debated our dinner plans.  Behind the cabin was a stream with spawning Salmon.   We heard from the other guest that a bear had shown up a few nights before, but we didn't have the privilege of seeing him. Watching the Salmon themselves was relaxing, kind of like watching a fireplace burn, so we decided to use the food we had and make a dinner on the back porch overlooking the stream.
After dinner I went to check the laundry in the dryer and couldn't get it to work, though it had been working earlier.  The reason was the wind had kicked up and knocked out the power to the entire area.  Once we discovered that the shower wouldn't work without the electric pump, we figured we'd call it an early night.  The power wasn't out that long, so we never got cold during the night and the dryer turned itself back on so our clothes were ready when we went to leave in the morning.
Since we were up early and our nature cruise wasn't until around noon, we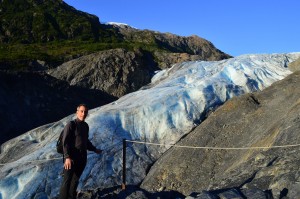 decided we'd take advantage of the sunny but windy day to walk out to the Exit Glacier before breakfast.  It was  a little more of a hike then we thought, or a little more strenuous anyway, but worth it.  There have been times you could walk right up to the glacier but the quick recession has left it a few feet from the end of  the trail with a gully in between.  We hiked back and headed to the Resurrection Road House to have a good brunch before our boat cruise.  They were very accommodating.  Steve ordered an omelet with really nice heirloom potatoes.  I wanted the buffet so I could have fruit with my eggs and potatoes.  When I told the server my needs, she found the eggs on the buffet were made with butter so they brought me separate eggs and I could take the potatoes and fruit from the buffet.  Of course if you don't have the diet we do there are lots of other yummy choices as well.  We had already checked we wouldn't be able to eat the box lunch they provided, so we figured brunch and snacks would be good.  We were glad in the end because we wanted as much outside deck time on the boat as possible, instead of going into the cabin to eat.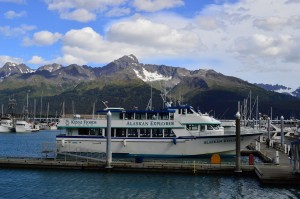 After breakfast we went  to the spot for the shuttle to the docks (there is only two hour parking near the harbor, so they provide a free shuttle from a remote lot).  We had to check in about an hour before our boat was leaving and then we were free to walk around the area, check out the cool jelly fish in the harbor and the variety of boats.  The company we were going with was Kenai Fjord Tours, on their six hour tour.  The route of the boat is determined by the weather and where the captain thinks you will see the most wildlife that day – they talk to the other captains to share sightings.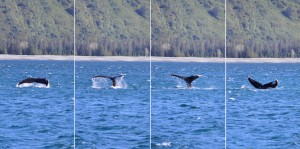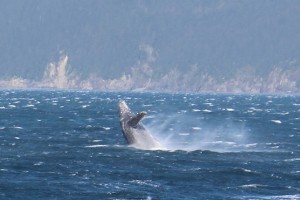 You also see glaciers and other features of this vast park carved by the retreating glaciers.  The wildlife we spotted included humpback whales, even one breaching, something that our guide told us was rare when they are in the end of the Season feeding frenzy.  We saw beached seals and sea lions, puffins and other diving birds.  Coming back in there were strong winds but otherwise it was a clear perfect day and the water was surprisingly calm.  As I said, we spent most of the day out on the deck soaking up the scenery and the wildlife.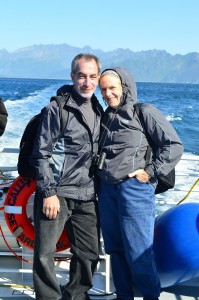 When we got back into town, we decided, since our destination was to be back in Anchorage that night, we would stop part way back in Girdwood for dinner.  We just caught one last picture on our way out of Seward of an amazing rainbow.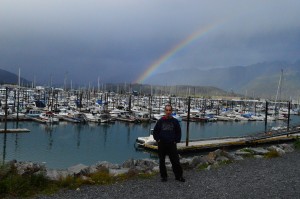 So reading our travel materials as we drove back, we found there was a restaurant in the Alyeska Resort in Girdwood that specialized in Sushi with fresh Alaskan fish.  I generally don't eat rice, but this already was one of my cheats on the trip and I had been good, so we couldn't pass this up.  Sakura was a little pricey, but excellent sushi along with some lovely Saki made for a fun dinner experience.  Then to the airport in Anchorage to drop off the rental car and take the shuttle to our nearby hotel, the Inlet Tower Hotel and Suites.  Nothing special there, but fine accommodations and a chance for a little last Internet before we started the cruise the next day.  Find more about that in Alaska, Week 2 – coming soon.