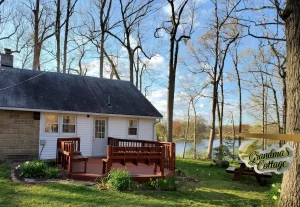 Growing up and spending most of our lives in the Delaware Valley, crossing the bridges to Delaware for day trips, shows, meals or passing through, Delaware isn't our usual vacation spot. But with COVID safety still foremost for us, a short amount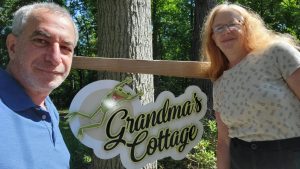 of time for an anniversary getaway and a real desire to travel again, Delaware had a lot of appeal. We Googled, "renting a cabin in Delaware" and after coming across "Grandma's Cottage" on a number of search sites and we started to consider it. It was listed foremost in VRBO, which had a lot of bad reviews, but after finding it so many places and all the reviews of the specific property being positive we decided to give it a go.
Our original plan was to take the Cape May Ferry on the day we were leaving, specifically the sunset one, so we could spend some time in one of our favorite places and get one of our favorite dinners to take over. We kept hesitating on making a reservation, figuring it would be fine; well, good we checked before leaving our house on Thursday because the ferry was all booked up. If we rushed we could make the last earlier ferry with spaces but it really negated half the idea of doing it and we decided to drive directly instead.
We made a quick stop to get local honey and eggs at Harvey's Honey in Elmer, and across the bridge to Delaware we went. Of course after a bit Karen was ready to DeTour and Explore and started for looking for interesting hiking spots. "All Trails" is a go to app these days but I've found it helpful to check other sites as well, and we found Blackbird Creek. First a stop at the picnic table to enjoy some of the food we had packed for the trip. It was a short, easy walking trail with not to much to see, it did go along the water for a bit and that was pretty. We saw a deer, the first of many wild animals on this journey.
Next we learned that Delaware has a confusing system of designations for open spaces. There are State Parks, that require a fee to enter. If you plan ahead and are going to several you can buy multi-day or yearly passes. There are State Lands, that are free. There are State Wildlife areas, which require a Conservation Area Pass; this we found out when we went hunting for a geocache. You can purchase these on-line if you have access to a printer or get them in sporting goods stores, Walmart and other locations. We decided to wait and were glad we didn't bother. We went later to one of the Wildlife Management areas, Prime Hook, which is a National Area and it was free. But we found it too buggy for walking the trails for the most part, so we avoided such areas. We might like to come back and explore them another time of year as there are many such spots along the shores of the Delaware Bay. So, back to the confusion, plan ahead if you have a set itinerary in mind.
We still would have liked to do a little more walking so looking on AllTrails and some other maps we found Silver Lake Dam, not to be confused with Silver Lake Park which is further South. Delaware seems to like to confuse out of towners? Silver Lake turned out to be a park in a more urban area. There must be a big Amish Community in the area, as there were many Amish families there fishing. The most interesting thing to see on our short walk was a fish ladder that was built to help the River Herring get to their spawn grounds. The last one of these we had seen was in Alaska for the Salmon but Steve, the engineer explained why this one was different.
We started to look for a place we could get food for dinner. There are a lot less choices in Delaware for gluten free and vegan (although we are not vegan, it's usually a good way to find dairy free, meat free foods on apps I have mentioned before). We found what looked like an interesting Middle Eastern place, Dari Kabob and Gyro. It meant some backtracking, but like I said options were limited and Steve doesn't mind driving. We got their vegan platters, two of the three choices, with yummy things like falafel, babaganosh, hummus, grape leaves and more. There was a rice option instead of pita. We took our food to a local picnic area, which happened to be on Lake Como and enjoyed the food and the view.
Finally, we headed to the rental. The cottage was lovely, spacious and clean. Great amenities, like kitchenwear, a Kurig, some games (we actually discovered a new one to us Qwixx, a dice strategy game that was a lot of fun), and the best part Kayaks to use on the lake behind the cottage. There was also a Chimera with wood and a gas grill that we never made use of. We spent a lot of time over the next few days paddling the lake, eating meals on the bricked area out back and watching the assortment of birds, turtles and fish.
After some relaxing and a good nights sleep, we returned to our adventuring. We had breakfast at The Backyard restaurant in Milton. We were the only ones taking advantage of the lovely outside seating, so had a peaceful breakfast of delicious omelets full of veggies, served with really nice gluten free rolls and salty home fries. Lots of rain and severe thunder showers were threatened for later in the day but we figured we'd make the most of the morning until the weather turned.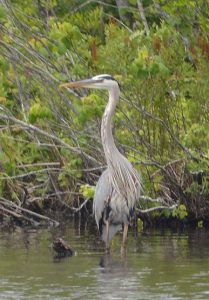 This is when we went to the afore mentioned Prime Hook National Wildlife Refuge. We embarked to walk the trails and lasted about five minutes before we realized we'd be eaten alive by the bugs and it wouldn't be enjoyable. We drove through some of the other parts of the preserve before we left and found a dock, where the wind kept the bugs at bay and we were able to get great pictures of this bird.
Then, thanks to geocaching we headed a little further up the coast and found a cool area for observing osprey on their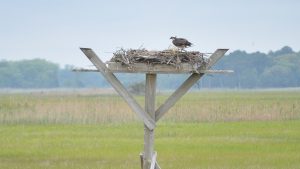 nests, as well as other birds. Got some great pictures and of course found that geocache and some others up the beach. Driving as far as the Delaware Nature Center, which we didn't go into but enjoyed the views of more birds from their porch.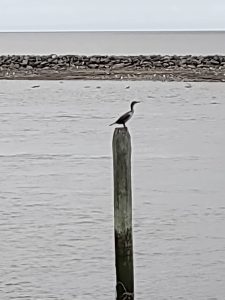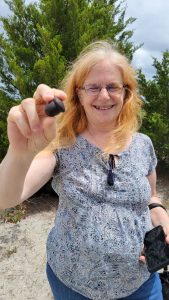 We decided to at least head back toward the cottage since the weather was still suspect and found a trail on the way in the town of Milford near where we were staying. It was part of the local Riverwalk trail, but we only did the small part of what is known as Goat Island. It wasn't a fascinating place but okay and got a nice picture of a very large turtle, though he doesn't look so large in the picture.
Then we decided to try our luck at Pizzadili Winery, that was a bit in the other direction past where we were staying. We we had picnic food with us and we figured we could either picnic there or get some wine to take with us for a picnic. We literally got inside, we were the only ones there except the staff, and the sky opened. Then we got a tornado warning, fortunately no tornado, just some crazy rain. While we hung out and talked to the lady we got some samples so we could decide what bottle to buy. On the way to the winery, I read some reviews of the place and there were a lot of negative things said, not about the wine but the way the business was run. We could see why. The women working there was not only not that knowledgeable about wine, she told us she didn't even like it. The bottles were not all labeled and she was confused on what we were tasting. This lack of professionalism, that contrasted what we had found in so many other wineries we visited, actually played to our advantage in this case. She didn't charge us for tasting and we didn't feel inclined to buy more than the one bottle we finally chose. Besides keeping us company during the worst of the storm, we asked her about the big container of corks they had. She gave us a bagful, which our daughter uses in her art. Shameless plug: here is some of her cork art, but her main medium these days is acyclic pour painting.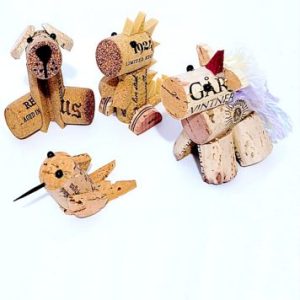 Once we could head to the car, we drove back to the cottage with our bottle of wine and had our picnic there. A few hours later all the rain had cleared and we sat outside enjoying the lovely evening.
The next morning we started the tradition of a morning kayak paddle around the lake. We made some breakfast and then set out to explore and get up close and personal with the multitude of turtles, the geese, the hawks overhead and the cormorants. There was also an egret the first night that we didn't see again and a heron we saw periodically.
Then time for more exploring. There was a small Farmer's Market in downtown Milford on Saturday morning, which had to be checked out. The mushroom guy had sold out, so the only thing we bought was some salsa, since we didn't have plans for the other offerings. Then time to walk. Redden State Forest had only a few trails, since the woodland trail was shorter then our usual walks, we moved onto the longer mostly graveled service road trail and wound up walking about 5 miles total. It was nice, nothing spectacular.
If you read my Portugal post you know that we used to drink a lot of wine, though not too much at one time. These days we rarely drink at all, but this trip was the exception. We had no choice but check The Brimming Horn Meadery, a place that offers flights of mead and fruit wines. Even sharing a flight with 10 glasses we didn't get to sample all they offer. They have a food truck so we were able to get some falafel balls and fries, not our usual but the only choices that worked for us and fun and good while mulling over our favorite flavors to bring a few home for us and our son.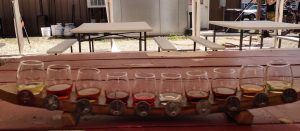 After all that drinking we knew we needed something more substantial for dinner so we did some circling again, went past where we were staying to Seed, a restaurant on the outskirts of Rehoboth Beach, that lets you build your own bowls with lots of healthy gluten free and dairy free options. We made our choices and brought them back to the lovely lake at the cottage for a relaxing evening watching the birds and eating.
Sunday brought another Farmer's Market, this time at Nassau Valley Vineyards Farmers' Market in the Lewes Delaware area. Slightly bigger, but not much than the Milford one, but there was live music. We bought some fresh vegetables for Steve to make his famous Scromlettes the next morning and listened to the music for a bit. Didn't even try the wine this time.
Then we did another crazy drive, going up to Wilmington which is probably closer to home then where we were staying or maybe about the same distance. We did take the lovely costal Route 9 for much of the drive. Again, there were a lot of natural areas along the route, that we will have to go back and explore in the future. In Wilmington, there is an old mansion that has fallen into disrepair and is closed to the public but the the gardens are open and it sounded interesting. Unfortunately, it was smaller than we expected and most of the lovely flowers were past their prime, it smelled nice but probably would be most beautiful early in May.
Nearby was a park with a lot of hiking trails, Alapocas Run State Park, that I had been thinking about giving a go for a while. Reading about it, it sounded like good hiking but also mentioned some parts were urban. We followed the All Trails maps to the parking area and started out on one of the trails which looked like a decent loop. We started to notice there was not only a lot of uneven ground but that we were going down a lot and the downs were getting steeper as we went along. We knew there was a man-made waterfall at the bottom and decided to keep going. One part, I almost slid down as the trail got steep and less well defined. We think we probably were not actually on the correct trail all the time. When we did get to the bottom, there was a women there with two tweenage boys, she asked if we knew how to get closer to the water. We started talking and found they had also come down from where we had parked and really hadn't planned on such an intense hike. A few minutes later we passed them again and discussed the way to get back up. Thanks to a map, the app and some prayers, we all hiked up together. It was steep but not as bad as the coming down trail. The other women had asthma and was out of shape so we walked slowly and waited for her to make sure they would be okay. Glad to get back to our car and head to a well deserved dinner.
We've been to the Riverwalk area in Wilmington a few times before and figured we'd find lots of outdoor dining there. After some intense menu searching we decided on the Big Fish Grill. Lots of fresh fish options prepared many ways. Being Sunday night on a Holiday weekend we had about a 40 minute wait, just enough time to stroll the walk. The food was fresh and delicious. The waitress ate dairy free like us, so although the options were limited, she was able to steer us in the right direction. I could have had two servings of the spinach, it was so good. It was also nice actually "eating out" at a restaurant. Only our third time in three years or so, including the breakfast earlier in the trip.
The next morning after kayaking, I wanted to try one of the State Parks. Unfortunately, there is no swimming at the inland parks, except one that has a water park, so we settled on Trap Pond. There are boat rentals and such, but we stuck to hiking. We did a lovely loop that combined two of the trails and found us pretty much on our own for most of it. As we were approaching the road where the two trails joined up, we found a #2 nailed to a post.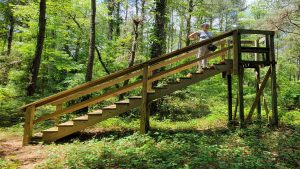 A few hundred feet away in the woods was a set of stairs, also labeled #2 which basically went nowhere. More on that later. There was also a small, very old cemetery along the route.
When we headed back to our car, I started to do some research, trying to find out about the stairs specifically at Trap Pond. What I found was nothing specific to the area, but a whole genre of stories about mysterious stairs in the woods in parks around the World. The first thing I learned, is "never climb them". The more I tried to find a story or images of the stairs in Trap Pond, the deeper I got into the legends. When we were back at home and telling the story to two of our children, they heard about the stairs and the first thing they said was "you shouldn't have climbed them". They knew the stories.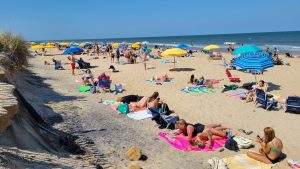 Instead of staying in the hot park we decided to move on to Bethany Beach, which we figured might be a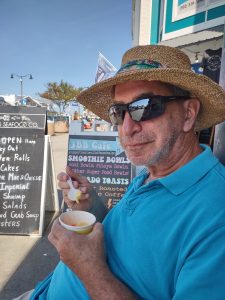 little less crowded then some of the other beaches. The area reminded me of Cape May, NJ, a favorite town, but a bit smaller. We strolled around, window shopping. Of course we walked down to the beach, which was crowded but clean and strolled a bit in the water. Then we went back into town for some non-dairy ice cream at Three Blonde Bakers. We decided to pick up dinner so we could go back and take a final kayak paddle. Since we had scoped out some options, Steve went to Heidaway to pick up some tuna ceviche appetizers. I went to Baja to get tuna and veggies tacos.
Back at the cottage we went for a short paddle. I was hoping for more bird activity as dusk approached but it was pretty quiet, but also calm and relaxing. Then we set up our dinner on the chairs outback. All the food was good. It's interesting how many takes there are on chievce.
The last morning of our our journey we skipped another paddle on the lake, though had one more breakfast out back and cleaned, packed up and headed out. Since we weren't able to do our ferry plan on the way down, we booked a ferry for mid-afternoon that day. We went to Lewes and strolled around and then to Cape Henlopen Park to enjoy our time until we needed to head to the ferry terminal. It was an extremely hot day and after trudging through the sand on the long path to the beach we realized we should have taken the chairs or the blanket out of our car. So back we went, taking a walk first to see the bay side of the park. We saw a deer, the third of our trip. She was very still, watching, not us but her baby, who we didn't get a picture of but who we saw stumbling up the hill toward her. Then we did the long beach walk again with our chairs and sat with our feet in the water for about 20 minutes. Enough to cook them nicely. Lots of dolphin sightings.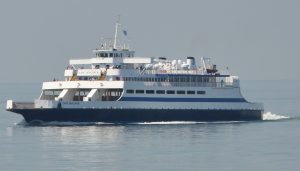 We got to the ferry in plenty of time and parked our car. We sat in the shade at the back of the terminal building and had some iced coffee. When they called to board, we went back, pulled our car up and headed for the deck. Not far out into the harbor dolphins were everywhere, making for a really nice trip.
Since the ferry docks West of Cape May and our favorite restaurant isn't open on Tuesdays, we started toward home thinking we would find a good place for one last outdoor dinner. Being so early in the Season, a lot of places were closed, so finally we settled on Chaba Thai Restaurant in Linwood. They said outdoor dining, but it seems in the heat they didn't bother, which was fine. We were able to stop at Weymouth Furnace Park to eat our food, which broke up the drive home.
We both agreed it was a lovely get away. Lots of exploring but also lots of down time to read, relax, play games and forget day to day cares. It was nice not dealing with a lot of travel hassles and having a home base where we could enjoy a combination of the food and snack we brought and some good meals out too. There were no time obligations (except the ferry) and no alarm clocks! We would definitely do a similar trip again. More adventures soon.