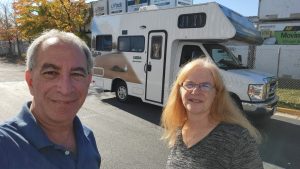 The last few years, we have barely traveled except the local jaunts. Still trying to remain outdoors mostly and away from crowds, this year seemed the perfect time to try out something we've talked about for years. This trip was less about the destination and more about trying RVing. In the end both the destination and our RV adventure were great successes.
We spent time talking with friends who have RVs and borrowed a book from them on renting, "The Complete Guide to Renting an RV" by Jeff Wildrick. Spoiler alert, he urges all drivers to watch an online video course free on YouTube. We found a lot of the information did not apply as much to our smaller RV, but it does give some important tips if you've never driven a large truck / RV before, especially about backing into camp sites, a must.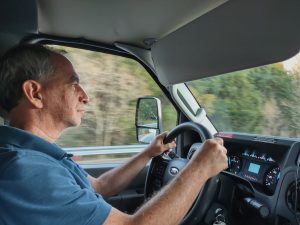 These days there are two ways to rent; there are large companies that rent RV's just like agencies that rent cars and there are also individuals who rent their vehicles when they are not using them, mostly through groups, think of an Air B&B model. We thought that especially for our first experience we needed to go with the "all bases covered" model and in our part of the Country that left Cruise America as our only real option (by the way if you rent from them there are always discount codes and special offers, at least in advance, so search them out). We would have liked to been able to rent near home, load up and leave for a chosen destination, but because we had other requirements, that plan was modified. We learned that Cruise America only rents their smaller Compact and Compact plus models from a limited number of their locations. We really didn't want to drive anything big our first time out and this became a real plus in the end, as we navigated mountain roads that would have been next to impossible in a much bigger until or parking in urban areas. More on that later.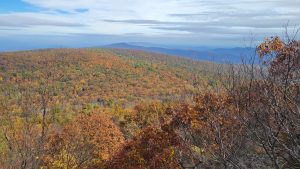 One of the Cruise America locations that had the model we wanted was in Manassas, Virginia. They also would let us leave our car there, something that was important, so the choice was made to tour that area. Although we had been on Skyline Drive and the area before, there are endless things to see and areas to explore. It was also the perfect time with the change of the leaves for lovely weather and great beauty.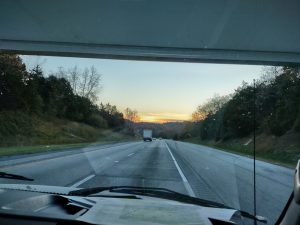 Our friends who RV told us to reserve our campgrounds way in advance, something that used not to be necessary but has become required with more and more people rediscovering the outdoors. So as soon as we booked the RV, we started looking for a route and campsites that fit our plans. There are several RV apps, and we went with RV Life that let you plan safe routes, figure out miles between destinations and more. Some roads it tried to steer us away from probably aren't able to handle some of the bigger RVs, but with our smaller rig we were able to use a combo of the app, some research, Google maps and trial (with fortunately no error).
We tried to keep our stops not too far apart, so that we didn't spend too much time on the road and not enough exploring places. We also wanted to get to the campsites before dark to make it easier to back into and set up our campsites – something we didn't always do later in the trip but we had more confidence by then in our ability to back into site and hook things up. Of course gas and mileage add up too if there is too much driving, so those are considerations as well, but the best part in the end of our short sprints each day was more time to be leisurely, take our time, explore more places, not be on a schedule or in a rush.
So we headed out on a lovely Saturday morning. Made a quick stop at my favorite local Farm Market in Collingswood (New Jersey) on the way, so we would have some fresh produce for the trip. We packed our cooler with ice and I thought we might have to keep replenishing the ice and keep some things cool in it, but the refrigerator in the RV was remarkably spacious for two people, at least twice the size of the usual mini fridge and quite cold, in fact our lettuce froze at one point and we had to turn the temperature down.
We arrived in the Manassas area about an hour before our scheduled pick up for the RV, hitting no traffic on the way. We found an interesting place for lunch. It was an Ethiopian Restaurant, Vera's Kitchen. Their Teff Injera bread was gluten free, so we were able to get a few dishes including a spicy tuna dish and a large assortment of legumes and veggies to eat with our bread, though they offer rice or quinoa too. The Injera was a little sour but still it was fun to eat all the different food with our bread and fingers. The collards were amazing.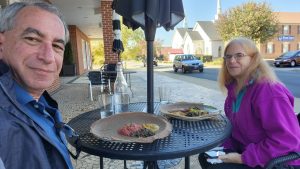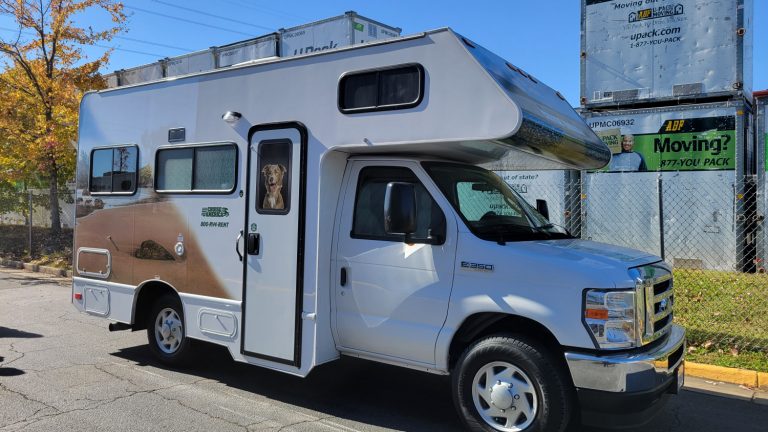 We picked up our RV, got a short orientation to how all the parts operate or require care and maintenance, loaded all of our luggage, food, cookware and other items from our car. We found the RV had lots of storage space, especially since we were able to use the "upper bunk" for our clothing and such, and the fear we had that we had packed too much was unfounded. The most important challenge was putting things in places they wouldn't escape from while driving. After a few loud bangs as items moved or shifted over the next few days we got better at it. The coffee maker went on Steve's pillow when not in use, but most things were tucked away.
The first tie up in our travels was when we got to Skyline Drive, where our first campground was located. There was a long slow moving line going up to the entrance. We soon found out it was to pay the entry fee. Since we had bought the "America the Beautiful" senior pass (thanks to a 62 year old husband) we could have bypassed the line, but the pass lane wouldn't accommodate the height of the RV, so we had to wait a bit to get through the taller toll booth. Once we were actually into the park we were back on track with timing and arrived at the Matthews Arms campground with a decent amount of daylight to spare. We were a little hesitant when we booked that camping area, as the others on Skyline Drive had more amenities, but it had the availability we needed. We had no hook ups that night and limited hours for the generator, so the only downside was we were a little cold. We actually could have run the heater for a bit but we still hadn't figured all that out, so an extra blanket it was.
But I'm getting ahead of myself. On the way in we stopped at a camp store in the park that had firewood. Most camping sites want you to use only the local wood (in this case kiln dried) so as not to carry invasive pests from one place to another. There was always kindling in the campgrounds and we had some paper / cardboard to help, but next time we will make some fire starters for quicker starts. Once we registered at Matthews Arms and backed into our site, we got a fire going for warmth and atmosphere and enjoyed the already prepared dinner I had brought for the first night.
A quick mention about the prepared meal, just because I had the idea to order some catering trays from LesbiVeggies near home which has some of our favorite vegan / gluten free food. I was able to get some of their amazing "meat" balls and a tray of my favorite eggplant parm and some separate sauce. I froze it in portions before we left and then took the frozen dinner for the first night and put it in the cooler and then fridge, so we just had to heat it when we got there. I also cooked a batch of gluten free pasta to go with it and we used that for the first night and another meal the next night with pasta and veggies over the fire. Having a tablet with my Kindle books was great by the fire, when we weren't talking or Steve was off trying to get some great star pictures – I could read to my heart's delight.
While we were out looking for kindling the first night we saw a sign in the rear area of the campsite that said there were some falls down a trail about 2 miles out. In the morning we figured we would explore there before going out on the road, our only non-researched hike, which we should have researched. We started down the trail – and I mean down – knowing that coming back would be a lot of up. After a bit of this we ran into a couple coming the other way that warned us that it continued to go down pretty steeply and that they had reached the spot where they thought the falls should have been and found them dried up. We went a little further and then decided to turn back.
Instead we packed up and went a few miles out of our way, the opposite way on Skyline Drive for our travels, to reach the Compton Gap trail. This we had researched and though the climb was a little steep on the way up it wasn't too bad at a slow pace and we visited the valley over look at the top which was lovely. There was another part of the trail that supposedly led to some interesting geological features but we passed on that and headed back down, which was much easier.
Our next campground was at Sherando Lake, out of Shenandoah Park so we ambled down Skyline Drive, enjoying the scenery for a few hours before heading to Sherando for the night. At this site we were able to hook up to electric, so plenty of heat and water to replenish our supply. The water in the RV was for showering, the toilet and to wash dishes. For drinking, teeth brushing, cooking and such you need to use bottled water. As we were washing up from dinner we heard the water backing up a bit in the shower. We figured out over time that one of our gauges wasn't working properly and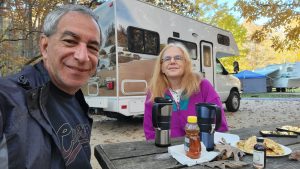 that we were probably not skimping on the water enough, so we needed to dump our tanks more often then maybe we would have with less use. All the campgrounds had showers but Steve found out the hard way that night how cold it is as soon as you step out of the warm water and then have to walk back in the cold, so we chose to use the RV shower more and dump more. In warmer weather we probably would have used the campsite shower more. As it was, we pretty much smelled like smoke all of the time as our hair and clothing absorbed the smell of our nightly and often morning campfires.
At Sherando we drove up to the Upper Lake, actually I drove, one of my two driving attempts in the RV. Plenty easy on straight empty roads. There was a path around the lovely Upper Lake, not long but full of colors. Then I did my other drive down to the Lower Lake where bathers can swim in the Summer and watched some kayakers with a little envy.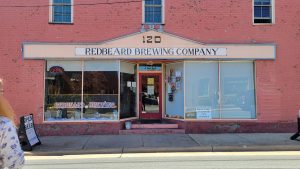 Leaving Sherando we decided to check out Staunton. I believe I lived in that area when I was about 3 years old and it was supposed to have some interesting sights. We really didn't find too much there, but wandered around. We bought our red bearded son something from the Red Beard Brewery. Found a geocache. Went to two natural markets, one which was getting ready to close and didn't really have that many great options and the other which also had limited options in prepared food. Either would have been good if we needed to stock up on staples but since we didn't we went back to the RV and ate some of our leftovers for lunch.
Then we headed up to Crabtree Falls and when I say up, not only did the road climb but curved all over the place. Steve took it in stride but it was kind of scary and certainly wouldn't have been possible in a bigger RV or in bad weather. The base of the Falls is a short, and mostly flat walk from the parking lot. To go to the top of the Falls, which is supposed to be a spectacular view is 1.7 miles, mostly straight up. We made it about .7 miles and I found it too strenuous and even with breaks it was also getting late in the day so we turned around. Steve went a little farther and found a cave off the trail but we were content with our adventure there and headed for the next stop.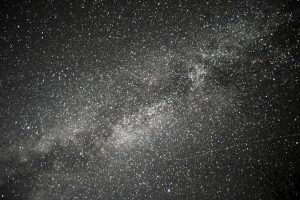 The next two nights would be at a KOA campground in Natural Bridge, Virginia. We were trying to see about different facilities, there we had full hookups, which really just mean you can dump your tanks without moving, but since we were only there two nights and we went out the second day in the area that really didn't make much difference. Natural Bridge is an Internationally recognized Dark Sky Site and the first night we were there was the clearest night of the trip and Steve wandered off and took this amazing picture of the center of the Milky Way.
The following day we visited the National Bridge Historic Site, a National Historic Landmark. There was the only place we wound up using our Virginia Park pass to skip admission (I think). Tip here, buy your park passes before you start reserving campsites, we missed a few discounts by not doing that. At Natural Bridge, there is a lovely, albeit somewhat crowded trail that goes under the bridge and up to a small waterfall. It's very flat and there are a few other points of interest along the short trail. The Bridge is truly amazing and has lots of American History connected to it.
We then decided to explore Lexington which wasn't too far away. There was a Abundant Life Cafe in the YMCA there that had cool vegan options. By the time we got there in the afternoon they were only doing grab and go with mostly desserts, not what we were looking for to take out for the evening. Instead we went into the main part of the city, found some street parking and wandered around. In a gourmet type foods shop we actually found some spring rolls that came from the cafe at the Y. We also got some excellent garlic stuffed olives that we added to our salads and such for the rest of the trip and some local hard cider. Then after looking around at what else was in the area we decided to order dinner from Nappa Thai restaurant, bought a few dishes back to the campsite to go with the Spring Rolls, and had our take out by the fire.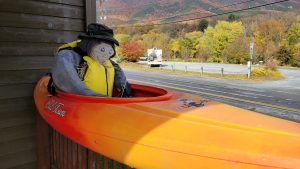 The first two days of the trip had been unseasonably warm for the time of year and seeing the kayakers made us think it might be nice to do a short canoe trip. This day though was raining on and off and a bit cooler. We went to Buchannan where many trips went out on the James River. After talking to the nice gentlemen at Twin River Outfitters, we learned that about 10% of people fell in on their trips which included Class I & II rapids. We're not used to rapids in New Jersey and though we have canoed plenty we knew if we fell into 50 ish degree water it would not make for a pleasant experience, so we decided to pass. We did brave the cool swaying bridge over the James River.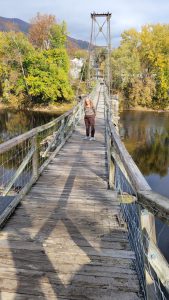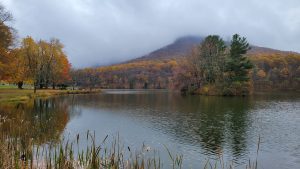 The nice people at the canoe place, suggested a De Tour (something you will understand if you have read other entries of my blog) to the Peaks of Otter Lodge where we would find a shuttle to the top of the peaks, allowing us to ride up and down or ride up and hike down. When we got there we found they had cancelled the rest of the shuttles for the day because of on and off rain and a lot of fog at the tops of the mountains. Instead we decided to hike up to a historic farm on the property. Some times of year the Johnson Farm runs programs to teach about early farming, but that day no one was around. We did find lot of lovely pears just laying under a pear tree, which I ate once they ripened. The path up was somewhat steep and rocky, but not as much as others we had hiked. We couldn't find the down loop so we went back the way we came.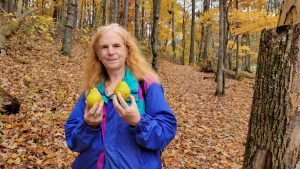 Then we went apple picking at A.J. Gross and Sons, a big orchard with many varieties
That was a De Tour from our next planned stop which was the Peaks of Otter Winery (not at the lodge). When we finally got there we found we could have picked apples there as well, instead we picked 8 wines from their selection of 35, many of which were fruit wines. We took our tasting flight outside and put together a picnic from our RV food to accompany the tasting. We narrowed down a few of the delicious choices for wine to enjoy around the fire or bring home.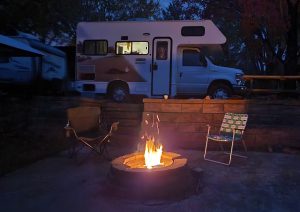 We headed toward Lynchburg, the City closest to our campground and then found that we might have trouble with late arrival at the camp ground which was a smaller private one, so we headed on. Paradise Lake Family Camp Ground was quieter than some we had stayed at and our site overlooked the Lake, which was especially lovely in the morning. We made a fire and had our most traditional campfire dinner so far of roasted potatoes, portabella mushrooms and some Beyond Sausage.
In the morning we did head back to Lynchburg to explore. We started at the Community Market, which on weekends has outdoor stalls for produce but on this day was only open in their inside area. A lot of the stalls were dedicated to crafters, who sold their work through a central checkout. We also bought some lovely iced tea from Sweet Papa's a small business. Then we went to work on getting some picnic food for lunch. There is a fairly new Vegan Restaurant up the hill from the main downtown . There was also a shop in town that did very fancy Cinnamon Buns, Cinn City. They have all kinds of toppings, and although they are Vegan with most toppings, they are not gluten free. But Steve's love of cinnamon buns meant he had to try them. So now equipped with lots of food, time for another picnic. We headed over to an area called Percival's Island. It's not only a nature preserve with some gentle hiking and a few geocaches but also has an interesting history revolving around the freight train industry in the region. There are old remnants of buildings, tracks and other mysterious structures to be seen around the Island.
Picnic first, we really enjoyed our choices from Mother Nature's Soul Food Vegan Restaurant. We both had different versions of their veggie burger, mine was a traditional with lettuce, tomato, mayo and onion and Steve's had mushrooms and a vegan cheese sauce. The gluten free buns were good. I really like the plantains I got on the side and Steve got some sort of rice. Honestly if I went back I might just get a plate of the sides, they had collards, sweet potatoes and a few others I would liked to have tried. Then we explored a little before heading back to the RV and the road.

We had to have one more meal, well, maybe it wasn't quite a meal before leaving the Lynchburg area. Outside the Cone had a few lovely flavors of vegan ice cream. A few were left over servings in their freezer which meant a yummy treat and a bit of ice cream to put in the freezer for another dessert.

Next stop Charlottesville and the weekly Farmer's Market at IX park. It was a small market but allowed us to pick up a few items and talk to a vendor that does similar but different duct tape items then our daughter, who does them as part of her larger art business. That night we stayed at Misty Mountain Camp Resort.
Into downtown Charlottesville at Iron Paffles for gluten free, dairy free waffles stuffed with various options. Then we went to Monticello. Our one historical stop. We got tickets which allowed us to tour the gardens and grounds but only see the home from the outside. There was plenty to explore outside, lots of signs talking about things that happened there and how the enslaved persons contributed to the running of the many businesses. The gardens are kept up like they were in the time of Jefferson and were interesting.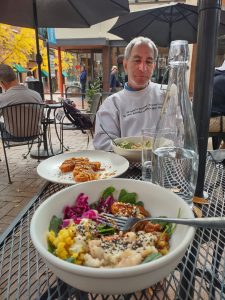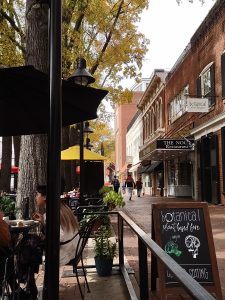 We decided to go back to Charlottesville for lunch. We found a great vegan restaurant, Botantical . We got food and sat outside on the mall. We also picked up a wheel of their cashew smoked cheese which was great with some wine and also in some breakfast scrambles over the next few days.
Barboursville Vineyards was supposed to be our next historic stop, the ruins on the grounds were of a building that Thomas Jefferson designed for a friend. It was probably the one mostly disappointing stop on our trip. The ruins were fenced off in a way that all that could be seen were a bunch of walls. It looks a little better in this photo from a distance.

The winery had a weird system with soda style taps for the tastings. None of it was really our style, so we tasted didn't purchase any, unusual for us. That night we stayed that at Madison Vines RV Resort. Nothing special to report, we had our usual nice evening with fire and relaxation.
The following days stop was in contrast to Barboursville, one of the nicest on our trip, at least the nicest of our many lovely hikes. Before our hike we stopped at the Madison County Farmer's Market. It was a small market with only a few vendors but really interesting produce, a large assortment of potatoes of various varieties, persimmons, fresh turmeric and Hawaiian ginger.
White Oak Canyon has a trail with several waterfalls and is quiet popular, but the majority of the 9 plus mile loop is very, steep and strenuous. We purposely had left this hike for the upward swing of our journey, as we could have gotten to the trail from Skyline Drive. But approaching from the bottom was definitely the way to do it. The bottom in and out trail took us to a lovely waterfall and was only moderately steep with lots of lovely places to stop and enjoy the views. When we got to the last waterfall before it would have been too hard, we met a lovely couple visiting from England, although the women was actually from South Africa. She had an older film camera which happened to be the one that Steve had used for many years and he wound up giving her quite a photography lesson on all of its special features. At the end we had them take this lovely picture of us.

Here are some other pictures along the walk:
Heading toward Fredricksburg, we stopped at a very different type of winery. The Bacchus Winery was located in an industrial type of complex with other light industries. The owner served us samples of some of his wines and told us the story of how he started out wanting to teach others to make wines, something they still do there. They sell equipment, give lessons to those wanting to learn how to make wine and also sell and serve wine. We bought some we liked. We were looking into their brewing kits for a present but it involved huge buckets and other supplies. I did ask the owner about a source for corks and he poured me a whole bagful to take home for my daughters arts.
| | |
| --- | --- |
| Next we strolled a little in downtown Fredericksburg and had dinner outside at a place call Juan More Taco. They were very accommodating of gluten and dairy free and we had some delicious tacos, guacamole and chips. Onward to Pohick Bay Regional Park, where we were spending our last two nights. We broke our rule arriving after dark. They were also deep in the midst of their Halloween Celebration and the drunk neighbor at the next site was very anxious to offer us some Halloween Wine. We declined. Then next morning we decided to explore outside of the park. | |
We first had to check out the local Lorton Farmer's Market, since it was the right day for it. It wasn't the best one, but we did pick up a few needs and some great pickles.

We then went to explore Workhouse Arts Center, a former prison complex, turned arts center. There was a connection to the suffragette movement, which seemed appropriate as we approached election day. There were galleries with many types of art and some of the artist were at work in their studios.
Back at the campground we went hiking to see the bay, find a geocache and get some exercise.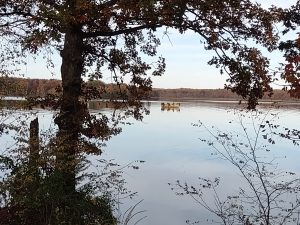 We needed to have the RV cleaned up and returned by 11, so headed out in the morning, took care of all of that, reloaded our car and then went in search of brunch before returning to our own home. We found a little cafe in Haymarket, Virginia called Hidden Julles. It was very tasty and a great way to wrap up the trip.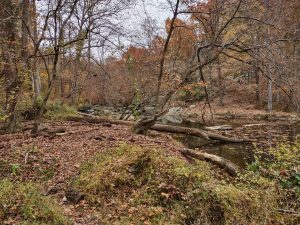 When the weather cleared a little we decided to take one last walk. Using AllTrails app, we found some walking trails behind the athletic fields at Cecil County College in Bayview, Maryland. The trails were hard to find and a little slippery and poorly maintained but it was a pretty area.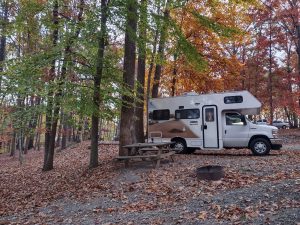 We learned we would RV again for sure. We thought that owning or living in an RV long term would be something that took a lot more thought. If we were ever to take either of those steps we started to learn in terms of amenities, layout, and such that you really need to give the needs of your family a lot of thought. Renting is a great way to start that learning process. We also got to see a model, just slightly bigger that was privately owned and had much nicer features and layout. All in all it was a great R adVenture and a wonderful way to enjoy the outdoors, a slow pace, fun meals and being back on the road.