It was a long Fall and Winter.  Bad things happening in the World and in our personal world. It was time for a long needed   break.  We usually do a driving or closer trip for our anniversary but after Steve got bumped on a Southwest flight last year (he volunteered) we had to use up some free flying.  Since our goal was relaxation we decided on a Caribbean cruise, something we had done 33 years before on our honeymoon. 
We started with a day in NYC and a Broadway show, since some out of  town friends were coming in and we thought it would be fun to meet them there, it was and "Waitress" was super!  We headed out of NYC to Montclair, New Jersey, a cute little college town with nice restaurants.  We had a lovely Ethiopian dinner at Mesob, they can even do gluten free homemade bread if you call ahead, but since we hadn't we at an assortment of wonderfully spiced vegetable dishes with rice.  Had a little sorbet down the street and headed for our hotel that we booked through ParkSleepFly (make sure you go through ebates when you book to make a great deal even greater – please use this link and we both get extra credit).  In the morning, really early, they took us to the airport in Newark to catch our flight to Ft. Lauderdale.  
In Ft. Lauderdale we had booked the Royal Caribbean transfer, so we got on a bus, they took our luggage and when we got it back a few hours later, it was in our cabin.  The ride to the port was 30 minutes, about another 30 to go through the check in and we were free to roam the ship.  Our ship was the Enchantment of the Seas.  We sailed on the Oasis of the Seas several years ago when our son worked for RC and that was a wonderful experience.  This time we weren't as overwhelmed by the service and the amenities, but it was still nice.  One tip, it was relaxing, but if you are looking for quiet on your get away, it's hard to find on this ship / itinerary.  There is lots of music blasting in most public areas either recorded or live.  Lots of other hustle and bustle, but as long as that is okay or if partying is your thing you will love it.  We were tipped off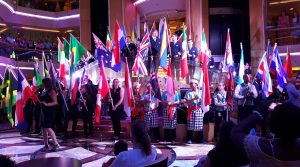 that sitting out by the shuffle board courts can be quieter, most of the time, unless someone is playing and the Vista lounge on the 11th deck plays quiet music and is a good place for an unwind drink with a great view.  There were some fun comedy shows and an excellent variety song and dance show.  There were lots of activities for all ages and interests but we passed on most to just have down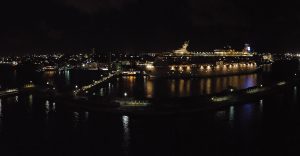 time.
The food was good and they were able to accommodate our diets, though it left for little choice in the seated dining room.  We ate in the buffet area more except for three of  the dinners and choose as carefully as we could.  They are good about telling you ingredients if you ask, there are always fresh fruit and veggie choices, lox at breakfast and more basics.  It would just be simple and nice if they just labeled ingredients.  For those of you without restrictions you can easily overeat to your hearts content. 
The ports were Nassua, Cococay – their private island and Key West.  Here's a little about those.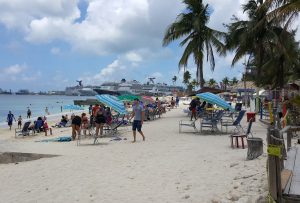 Nassau has lots of shopping, most of the same as what you find in any cruise port but also their Straw Market with local vendors.  It's become a little fancier and a lot bigger since we were there thirty years ago, I gather it was rebuilt a little more permanently after being destroyed in a hurricane.  It's a great place if you like bargaining, something we really aren't into, so we found the hats we wanted, probably paying too much for them,but they will serve us well.  We geocached a little and walked the area.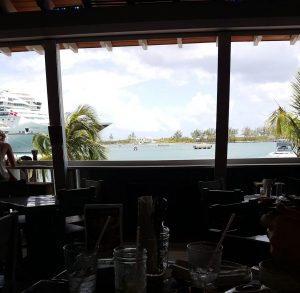 We walked to a public beach area and got a little wet.  Our plan was to go back to the ship and then have a local dinner, until we found out that the whole area near the Port closes at 5 and even though our ship was in port until 11, that at night the only place to go was the hotels or the Atlantis resort.  We then decided on lunch in town and then staying on the ship and chilling.  Lunch was at Lukka Kairi which was quieter then some of  the more crowded spots, upstairs with a nice view of the Port and the bay and had good food.  They even have an extensive gluten-free menu.  I had a wonderful chicken curry, one of the local specialties.  We shared their excellent sweet potato fries and the staff was friendly and helpful.  
The next day was Cococay, the private island.  There were lots of things to do.  Our dinner companions went snorkeling, but since the Seas were rough that day said the visibility was bad.  We just choose to hang on the beach, at first literally in a hammock.  Explore the Island a little,walk out on the 1/4 mile of sand bar through shallow water, where we saw some pretty fish and a really cool plate sized star fish and chill.  They serve a barbecue style lunch, fortunately with some good salads and fruit.  As we were eating it began to rain.  It rained on and off for about half and hour and then it really started to pour pretty steadily so we headed back to the ship and a nap before dinner.
My favorite stop on the cruise was Key West, where we had never visited before.   We visited a home that was at one point the home of Ernest Hemmingway.  The guides tell amusing stories about Ernest, his many wives and the cats the property is now a sanctuary for.  We wandered thought the shopping area to the Southernmost Beach in the USA.  Then we found a wonderful Health Food Market and Restaurant, Date and Thyme, where we had lunch and much needed smoothies (it was very hot and extremely humid).  Feeling refreshed we wondered down to the Key West Winery.  We bought a Groupon (again using Ebates first to improve the already good deal – please use this link and we both get extra credit).  Their specialty is exotic fruit wines, including some with key limes of course.  With the Groupon deal we got to taste and take home a full bottle and two pouches (think adult juice pouches) and we bought a few more pouches, since it's just enough wine for Steve and I at a sitting.  Lastly we found the geocache at the End of Route 1.  We love to drive Route 1 any time we are near a Coastal spot, so we needed to see the finish, even if we didn't drive it this trip.  Then back on board for the overnight trip to Miami.  Oh, and then there are the feral chickens, they are all over Key West (you can read about them here).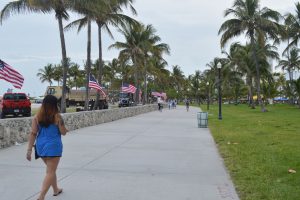 We had booked two more nights in a Miami Hotel, hoping mostly to do an Everglade Airboat Tour.  So we arrived at our hotel about 10:30 after taking an Uber from the cruiseport.  After some discussions about the best way to see the sights we decided to head into town to book a combo tour of Miami and the Everglades. Not having a car the hotel shuttle took us to the Airport where we could get a day pass on public transit into town.  Miami has really good public transit, but like any City it helps to know a little about it.  It also is a very spread out City.  We got to downtown and talked to a few tour people.  Finally we choose to leave for the Everglades tour that afternoon and have a ticket the next day to do a bus tour of the City and a boat tour of the Harbor.  Around 2:30 we boarded the tour bus for the Everglades and rode for about 30 minutes.  Then the tour guide explained that we could go no further as the police had the one road in closed due to a fire further on.  We turned around and the bus took us to the tour office in Miami Beach so we could get a refund.  So we walked the beachfront a little.  Found a fun Mexican place for dinner, Naked Taco and then headed back.  They told us there was a bus back to the airport, what they didn't tell us was it was a loop and where to catch it.  There was a big military air show planned for the next day, so we not only went almost a full loop on the bus, but it was very slow due to police roadblocks.  So in the twelve or so hours from the time we got to the hotel to the time we got back to crash for the night, we had seen a bit of Miami Beach, had dinner and rode a lot of buses/trains.  
The next day went more smoothly.  We found a great deal on Groupon for an airboat road at Coopertown Air Boat Tours.  We took Uber out from our hotel.  It seems there is a drought going on in the Everglades and it's driving all the alligators into more condensed areas where there is water, so there were alligators everywhere we looked.  The guide would slow / stop the boat where there were big groups or where they were most active.   We also saw beautiful birds which he would identify for us.  One tip, if your ears are sensitive bring your own ear plugs, they give you cotton.  They did give the kids earmuffs (not the warm kind) but they may not have enough for everyone.  It took some time for my ears to get back to normal.  They have some baby gators you can take your picture with but not the full shows that other places do, but that was not of interest to us.  Seeing the gators in the wild is what we went for and what we did.  Then we went to Uber back and found it didn't work, fortunately Lyft did, but the driver told us since the reception is bad sometimes you need to try the location as the Indian casino hotel back a few miles.  I'm sure they staff would have helped us if we hadn't been able to make it work.    
We then got back on the hotel shuttle and the train and went to Coconut Grove.  This is a cute little town full of shops and places college students like to frequent.  We went mostly because there is an organic farmers market there on Saturdays, all day, year round.  It has all kinds of prepared foods, other items and of course produce.  We had some dairy free ice cream, after the other vendors had feed us enough samples of food to make lunch and bought some snacks for the plane the next day.
 Then we headed back to the train for another "adventure".  Our Uber driver the first day told us to go to see "The Walls of Wynwood".  Well, we took the train to the stop for the Wynwood bus, but it never came after a half hour of waiting.  Then we figured we would go by Lyft, well we got there and it was interesting, but not an area to walk around without a tour, so we had the driver take us back downtown.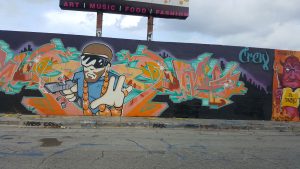 We walked around town, checked out the touristy Bayside Area and were deciding if we should go back to the hotel and shower before going out for an anniversary dinner, when I found one last interesting looking place to try in the area.  We figured we'd check it out and if it didn't work go back to the hotel.  Well work out it did!  The restaurant is called CVI.CHE 105, the food is Peruvian.  They can easily do gluten free, they can add dairy free to that not as easily, but when we threw in the no shellfish, the waiter had to think.  Basically nothing on the menu the way it is would work, but he offered us a few options and put together two custom dishes for us.  They were both amazing.  Steve's was a variation on chivice with fish and indescribably wonderful sauce and flavors.  Mine a grilled fish dish with great spices and accompanied by amazing browned plantains.  They make drinks with Pisco, a Peruvian Brandy and they have their own signature blend and cocktails.  Those were also amazing, but more then one each we would have never found our way back to the hotel.  All in all a really special Anniversary Dinner to top off a wonderful Anniversary trip.  
The next day it was back to the airport in Ft. Lauderdale, fly to Newark, pick up our car and dinner at a great Falafel place in Princeton before arriving home to catch up and then start planning the next adventure!
Just a few more tips on how we find great places to eat that meet our needs.  We use a combination of Yelp (with searches like gluten free, vegan, organic, etc.), Find Me Gluten Free and I just added the app for Happy Cow.