All the rest of my posts are about how much I love to travel and the places we go. One place I don't particularly appreciate going to is the grocery store. The Pandemic taught me that it's rarely or never necessary. We are eating healthier than ever and spending no significant time in stores. Once a month or two I will order from our local grocery, BJ's and/or Whole Foods for pick-up. Stopping on the way home from work or errands and having everything ready is a luxury that costs little or nothing depending on where you are shopping. I will tell you some of my favorite tips for shopping online and locally.
Farm Markets – you will have noticed in my road trips I love to stop at Farmer's Markets. One because it is a way to buy local, one because it is fresh food and also because it's lovely to talk to the farmers and other vendors. These are some that are local to those who live in South Jersey and Philadelphia. Anywhere else just Google, "farmers markets near me" to find your options.
All of these markets tend to have fresh eggs, though we get ours through a person who raises chickens in town. Another thing not to stop at the supermarket for and so much tastier.
Then we stopped at Wildwood Farmer's Market the other day and found it was mostly not farmers, there were two among 40 or so vendors and nothing organic. Today on the other hand our daughter was a craft vendor at Rancocus Woods Craft and Antiques Show, where they also had their regular Sunday morning Farmer's Market and it was great. I got a variety of organic produce and a variety of mushrooms – one of our staples – and more.
Philly Food Works Supports local farmers and producers of gourmet foods in the Philadelphia region, as well as a few sustainable businesses in other areas, like fishermen from Alaska. They deliver year-round and have a program for free delivery with lower minimums you can join. I order weekly in the winter and sporadically other times of the year. If you don't have time to go to Farmer's Markets, they will have everything you need and more.
I also order from Misfits Market when it's not summer. I started many years ago when they choose products for you, now you choose what you want to order and which weeks. Their prices have gone up a lot lately, but of course most things have. They have expanded from organic produce to some conventional and a lot of other types of products as well. It's another way to avoid the grocery store and come home to great food. With the link above you can not only get $10 off your first order, but if you use Ratuken you can get another $10.00 off the first order.
Then there are pick-your-own farms for a variety of fruits and vegetables where they can't get any fresher and sometimes are less money then the farm markets or stores. Sometimes the price is not much different but the experience is great. I'll soon add a few of my favorites to the South Jersey and Environs Page daytrip page.
SuperBloom Bakery is where we get wonderful gluten free sourdough bread. Mostly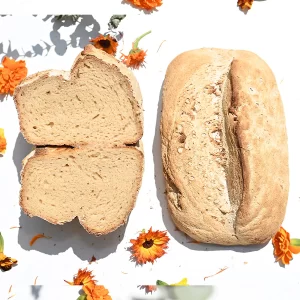 before this we didn't bother with bread. Once we decided we liked it, we went on a subscription, one loaf with olives and one plain. We've done monthly and every 45 days depending on how much we are using and you can change it as needed. They are not always consistent with their deliveries, so if you are planning to have it for a special occasion or trip, plan ahead. We slice it once it arrives and keep it in the freezer as they suggest. We like to slice it really thin and make it last. You can toast it or just throw it in the pan before or after your breakfast eggs / veggies. It makes great bruschetta in the Summer. I use these recipes a lot for a mix of bruschetta's that use a lot of Summery herbs.
Vitacost has been a place we ordered for years, mostly for supplements. Over time they grew their selections of food. They run specials all the time, so never shop their site without an offer, as there will be one in a day or two. If you leave items in your cart, they will always offer you 10% to finish your order as well. If you have an account set up they keep a quick reorder list, where you can find those favorite products and also see if any are running extra discounts. Shipping is free over $49 dollars, so I always make my order at least that amount, trying not to go over too much since I know I will need another order soon. Some of my staples from them are Almond and Tiger Nut Flours, Raisins, Organicville Salad Dressing, the Imagine brand broths that I use when I don't have time to make my own and much more.
Thrive Market charges a yearly fee but if you order regularly and take advantages of their sales it can be worth it. They are also a very socially conscious company that does a lot of giving back to communities where people don't have access to or can't afford healthy foods. They too keep a list of products you have ordered before and when they have a special on those items those pop to the top of the list. I order my favorite Almond Milk from them, some of their own products like dried fruit, and they also have their own line of chocolates as well as other good brands. They do some bundling on things like regular or grain free chips, with or without non-dairy queso. They also do supplements, though have less then Vitacost but they do have a good selection of green cleaning products. Occasionally I do a frozen box from them, it's a separate minimum on shipping but you can stock up on nice fish, vegan "meats & sausage" and more.
Thrive Market and Vitacost also offer discounts through Ratuken, if you don't have this as an extension on your computer, consider it. Sometimes they run specials on up to 15% back on order, from these companies and so many other on-line purchases, usually it's more like 1 – 3 % but it still is cash back and adds up.
Terra Soul sells "superfoods", things like nuts, seeds, flours, dried fruit and more. If you want these items in bulk their deals can be really good. I often buy dried cranberries, almond flour and a few other products I used for baking from them.
I alternate between Terra Soul and Food to Live for many nuts, seeds and such, depending on prices, specials and what combination of things I need at a time. Food to live runs sales too just not as often, so I often stock up on large bags of seeds or nuts, which we soak dehydrate and use often to eat, make trail mix and bake.
Runamok is not a place I buy for value but for their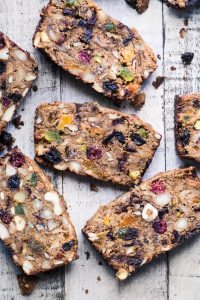 delicious and unique products. Their main product is Maple Syrup and I love their infused syrups like cardamom and ginger which add something extra in baking, especially in pies. I have found some other infused syrups and honeys at other companies or at local fairs and I like to have a selection depending on what I am making. One of my favorite recipes is the gluten free pumpkin pie from Allergy Free Alaska. Their syrups really add flavor; usually a mix of the cardamom and ginger. I don't use their pie crust, I use a pie crust made from nuts, seeds, candied ginger, dried cranberries and other dried fruit, which also adds not only flavor but nutrition. It's a great breakfast. While I'm talking recipes I also make this bread every once and a while, it's dense like a fruit cake but has lots of great variations, I usually use pumpkin instead of the apple butter and it's great for breakfast and very filling.
Frontier Coop carries many interesting products and has a huge sale catalogue every month. You can order directly but the best is to find a group who want to buy together and get the free shipping and share the handling costs. I use it every few months for bulk spices and also see what else is on special when I'm ordering. It's where I first found the Runamok syrups and some other products I now use.
I also found one last favorite company from buying their products on another site. Teeccino makes herbal coffees and teas, but before you say that's not "my cup of tea", they are meant to be rich dark flavors that appeal to those who drink caffeinated, acid beverages that their body can't handle, or maybe just want a healthier alternative. Many are dandilion or mushroom based for extra health and prebiotic beneThey have flavors such as dark roast, dark chocolate, mocha mint and many more. Some include barely, so if you are gluten free you can search those products on the site. They make their products in tea bags or in loose varieties meant to brew in a coffee maker. They have sample packs and plenty of offers if you want to see if you will enjoy them as much as I do.