Last year our oldest son took a job with the  Engeman Theater in Northport Long Island.  We have been in the area a few times since, mostly with a special mission in mind and only local exploration.  This time we left on Sunday to catch the show at the theater and stayed for Monday and Tuesday, as those are Brian's days off.  We used those days to drive the length of the Island and see some of it's sights.
We planned our departure carefully, we wanted to arrive at Falafapita in Brooklyn,  which we had discovered on our way back from Brian's another time,  to get lunch and take it to share with Brian on his pre-show break.  No traffic made the plan flawless, except since it was so early, the hummus wasn't ready yet for the day.  They still filled our platters with amazing, tasty, fresh salads and gluten free falafel balls.  Very simple little place, reminiscent of the falafel stalls that line the streets in Israel.  We meet Brian by the Harbor at the end of Northport's Main Street,  just a few blocks from the theater, and ate, relaxed and caught up.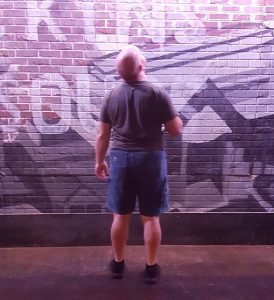 Then making our way back to the theater we joined the crowd for the matinee of  the Broadway version of Newsies.  Being a short train ride from NYC the actors for Engeman performances come from the NYC professional community, so their shows are top notch.  Newsies was no exception.  We thoroughly enjoyed the acting, singing, dancing, set and story.  As Brian is the lighting supervisor, once the theater cleared he took us up on stage for an up close and personal with the set, as well as a chance to watch him test the lights before the next show.
We enjoyed some refreshments at the friendly coffee shop across the street, Caffe Portofino, which although we stuck to beverages also serves food, including some gluten free and vegan options.  You might run into some of the stars from the show there as well; we ran into several Newsies.  Brian needed to stick around a while longer, until the next show started so we walked through town and a bit in the park by the Harbor.  When Brian had finished his work, we found a Thai restaurant, The Thai House in Smithtown, where we shared a delicious and leisurely dinner.  
As usual, these posts are combinations of  learning about cool places to visit, mixed with some travel tips.  So if you don't want to save money on travel, just skip this paragraph.  We had made a one night reservation at the Holilday Inn of Hauphauge, about 15 minutes away – there is nothing too close.  We weren't sure of our plans for the next night, so we checked out in the morning but eventually wound up there again the next night.  The price for the second night was actually cheaper.  It's crazy all the prices for hotel rooms, and the effort you must make to get the best price.  But here is a strategy that helped us make out well on these two nights.  We have an IHG membership (which is free).  When you book IHG through Ebates, you get 8% back after your stay, which knocked around $10 off each night.  You also get IHG points, which eventually add up to a free night.  On top of that we get some credit back on our Capital One card with which we can wipe away some of the travel cost.  So, with a little effort – a better deal.  If you still don't have  (please sign up through this link, if you can) on your computer and your phone, you are missing out on free money.  If you go through Ebates  on Group-on you get some of your money back, so if you don't have so many restrictions on places to eat, you can buy  and try those restaurants at a great price. Same for tourist activities and a lot of web sites that you might already shop.  Check it out, shameless plug, use my link and I get money when you make your first purchases, then you can do the same with others.
We woke up in the morning to pouring rain, but of course we couldn't let that get in the way of adventure and "de tours".  Picked up Brian and had a great brunch at a place called Local's Cafe in Port Jefferson.   Not a big menu, more a coffee shop but the food was fresh and good and they had gluten free options to sub for bread and such.  Found a couple of Long Island scenic routes online, took the one that lead to the North Fork and then across to the South Fork by the way of two ferries.  Here is the site and the route we did was basically Route 27A from Eastport to Southampton.   You will see the first tour we later did in reverse.  A lot of the little towns we drove through looked like they could have been interesting to stroll in if the weather was better, but it worked out timing wise for us that we didn't anyway.  When we started seeing the North Fork Wineries, I did some researching to see which would be a good stop for us.  We wound up needing to make a few turns off the main road, but were pleased we did.  Duck Walk Winery, actually has a two locations, the North one we stopped at, the South Fork one we later passed.  As always, we were looking for a place with some sweeter wines.  Between the three of us we did two tastings, at $10 each and tried about 8 wines.  Several of which were dessert wines, but even their Riesling was surprisingly sweet and delightful. We left with three different bottles.
As I mentioned we took a ferry (they run really frequently, we just drove up and were on our way in a few minutes), this ride was maybe 15 minutes or less.  When we landed on Shelter  Island, we figured it would be a cool place to find a geocache and started looking to see what was there.  Those of you who geocache will appreciate this part of the story, as one of the caches had just been published that morning and we got to find it in the rain, but had the excitement of being "first to find", something new to all of us.  There wasn't much on the Island, so we headed for the next Ferry, also departing quickly and even shorter in riding distance.  This Ferry dropped us on the South Fork.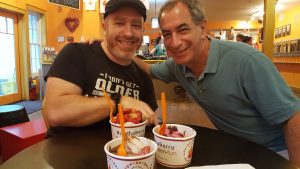 My apps told me about an ice cream /yogurt place that had vegan/gluten free choices. We headed to Buddhaberry  in Sag Harbor.  I was a little skeptical until we got there, as often they are soy based (I don't do soy), full of additives or in some other way not appealing.  Well this was the real deal.  Not only were there vegan options but they had almond based, coconut based, fruit based with ingredients listed, many organics.  It was really exciting.  It's a by the pound place with toppings galore from fruit and other healthy toppings to all kinds of candy and not so good treats.  You put the whole thing on the scale, not cheap, but being able to eat 4 kinds of soft serve with some organic cocoa powder sprinkled on it was a great lunch (actually, it may been the third meal of the day if you count wine as lunch), but on a de tour, such things are irrelevant.  You need to take them as they come.   
We debated driving to the Montauk  Lighthouse which marks the Eastern most point of Long Island and also has quite a bit of  interesting history.  We weren't sure how much we would see with the weather, but as we headed there the rain actually broke for a bit and we arrived in sunshine.  We payed the fee to climb the tower, if you do, make sure you go up the last 4 steps and look out the the light landing, its a great view from there, the balcony below is pretty limited.  There is a interesting museum at the bottom with info. Not only the light house but the Long Island area starting back with the Native Americans who originally inhabited the region and how they lost claim to the land.
Driving back, we needed to find a place for dinner.  That was probably the worse pick of the trip.  Grasso's in Cold Spring Harbor  was very mediocre, both in food and in service.  They did accommodate okay, but the food was lackluster as were the drinks, which was surprising as they seem to be a bar oriented type of establishment.   Maybe we hit them on an off night as they have plenty of good reviews.   We still enjoyed our evening and were quite ready for a good sleep after dropping Brian off and returning to the Holiday Inn as mentioned above.
Tuesday, we had a leisurely breakfast at Batata Cafe,   great little place we had visited once before.   It's right in Northport, but not downtown.   Lots of options for gluten-free, and vegetarian.  They even have the option for organic eggs in your omelette.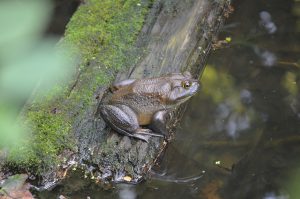 After that Brian had some other plans and we parted ways.  We went on to see the part of the Island between Northport and NYC on the North Shore.  The area is known as the "Gold Coast" and had many Mansions of the rich and famous back in the day, some of which are preserved for various uses.  We drove along the water and de toured to Sands Point Preserve.  The grounds were lovely and there are hiking trails, a rose garden (just past it's "peak" and three mansions on the property.  There were no tours of  the Mansions that day and you can only see two from the outside.  If you want to go, it's probably worth going when they are running tours or specials events as they charge to get on the grounds and it really isn't that special.  The coolest thing was the big bullfrog we saw, oh and a wedding that was taking pictures in the rose garden.
We headed back through the town of Port Washington (yes, there are ALOT of towns on Long Island that start with "port")  to get some items to add to our picnic lunch of  leftovers.   The Dolphin Bookstore was a lovely little place with a cafe, but I guess they want you to stay in the store, not take out.  We were able to convince the girl working there to put the guacamole in a cup so we could take it out.  Then we asked if they had some forks, and they didn't have any plastic.  I went across the street to Ayhan's Mediterranean Marketplace, where we should have gone in the first place.  They actually had guacamole and  a whole lot of other homemade food.  I bought a few of their grape leaves and some olives and left with forks too.  Their Halavah looked amazing but the gentleman wasn't sure it was gluten free.   Although it seemed unlikely they would bind it with wheat flour, I didn't want to take a chance.
Then off to look for a picnic spot, just down the street on the way out of town was a lovely harbor front area.  There was a storm rolling in on the other side with spectacular lightning and it was fascinating to watch the water darken, the waves grow and grow, the boats bobbing frantically and we stayed until it got a little too close and started to rain on us, then watched a little longer from the car and finished our food.  Now it was time to navigate our way home.  Back to work the next day, so we needed to get back from our short de tour and start working on planning our longer one for the Fall.  Stay tuned.