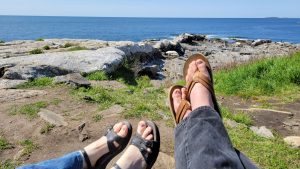 Maine in May is known to be a great time to see moose along the roadways. We've been to Maine several times before, once in time to see moose in the Moosehead Lake Region. It's been a good number of years since the last time, so we decided to make it our next RV Adventure. Back on Black Friday in 2022, Cruise America was running a really good sale, so we decided to book the trip not knowing if we could actually make it happen with our jobs and such, but they do allow cancellations for a good while, so we had nothing to lose. There were no sites for Cruise America in Maine; the closest being Seabrook, New Hampshire. Since we would have to drive up and stay overnight anyway to pick up a rental, that made sense. We certainly didn't want to drive one all the way from NJ, eating us gas, mileage, and trip time.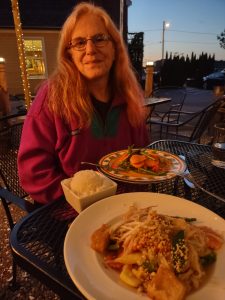 Just a few days before leaving I was reminded of some family friends who live along our route North, not far from the Mass Pike, so we made plans to take a break on the way up and have a long overdue visit. That was a lovely addition to the trip. After leaving our friends I started searching my apps for a place to have a late dinner. There didn't seem to be much in the Seabrook area, so before heading directly there, we deToured to Newport, Massachusetts a well know town along the Merrimack River. There was a Thai restaurant that got really good reviews on Find Me Gluten Free, Brown Sugar by the Sea. There was outside dining, still our preference these days, and although we weren't dressed for the sudden turn from warm to chilly, they moved us closer to the outdoor heater when a table cleared soon after we ordered. The food was excellent, the servers were lovely and they even had some live music coming from right inside the open doorway for half the meal. Then we headed to the Holiday Inn we had booked in Seabrook for a good night's sleep.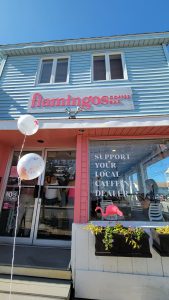 The next day, which was our 39th wedding anniversary, one of the other reasons for the trip, we headed to the town of Seabrook Beach, New Hampshire to have breakfast. A restaurant called the Flamingos Coffee Bar was highly recommended for coffee, especially some fancy flights that we couldn't drink but looked pretty, and for having a variety of gluten-free bagels with fixings including vegan cream cheese. It was a wait, with the Holiday weekend crowd, but well worth it as we savored our bagels, lox, onion, cream cheese, and avocado sitting on a bench overlooking the beach.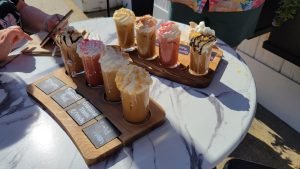 By the time we finished, we were past the time that we could pick up our RV so we went, did the paperwork, got a quick tour of any features that might be different from the smaller version we had rented the last time, this is their standard, which is 25 feet. Steve wanted to try and see the difference a little more space made. Let's just say that we agree to disagree on the advantages, but it's hard to get the smaller rentals anyway. The bed was slightly more comfortable and if there were more people the storage room would have been a plus, but far more than two people needed.
There was a Saturday farm market we wanted to try to stock up on some fresh foods in the outskirts of Portsmouth, New Hampshire but because of our late start, we got there about 15 minutes before closing. We did get some salad greens and garlic scallions, one of my favorites, and some recommendations on where to go for other items. Although Maine has several Whole Foods, they still have a lot of independent natural grocery stores and coops. We went to Rising Tide Natural Foods and got several more of the things we wanted. We did bring less with us in perishables than our last RV trip in the cooler since we had the extra overnight stay, and I was less organized as well. The RV fridge and freezer were larger than the last one too, which had been sufficient, but we are slowly adding to our stocks, as later in the trip it will be more rural, with stores and restaurants fewer and possibly less accommodating.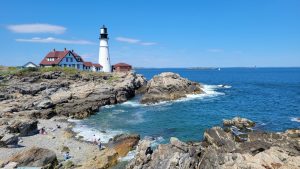 Our only planned stop for the rest of the day until the campground was Portland Head Light in Maine. It is known as the "most photographed" lighthouse in the world. We had been there many years ago and both of us remembered a quick stop on our way through to drive up near the lighthouse and take pictures, but not much else. It winds up the lighthouse is in a large park, which was full of people celebrating the first weekend of the Summer Season. We took our requisite pictures and then explored the walk along the top of the cliffs and its lovely views. We went to check out the ruins of an old stone mansion that are also on the grounds. There is also an old fort by the water that we saw from a distance.
From there we headed into the city of Portland, Maine. We wanted to stop at another co-op to get a few more things and much more importantly to check out Sticky Sweet. Sticky Sweet is a totally vegan and gluten-free ice cream company. They have a window where you can walk up and order from their flavor selections. The dark chocolate was SO good, and I'm not a real plain chocolate ice cream fan. I really ordered it to go with the other scoop of lemon cheesecake flavored, but I could have just had the chocolate. Steve thought the coffee, usually his favorite, was a little too heavy on coconut flavor but still enjoyed it. Since our freezer was parked down the street, I got a pint of their mint cookie to eat by the fire during the rest of the trip, at least as long as it lasted (not very long of course).
We had booked our reservations for two nights, required for the Holiday weekend at Sherwood Forest Campground in New Harbor, Maine. It is a lovely family run campground, no special views or anything but quiet and edged by woods. Our first night dinner was a salad from the items we had bought along the way and a delicious mix of fresh pasta, local mushrooms, and garlic scallions we heated on a pan over the fire. We relaxed, read, drank some wine and chilled. We talked about in the early years our anniversary meant getting dressed up and having a fancy dinner, often part of a fancy vacation. Those were lovely years, but for where we are now this was just as enjoyable in a different way.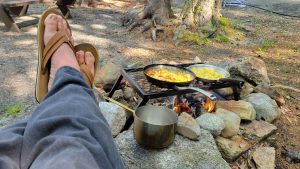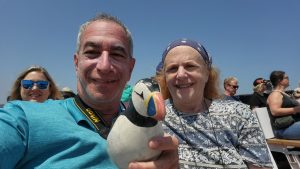 The next day we had pre-booked a Puffin Cruise with Hardy Boat's also in New Harbor. We took our time cooking a breakfast scramble and some potatoes over a morning fire, relaxing and such until we had to leave for the mid-day sailing time. The boat launch was only a few miles away. We got there plenty early and talked to some others going aboard. The Puffin Cruise, like the Puffin Project, is sponsored by the Audubon Society. The narrator for the cruise gave us a history of the project that has returned Puffins and other birds to the islands they had once inhabited and the struggles to build their population.
The approach is very hands-off but there are multiple people who spend time on the island counting and recording the birds. Looking at the pictures when we booked the cruise I expected to go along the shore of the island and see the puffins on the rocks. That is supposedly common in Summer. Instead, we saw many of the birds in the water and flying across the area. It was hard to get a close up look but Steve was able to get some incredible pictures and even at a distance they were enchanting. There was an employee of Audubon on the boat randomly, having brought some people with him and he was super-fast at spotting all kinds of birds and pointing them out. It was a great learning experience and a nice ride.
Up the road from the boat launch we drove to the Rachel Carson Salt Pond Preserve where you could walk among the tidal pools. We saw a lot of snails and a few crabs, but mostly just lovely colors.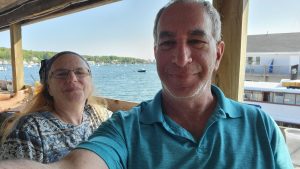 Then we decided to detour back away to the town of Boothbay Harbor after a stop at the Rising Tide Co-op in Damariscotta for more supplies. In Boothbay, a quintessential New England Harbor Town, we strolled around the shops and had some 'lupper" at Mine Oyster. There weren't a lot of gluten free / dairy free choices in our usual apps once we got past Portland, so we had to get creative. We shared some sushi and a bluefin tuna Mexican Style plate. Their bluefin tuna is local and caught fresh. It was all tasty and enough to hold us off until a late supper over the campfire later back at the campground.
Another beautiful morning greeted us the following day. After breakfast and packing up we went to Pemaquid Point Lighthouse Park to see the lighthouse, but even more interesting there were the rocks which allowed for careful climbing along the shore. Made a short detour to see a rather less that interesting "geological feature" at Back Shore and then continued driving until we were ready to stop for lunch.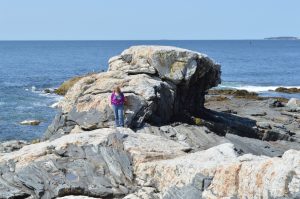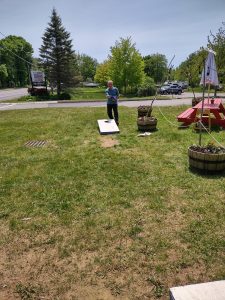 We stopped at the American Flatbread company, a local chain. They offered gluten free and vegan flatbread (basically pizza) with veggies. It was good, but not worth going back again. Steve and I did both finish the 12-inch size each. If they had the larger size in gluten free we would have shared that, but still we had no leftovers. While waiting for our meal, Steve insisted with play cornhole, which they had sitting on the lawn near our table. "I won", in other words, I got one, the only one in.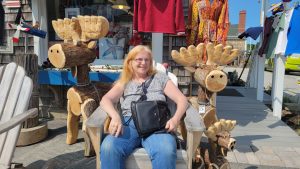 We drove along the coast, stopped in Camden, Maine to look around a bit and walk along the water.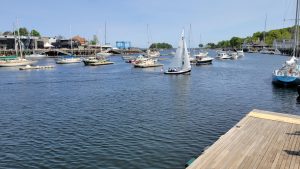 Then we headed to our destination for the night Timberline Acres RV Park. It was okay, nothing special. A relaxing night with dinner around the fire.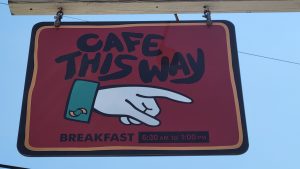 Initially we were going to skip Bar Harbor and the touristy part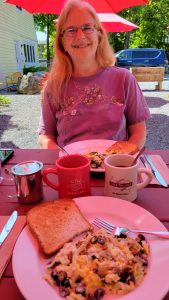 of Acadia altogether but decided to have breakfast in Bar Harbor instead of cooking. This was the day that exists in many trips where every plan was a little off. The place that looked perfect on our app for breakfast was closed. We then spent a long time trying to find another place that would work. After a few walking circles of town, we settled on "Cafe This Way". They did have some gluten free bread though it wasn't on their menu, so we were able to get scrambled eggs and veggies, potatoes, and bread. A decent breakfast. Then we headed to "the other Acadia" where things went more wrong.
We found that they didn't allow RVs on the loop road that we had researched and planned for its scenic views and short hikes. The ranger at the visitor's center was very unhelpful and a bit nasty as well. I had to drag information out of her.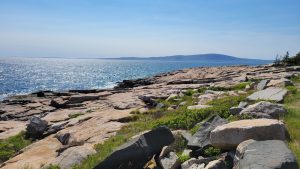 There was a bus we could take but it wasn't going to be back for 50 minutes, and we didn't want to waste that time, it turns out we should have. Instead, she said we could walk the bike path which wouldn't take us to the Schoodic Point where we had planned on going but along some of the water and then we could walk to the bus pickup from there. The map she gave us wasn't great, my electronic map was better, but Steve had a different idea of where we were going. Finally, we decided to walk down to the point instead of up to the other bus top. It was a long, hot walk and although it was scenic, we were not enjoying it as we should, just wanting to get to the destination and not trusting the bus schedule after our luck so far. Once we found the bus stop, we had about 30 minutes to use the restrooms and look at the scenery and of course take some pictures. I believe the actual Point that had the best views was still a hike from there, something that was not happening at that time, we just wanted to cut our loses and get on the bus back to our camper.
Once back on the route we made a short stop at Bad Little Falls in Machias, Maine. This was a scenic spot with falls, just off the road.
Then we decided on one more stop for the day before reaching our camping spot for the night. Quoddy Head State Park has a beautiful light house and is the Eastern most point of land in North America. Across the water, not very far was more land. We quickly figured out it was Canada, especially when our phones went to roaming and changed the time on us by an hour. Our travels resources recommended the cliff walk for views. Besides being very windy, we weren't sure which trail that was and didn't want to spend to much time. We did go a short way up where we could overlook the water and the lighthouse and then headed back, so we could arrive just in time at the campground, something we seemed to be doing regularly. When we checked in at the Hillside RV Park the woman told us that we couldn't have a fire that night due to the high winds, so we spent the night in the RV with dinner and games. The RV Park was nothing special, just a good stopping place, at least what we could see. We were both worn from the long day, strenuous walk, and such, so it was an okay end to a day that just didn't seem to want to go the way we planned.
The next morning things got back on track for our lovely trip quickly. After breakfast we headed to Moosehorn Wildlife Refuge. It is a huge area. We went into the office and talked to the ranger, who was a lovely person and gave us several suggestions. We picked the hike that met our needs, and it was well marked on the map she gave us. We did not see any moose, but we did see a goose with two cute goslings and some lovely scenery. On the way out we stopped at the lookout the refuge had built to observe the eagle nesting sites they had constructed, and one lovely eagle was sitting on the edge of it's nest. There are many times I "might" have seen an eagle flying but this was a for sure sighting.
Next we headed toward Bangor to stock up on some items before our next campground. We found a gluten free bakery just outside Bangor, The Whole Grain Bakeshop, unfortunately, they were low on stock that day and all the treats had cinnamon which I can't eat. They did make delicious smoothies; Steve got a muffin for later and I got some rolls for veggie burgers. Then we went to another Natural Grocery and picked up some veggies, snacks, and Maine wine, also some takeout items for a picnic lunch. Last stop in Bangor was to get some fresh fish to grill that night, harder than you would expect in Maine unless you want lobster, but we were able to get some local Haddock.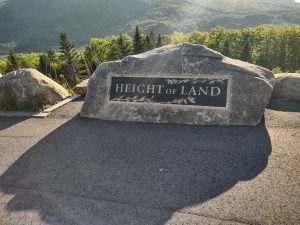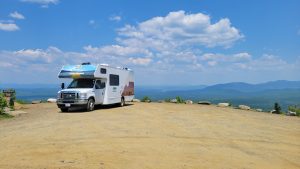 We traveled on, climbing to the beautiful overlook at "Height of Land". The view was amazing, the road was not, they were doing a lot of work and the RV and ourselves were quite rattled by the time we arrived at the campground one minute beyond scheduled check in.
As in most campsites, with late arrivals they leave you a note and a map to your site and you can check in the following day. One of the hosts also poked his head around the corner to make sure we were good. We backed into our lovely campsite at the Cupsuptic Lake Campground. It was really the nicest place we stayed and we were glad to have booked for two nights, maybe next time we will stay longer. They are part of a conservancy, which takes good care of the land, the beautiful lake and the campground, among other natural areas. The bath house was right next to our site and it was the first time we used showers outside our RV, as theirs were clean and spacious. The camp hosts were friendly, as was the staff that we met the next day. We cooked our fish and other food over the fire and after enjoying our delicious dinner took a walk down to view the peaceful lake in the moonlight.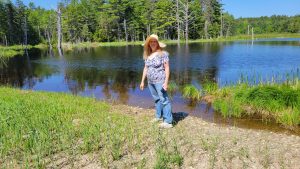 The next morning when we finally checked in the lovely manager gave us great suggestions for places in the area to visit. The first was a walking trail through another part of the Rangley Lakes Heritage Trust. We didn't see a lot of wildlife, but a goose with two goslings and the back end of two dear across the lake. It was muddy in some places but mostly boardwalk and with the All Trails map we were able to find the trail the two times we got a little bit off. The day was hot, going to 90 degrees which is rare for Maine, even later in the Summer but certainly for the beginning of June but the woods were cooler.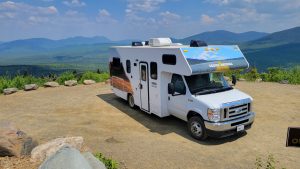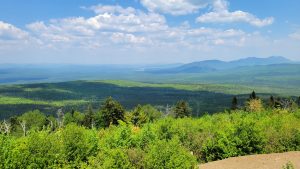 Then we drove up to Quill Hill. This was a place the woman at the campground recommended for the view. The view was lovely but the bugs were out in force, so we didn't stay too long. There is an interesting story to the area. It is owned by a family, whose Patriarch made it his dream and his retirement job to bring the view to the public for all to enjoy now and in the future.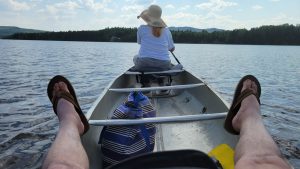 Back at the campground we rented a canoe. The campground includes a private island about a 45 minute paddle out in the lake, though I think they take wilderness campers in a motorized boat if they choose. The group that had been camping there had just checked out, so the manager told us we could picnic there and have the place to ourselves. It was a perfect day for it, as it also was cool on the water and it felt good to canoe after a long absence. We also lucked out on the weather, as after we returned the canoe and were back in the RV, about 20 minutes later it started to rain very suddenly. We used the time to relax and do some napping. By the time we were ready to go outside again and start a fire it was once again clear.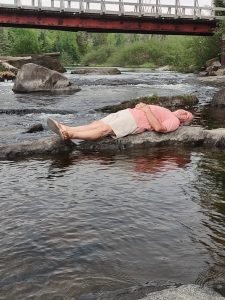 The next day was the day to start our trip Southward again. Fortunately, a lot of it was planned to be a driving day, as the forecast was for more rain. We made a few stops on the way when the weather was clearer. First at Seven Island's Bridge, a lovely road side spot – where for some reason, Steve thought a nap on a rock would be comfortable.
Then we started into the Green Mountains. We stopped by the visitor center to confirm a good walk to both beat the weather and not be too strenuous, since internet access was pretty non-existent. The man at the AMC Pinkham Notch information desk suggested two walks. We did the first which was to some cascading water falls, with a few step ups but not too strenuous. It was lovely and the timing good. By the time we got back to the RV the sky was ready to open up again.
Ready for some lunch we searched out a place called The Autumn Nomad Café, in the small town of Jackson New Hampshire. The menu was limited but we both got gluten free wraps with hummus and veggies to take on the road. If you are in the area and don't have dietary restrictions, their baked goods looked amazing. They specialize in fancy cakes. We drove to Gorham New Hampshire, where we would have picnicked if the weather had been better, instead we ate at the table in the RV and then got out to explore the little shops in town. One more DeTour on the way to our campground for some non-dairy ice cream, again, from Bobby Sue's Homemade Ice Cream in Freedom, New Hampshire. Then to the Terrace Pines Campground in Osipee, New Hampshire. We had a lovely campsite right on the lake, with our own little 4 feet or so of private beach. We couldn't enjoy it as we would have liked if the weather was better but we did get a short fire in for cooking our dinner and spent the night we some games indoors.
We needed to return the RV the following morning and still had about an hour and a half drive, so no dawdling in the morning. We did some cleaning and packing and headed out. Part way there we stopped and ate some of our leftovers for our breakfast as we couldn't find a good place to stop. The most exciting part of the drive that morning was when I looked up from my phone as Steve was saying "bear, bear, bear" to see a black bear bounding across the road. We never did see moose this trip but the bear was cool. After returning the RV we were off to Boston for about 24 hours to visit a dear friend and then home again.