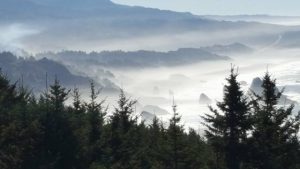 We spent over two weeks away, exploring the West Coast, in this case mostly the Pacific Northwest. The trip included visits to a number of family and friends; of course names and details of some will be omitted but we are grateful to all those who hosted us, spent time with us and showed us the amazing places they call home.
The first weekend of the trip was spent in LA visiting family and since we've been in this area many times, there were no new special places to report on. Being cheered by a great family experience we headed for a flight northward to Seattle. We did fly out of the airport in Burbank and my research suggested eating at the little restaurant "Lunchbox" that was before security checkpoints, and since we were early enough we stopped there and they did a great breakfast.
We only stayed in Seattle long enough to buy a few things at Pikes Peak Market and have some really great vegan ice cream for lunch at Shy Giant Yogurt (only on vacation!). We really wanted to visit Theo Chocolate's factory in Seattle, they have great dairy-free, soy-free chocolate, but alas they were closed for renovations, but just wanted to let you know about it. We left our son who was staying in Seattle for a few days and headed North to Orcas Island.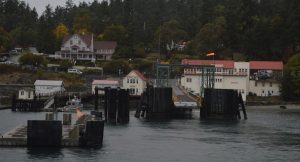 Orcas is part of the San Juan Islands, off the most northern coast of Washington, not ten miles from Canada. We have a friend who lives there, and at her recommendation we had made reservations on the ferry. It was pretty dark by the time we got to the ferry so we could see little, but purposely planned our return trip for the day time. Arriving on the Island, which is home to 4000 year round and twice that in the Summer, we found our way to our friends home. We were a little surprised when the gps said to stay on the road for over 4 miles, but we didn't realize how big the Island was until our sightseeing tour the next day. Our friend took us to the Mansion Restaurant at Rosario Resort for our first meal on the Island. The food was wonderful. They were great about accommodating our needs and serving up some really tasty food, much of it locally sourced. The waiter said, if you call a week ahead and ask for the chef they can come up with special dishes to meet special diets as well. He also said this was true of other higher-end restaurants – something to keep in mind for later. They did a lovely job accommodating us, even without the advance notice.
As we ate breakfast with fresh ingredients from our friend's garden, the next morning, we watched two Bald Eagles and a Harrier Hawk fighting over some breakfast of their own. Then we toured the island with our friend and her pup (a very sweet and friendly chocolate lab). The took us down to see the Harbor, where we introduced them to geocaching. Then for a lovely short hike to waterfalls and another at the summit of Mount Constitution. There are plenty of other trails and lovely sites for hikers throughout the Island. There are views in every direction of the waters off the island and surrounding islands. We saw many deer, including this unusual albino deer (looks like a little bit of goat in his family tree?).
Back in town later we visited the local Oracas Food Coop and bought some local products to take along. We also went to dinner in town that night at Mijitas Mexican Kitchen. They didn't specifically have gluten free / dairy free options but they were able to work with us to create delicious meals – good Margaritas too!
The next morning we had to leave the beautiful Island. There was more light on our ferry ride, but typical to the Pacific Northwest it was rainy, so the visibility was better but still probably not as good as on a clear day. We ate our picnic breakfast and enjoyed the ride. When we hit the mainland we stopped in another local coop, http://www.anacortesfoodcoop.com/ The café wasn't open, so we got some hot drinks at Penguin Coffee across the road (did I mention it was cool and rainy?) and headed back to Seattle for Brian.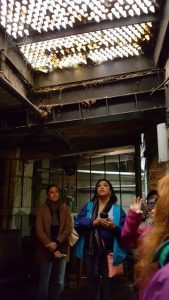 I had always wanted to do an Underground tour, so we did the tour with www.beneath-the-streets.com There seem to be two major tour companies doing these tours. I actually choose this one because it was a shorter tour and we didn't have a lot of time. They also had better ratings and supposedly do a better job with history. It seems both companies are having a hard time as much of the Underground is closed to them, either due to structural issues and/or politics of the local businesses. Each business has a right to the underground portion of the City under their own business and can share/lease that space as they wish. So the moral is, we saw very little but there was a great historical narrative, some photographs and an interesting look at Seattle from a different perspective.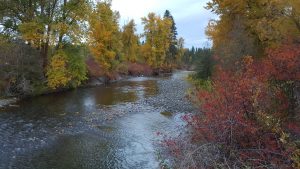 After a quick lunch at Sprouts, we headed out of town toward the Snoqualmie Pass . This is a scenic road though Cascade Mountains. It is very beautiful and goes near the Pacific Coast Trail. We stopped at a little shop for a rest break and I saw the mail boxes and package pickup for those hiking the Trail. Having read about the trail in the book "Wild", it was just kinda cool. A few days later when we were in Eugene, I happened to see that the Pass had experienced it's first snowfall of the Season, something I hadn't even thought about happening when we were planning, so just food for thought if you are planning a similar trip in October or beyond.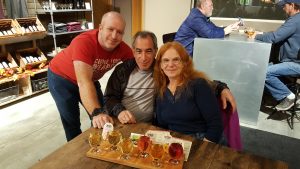 Our stop for the night was in Yakima. We visited Tieton Cider Works and a did a tasting flight, more then plenty for three of us. The ciders were interesting, but even thought our Son and I are cider fans none impressed us greatly. I had some better later in the trip, but still a good adventure. Then dinner at Taj Palace for some tasty Indian Food.
So an aside on finding places to dine. Since our last trip I still use the smartphone app "Happy Cow" to help identify vegan / vegetarian places. It's most useful for places that do juices, smoothies, vegan treats and occasionally an all vegan restaurant. It's very limited in some areas, as many people probably don't know to submit restaurants. Then there is "Find Me Gluten Free". This app has a lot of information and has recently added a detailed search feature. So when I discovered I could put vegan into the search and find restaurants that had both gluten free and vegan with reviews, it really made life better. I still use Yelp in the mix too; putting in gluten free there also comes up with some other results that may not have made it to the apps. The biggest challenge on this trip is the West Coast is great with special diets, so there were lots of places to choose from in most spots. Our cell service was very spotty though, so especially in less populated places it was a bigger challenge, but we always travel with snacks and at least water. As noted above there are a lot of smaller health food stores everywhere we went on this trip, along with bigger chain ones in the large towns, so keeping stocked was never an issue. The smallest towns which did not have a health food store or even a grocery store, all had yoga, coffee and cannabis spots. Just to give you some idea of the West Coast priorities.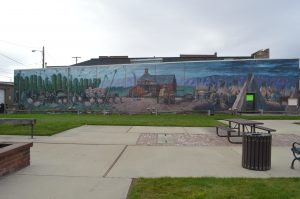 From Yakima we set out on a route through the Yakima Indian Reservation, stopping first in the town of Toppenish to see the murals the town is known for and get some information from the friendly guy at the Chamber of Commerce. Once past the reservation we saw acres of windmills on the lovely landscape and visited the Stonehenge replica that is dedicated to fallen soldiers in WWI. If you are stopping there are few signs so make sure you are doing good navigating or you may pa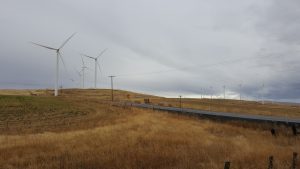 ss by. We heard the Maryville Museum is also worth a stop, even just from the outside but missed that.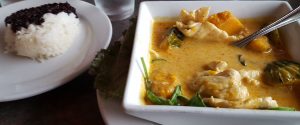 We were ready for some lunch so I pulled out the apps and found the best options were in The Dalles, Oregon, across the Columbia River Gorge. We found a lovely Thai restaurant there, Montireas Thai. Excellent lunch, I had my first pumpkin curry (it wasn't my last on the trip) made with Kobacha squash, one of my favorites.
From The Dalles we could have driven either side of the Gorge, but the navigation took us back to WA over the next bridge and back to Oregan again a few miles later to avoid a tie up. It was all lovely. Unfortunately, Malmouth Falls and several other of the most scenic areas were closed due to a fire earlier this year, but still a lovely drive into Portland.
More friends waiting for us in Portland. We ordered gluten free / dairy free pizza and salad from Pizzicato Pizza and enjoyed it while catching up. The next day, as the day before, was rainy. We had an amazing breakfast at Gigis Cafe . They do gluten free / dairy free but I admit we cheated a little to try the gluten free waffles, waffles being what their known for. For me, a taste was enough and I was already cheating on the amazing chai with coconut milk, as cinnamon and I don't get along well. We visited Powell's City of Books, which claims to be the World's largest independent bookstore. It is certainly overwhelming and you could spend days or longer just browsing.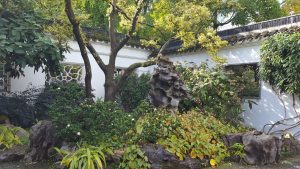 Then we went to Chinese Gardens since it is mostly under cover and they were lovely, with the sun coming in and out.
Next, we had our second "dessert only" lunch of our vacation. The Back to Eden Bakery, came up on an Internet list of the best place in Oregon to get dairy free ice cream. I was disappointed that their ice cream was not homemade, but they did have several flavors of both hard and soft dairy free. Better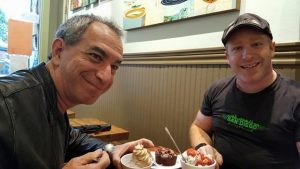 were their baked goods, which were all gluten free and dairy free, mostly soy free. We sampled bits of our Son's chocolate brownie cake and it was amazing! A little relaxing and recovering from all the sweets and it was time for dinner. The first place our host suggested the menu looked tough for me, so I looked on my apps and said have you ever heard of Verde Cocina , she laughed – we go there all the time, I don't know why I didn't think of that. We had no problem ordering, except deciding what to eat, the food was great and the company was wonderful.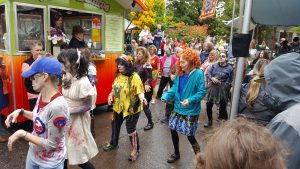 Again it was time to move on. We dropped our son at the airport, as he had come in earlier then us and had to leave earlier too. Then headed for Eugene to visit some wonderful, old friends from our homeschooling days. Still rainy, we acted like locals and visited the Eugene Saturday Market. First it is a great Farmer's Market, with lots of local and organic produce. If you go, check it out. There is a "hippy" part, but that was a little sparse due to the weather, and some druggies. But our friend said usually there is a drum circle and other entertainment there. There are a real mix of prepared foods, most able to do gluten free / dairy free. I had my second pumpkin curry, Steve his favorite Pad Thai. Because of the Saturday we were there, we got to see a Eugene tradition. Every October they do a Zombie Flash Mob and we just happened to hit it.
Then we had a driving tour of Eugene and went to the local coop and Sweet Life Bakery to buy dessert for later. I challenged the man behind the counter to come up with choices that were not only gluten and dairy free (there were a lot, but also soy and cinnamon free). He came up with two and I settled on the chocolate dipped macaroon, was not sorry later. Saw some more of town and eventually went back to our host's home to make a dinner of salad, with lots of goodies from the earlier farm market and coop.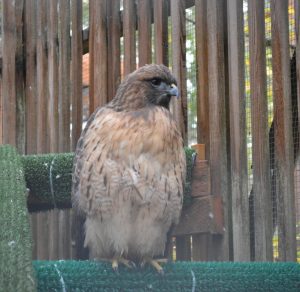 The next day in Eugene we had breakfast at SUNDIAL CAFÉ Eugene, chilled a bit, read, did laundry and schmoozed. Later we went to visit the Cascades Raptor Center. This large facility rescues and rehabilitates wild birds into the wild. Those that can't be safely released to hunt for themselves and their off spring, join their team of educational birds. We were able to see more then 40 of the permanent residents and read their stories.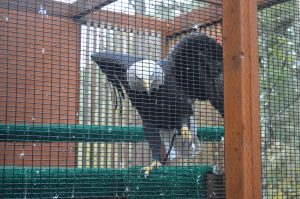 We later had a wonderful dinner at the Tasty Thai Kitchen. When the server asked if we had any questions about the menu, I asked "why does it have so many choices". She answered that the chef kept adding specials and they were all so popular that they would keep them on the menu permanently. Lots of ability to handle all the dietary needs.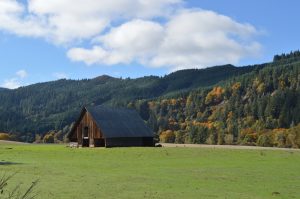 We hoped to make a trip the next day to Crater Lake, but were surprised to learn it was already snowed in, except a tiny part, for the Season. So decided we would make that trip some other time (in warmer weather) when we could truly explore the area. That meant bidding goodbye to Eugene and heading to Route 5 and then over the very scenic Route 38 as it wound toward the Coast. We made some stops to take pictures, a few stops to see lighthouses, dunes and other interesting and beautiful stops. One detour was Winchester Bay, another beautiful spot. Umpqua light house, which sat across the road from a great view of the ocean with the massive sand dunes in between. Just to mention a lot of coastal spots boast great whale watching if you get there the right time of year. Do your research if you want to catch the whales, we did not on this trip.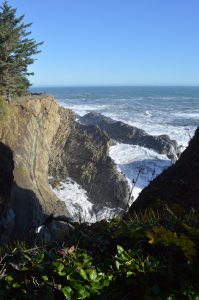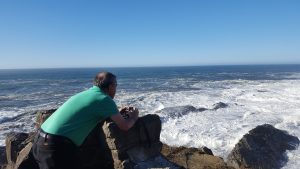 We wanted to stop at the Shore Acres State Park near Coos Bay, Oregon, and decided to pick up some lunch for along the way. We found a really nice Health Food Store and picked up hummus, chips and drinks.
The gardens weren't much during the time of year we were there, though we could see them getting ready for a great Christmas display of lights but the views from over the Ocean were amazing.
Then we headed to Bandon, OR. We went out the Jetty Road and watched the tide meet the mouth of the river. More beauty. The shops in town looked interesting but had all closed shortly before we got there, so after a quick walk around we decided to head further down the road for dinner. Somehow we passed Cape Blanco before we realized it, so we missed the lighthouse and the Western most point of the U.S. We arrived in Port Orford hungry and tired. The sun was going down over the bay right next to a lovely restaurant, and less then ¼ mile away was a nicely rated hotel, so we decided to have dinner and then spend the night so we weren't missing scenery in the dark. The Redfish not only had lovely views, but excellent food and great service. They were out of the gluten free gnocchi so we both had a wonderful dish of fish and vegetables. I wanted to try the local cranberry apple hard cider and later regretted opting for the smaller glass. It was better then anything we tasted at the cidery a few days before. If you are out in OR this is the company http://www.bandonrain.com/. The motel was also right along the water, though up on a cliff overlooking the harbor. It was comfortable and had a kitchen area and a porch where we sat in the morning to enjoy the view. http://castawaybythesea.com/
Had a full breakfast later at in Gold Beach.  The Indian Creek Cafe,  good food and a nice waitress who was originally from South Jersey.
Cape Sebastian was where a number of these pictures were taken, but there are all kinds of places along the Coast to scenery and interesting small towns. Some of this became a blur. If you choose every place you need weeks or longer. We used signs, instinct and our geocaching maps to try and pick some great quick stops.
We had the rest of our chips for lunch with some fresh guacamole that we picked up at a Mexican Restaurant, Celito Lindo, inside a converted gas station.
Shortly after crossing the boarder into California we pulled into a spot to look for a geocache because it promised an interesting view. We were looking at the surfers on one side of the parking lot when we started hearing barking from the other side. There were floats in the harbor full of seals and sea lions. Also found the cache.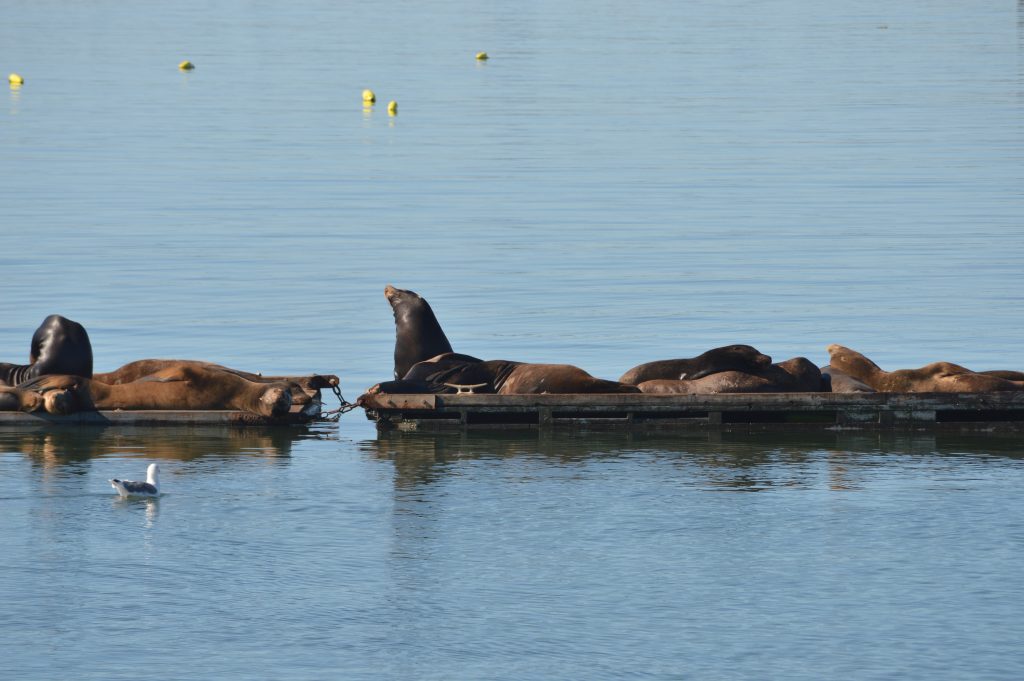 The road travels in and out of the Redwoods National Forest, more on redwoods later.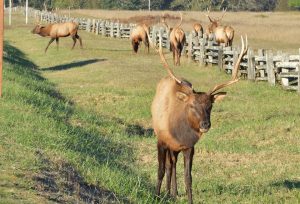 We stopped at the Prairie Creek Visitor Center to ask about viewing the elk. Coming out of the station, we headed back on the road for a few yards and noticed some cars stopped. Sure enough there was a small but magnificent herd of elk, just hanging out munching behind a low fence. There were many signs to not approach the elk, but obviously there were not signs for the elk not to approach the people, so even though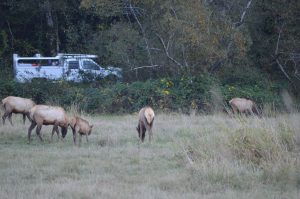 they ignored us for the most part they soon crossed the low fence and were really close. We all backed toward our cars until we saw they weren't interested in charging us and then slowly came closer again to get some great pictures. We also stopped at the next area the Ranger had told us about where there was a much larger herd of mostly female elk grazing.
Decided Eurkea would be a good place to spend the night. It wasn't as lovely as the night before, just a utilitarian Holiday Inn, but we did have good food. Steve had been in the mood for sushi, actually he usually is. We walked into Makaki's Kyoto about an hour before they closed. They wanted to know if we had a reservation, it's a popular place. Since we didn't we had to sit at the "counter", which was fine. Steve had sushi and I had a delicious assortment of Sashimi. They had their own seaweed salad without the florescent dyes, although I think that was an option too. Then we found a place by the bay that had a few flavors of vegan ice cream, Living the Dream Ice Cream. We ate it and watched the ships. Then a good nights sleep before another day of adventure. For breakfast we ate at Eureka Natural Foods, the local version of Whole Foods. Had good breakfast and drinks and bought some snacks for our stash. We were told to check out the town of Ferndale. It had lovely Victorian homes and building but we only made a pit stop and then kept heading South.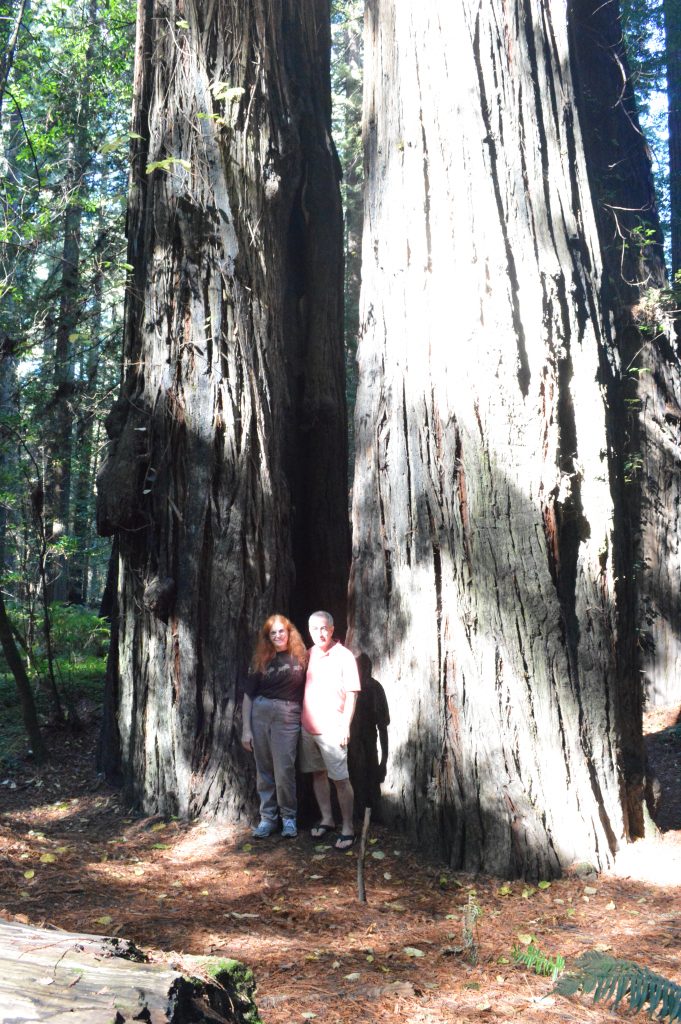 Our goal was the Avenue of the Giants, a scenic bypass within the Redwood Forests. Some of the biggest trees reside there. Our first stop, a touristy place, was a cool treehouse built into the base of a old Redwood. Then our geocaching took us in search through an old ghost town, cool, but too much poison ivy to get to the cache. Then we started stopping at some of the trails and just wandered among the magnificent trees. No words can describe the size of the trees, how insignificant they make you feel or the magic and beauty of these forests. I hope to go back in the future with an RV and just spend time relaxing and soaking in the splendor. Before leaving the Avenue we had to do the other touristy thing and drive our car through one of the big trees that had a tunnel through, I was kind of glad we did. We also stopped at the Chandelier tree later which is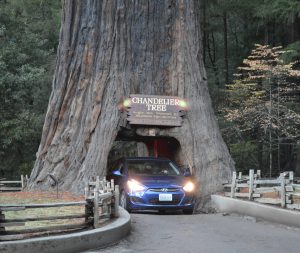 more well known but was too narrow for our rental car or most of the cars we saw to go through, though this was another lovely area.
Just a few more, nothing describes the scale and splendor of these forests.
To get back to the Coast and find food and lodging, it was a lovely but crazy winding road. I wasn't the driver but my stomach was lurching and I was hanging on and forgetting to breath. Finally reaching the Coast shortly before dark it was a relief. We found a lovely restaurant , Silver's at The Wharf , in Fort Bragg, CA. While we were there we found online and made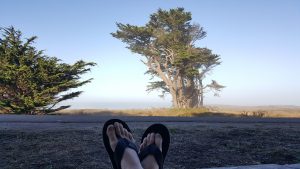 reservations for the Beachcomber Motel, also in Fort Bragg. It was another hotel where we could hear the Ocean at night and get up in the morning and have coffee looking at the Ocean. The hotel had fire pits they burn on the property, which would have been nice to hang out by if we hadn't been so exhausted. There is also a paved walking path that you can stroll along the Ocean, probably into town, though we headed out first thing. We had breakfast at Cafe One. Fresh, accommodating and tasty.
We visited the lovely little town of Mendocino. There was an amazing shop that sold wood cuts, from small pieces like cutting boards to full slabs to be used for table or counter tops. Looked around a bit more and then headed to the Point Cabrello Light House. The fog was too thick to climb the light house and actually see anything. They have a museum there, but we weren't really interested. Just from the shop you could view a light that had come from a light house, it was beautiful. Then we went to a spot about a ¼ mile back on the road where there were a lot of vehicles parked. This spot made the whole trip from Mendincio on the Coastal Road worth the time, even if it was out of one's one. The cliffs, rock tunnels, miniature palm trees being washed by the ocean – just amazing scenery and peace, despite other tourists. I spoke to one man who said he had visited before in May and there were whales everywhere adding to the scenery.
Before we left home we made reservations to stay in Sonoma on Thursday night, figuring on spending a relaxing day or two in the Wine Country. Then about two weeks before we left home, Nappa Valley suffered fires that burned unfathomable amounts of property and took a large number of lives. The air quality of the area was dangerous into the next week. Our hotel was closed for a short time, and then reopened just for those displaced. This all meant we were unsure about going to the area, but when we called the hotel earlier in the week and they said things were basically back to usual, we figured it would not only be nice to see what we could, but to support the area that was suffering by keeping our tourist dollars there. We stayed at El Pueblo Inn which was nice, with a lovely pool area. The area was a little more urban then the pictures lead us to believe but that was okay. If you are there and don't have to worry about dietary restrictions, there is a taco place across the street where obviously all the locals go.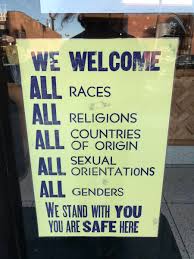 Instead we drove the two or so miles into downtown Sonoma. There, arranged around a central square, are lots of restaurants and shops. After making the circuit we decided on "A Taste of the Hilimlayas". It was a twist on Indian. When we asked the hostess if they could do gluten and dairy free she said yes, then after seating us she told her there were basically two dishes we could order. When the waiter came he told us there were actually many more they could do and we had excellent food. They specialize in Tandoori served on a sizzling plate. I was able to order the vegetable tandoori with Salmon added and it was a lot of food. Every window in town bore signs saying "Sonoma Strong" , "Thanking the First Responders" and with slogans like "The love in the air is stronger then the smoke". Which reminds me all over the Pacific Northwest we saw businesses with different versions of signs saying "everyone is welcome here", standing against those who want to be able to discriminate in who they serve. I would love to see more East Coast businesses with these signs. They can be downloaded here, among other spots.
Doing research for breakfast places that could meet our needs we found another local spot just across the way from the hotel. Community Cafe, sadly it appears it has closed in the last few weeks .We asked if there were spots to avoid when heading out to visit some wineries but
were told that most areas were fine. During the day we did pass one burned out farm but saw no other signs of the destruction. What we did see were acres and acres of grapevines and lovely running hills. After some research we headed toward St. Helena because we enjoy sweeter wines and this seemed to be the best area for that.
Now you may want to know why the unremarkable picture of the St. Helena's Farmer's Market, is included here. This is where the idea for a new name for this blog, certainly, a theme for our travels was born. I can rarely pass up a chance to visit a Farmer's Market, virtual geocache (often the most interesting) or other unique town or place. We have decided our adventures are based on "De tour", which may be French for "how Karen navigates our journies". Maybe some day, it will become how we take others traveling or at least navigate our lives.
We knew we couldn't drink too much wine and still needed to drive to Oakland. We passed so many choices but headed for Prager Winery and Port Works, a small family owned business where we were able to sample several lovely sweet wines and port. We choose not to buy anything there just due to limited suitcase space, but I did buy some of the candied pecans made by the grandmother of the family. Eating them one at a time they serve as a special treat and memory. We asked a for recommendation for another winery and they suggested, V Sattui Winery. A much bigger operation but as we later learned small on the Nappa scale. They do not sell their wines wholesale, only directly, due to the their relatively low volume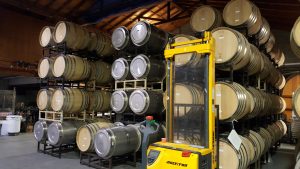 . We got there just as a tour was starting and didn't even have time to inquire whether the cost included the tasting at the end or was separate. It was a good choice, it was included for just $5.00 more then just the tasting itself and we learned a lot of interesting information on wine making. We even got to taste some in-progress wine right from the fermenting tanks. We stopped at a local olive oil company to try the regions other specialty and then needing some food after all that wine we headed for downtown Nappa. Not wanting a full lunch since it was so late we found Tarla Mediterranean Grill and had some excellent stuffed grape leaves, hummus and baba ganoush with veggies to dip.
Slowly but surely, our lovely trip was winding down. We drove to our hotel near the airport in Oakland. Then went to meet a friend for dinner. We found through the gluten free app, a new Israeli restaurant in one of Oakland's interesting neighborhoods. Ba-Bite served a variety of salads, gluten free falafel and other Middle Eastern staples in an informal atmosphere, great for catching up with a young lady we hadn't seen in 20 years. Time to return our car and get up early the next morning for our journey home.
Next time I write some of this daily because two weeks of details and pictures became blurred into a giant good memory.