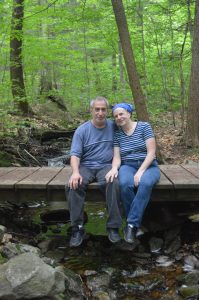 Time for our annual Anniversary trip in May, 35 years of married adventures. We decided to explore Pennsylvania, having both grown up across the Delaware River from Philadelphia, it's always been an extension of where we live. We've explored and dined all over Philadelphia and it's suburbs, as a child I vacationed often in the Poconos, our oldest son went to Penn State, so we've been to a lot of Eastern Pennsylvania but never Pittsburgh and the Northwestern parts of the State. We decided it was time, especially hearing so much about how Pittsburgh has become a great place to visit.
First, before the details, as usual when we travel I learn many things. A recurring theme is with so much natural beauty in this World it's a shame there are so many intent on destroying it for their own evil purposes. This trip exemplified this strongly. Not only did we see a lot of natural forests, waterfalls, lakes and other lovely places but we visited aviaries, conservatories and museums showing the amazing and interesting diversity of this World. We also visited the Flight 93 Memorial, where we remembered not only the bravery of those people on that plane but the evil of those who planned to use it to destroy and cause destruction. We must all do our part to combat those who are mean, selfish and hateful and preserve the wonders we have been given to enjoy. For now enough philosophizing and on with the details of a great trip.
Savings wise I learned another lesson. Hotel rewards programs are full of loopholes. If you are making reservations online or online on the road, I will share what I learned about Marriott, which encompasses a lot of other brands, most notably Hampton Inns. As is my usual I compare rates for the same hotels various places, trying to use a combination of Ebates and whichever of their partners is offering a higher percentage back. When I get to the hotel I always give them my rewards number as well. I kept getting emails from Marriott about bonus points with three nights booked. Today I checked my account balance and found that I got no points for any of the nights booked on this trip or our last several. When I called Marriott they told me you don't get points when you book through a third party. I will have to say that they did give me some extra points for complaining that this was never made clear. They also told me, in the future, they not only price match if you call their toll free number to book, but give you extra off and your points / promotions. I wouldn't be surprised if some of the other chains are the same, but it's good to check this out if you want to get the best deal and if you travel often.
Our first stop was not a place we haven't visited, but a place we have been many times and always find new reasons to go back. Our first night was to be spent in Lancaster. In planning we started with the idea, that we'd go to one of our favorite places to get organic produce and other great stuff, The Central Market, but family plans in the morning lead to a later start, so instead we went to Miller's Health Food, a cool place on it's own. Miller's is a great health food store, set in the middle of an Amish Farm. It uses no electricity, but carries a wide selection of produce, frozen items (I assume gas generators), pantry items and remedies. We got some fruit and snacks to add to the collection we packed from home. We knew there would be places along the way where we might have trouble finding healthy eats, though not as many as we anticipated. We did a little other tooling around in the Countryside and then checked in at our B&B.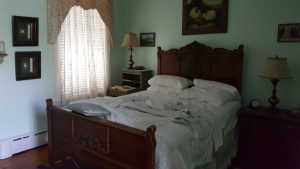 This was our first time staying at the E.J. Bowman House, but I doubt it will be our last. We actually found it on an online site, when searching for accommodations. We were worried about what we would find, being a Holiday weekend and most B&B's requiring a two night stay on weekends. The owner later told us, they usually do require two night, but had gotten some Thursday – Friday reservations, so they took a chance in opening things up. The owners were great, Scott and Diane. The property was well decorated and maintained, including a coy pond in the back and nice sitting areas in the house. A kitchenette with access to drinks and snacks at any time was another feature. Then came breakfast, we always tell B&B's our basic dietary needs, no dairy, no meat and no gluten and let them know we're okay if they can't accommodate. They had a lovely sit-down breakfast with all the guests around a big table. They gave us all the same cobbler that they made gluten and dairy free. The rest we got similar but specialized egg dishes, with amazing gluten free bread and parfaits. There was coffee, tea and juices as well. A great deal and less then we would have spent at a hotel.
Our other reason for the first stop on our journey being Lancaster was a restaurant we've been anxious to try but haven't been able to make it to when they are open, Root. We have some friends who live in Lancaster and they met us there for dinner. It was a great plant based food with so many options and a lovely evening visiting. There are a growing number of great restaurants in Lancaster with really good gluten free and vegan options, if that is your thing, also try and check out Upohar. So between the Central Market, the restaurants and a new favorite B&B I think we'll be back in Lancaster soon.
The next place on our visit list was not until the following day, when we wanted to visit the famous home, Fallingwater, built by Frank Lloyd Wright. Fortunately, while to deciding what to do in between, I read that reservations are strongly suggested for Fallingwater and we were able to get reservations for the following afternoon. If we had waited longer, we would have been able to see the house from the outside only. So until then wanted to drive Route 6 which was known for some interesting road side attractions.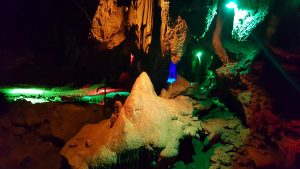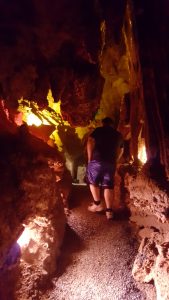 We were making our way when we found that Coral Cavern, which we were also interested in seeing had limited tours, the last one at 3PM. Time was getting tight, so we bypassed some of Route 6 and showed up at the Caverns about 2:50 PM. The Caverns were cool, less commercial then others we had seen and not as elaborate. The reason the tours are limited are that the cavern is owned by the man who runs it as his part time business. It's very informal and truly hidden away but that makes it even more interesting and he tells the fascinating story of how this cavern was formed by an ancient sea, which deposited fossils of a coral reef in it's structure. I asked the owner how he came to own a cave and he said he had an interest in caves and an interest in cars, years ago he was reading a car magazine and in one of the 1/2″ ads, it said "cavern for sale". He went and looked and never looked back. He and his children have done much of the work to develop the site and he hopes to eventually have the funds and time to extend it further. If you are passing by that way, look it up.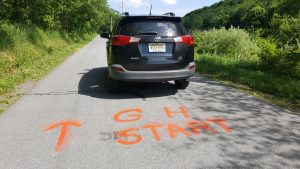 After that we were intrigued by the so called "gravity hills" in the area. We followed the directions to the first one and tried to see / feel the illusion of rolling up hill. We weren't convinced and it was hard to tell what was up hill and down. Later at dinner we found the brochure by the local tourist board, which is worth a read for the humor, even if the hill is disappointing. We didn't feel like going back for the other at that point, so maybe it's more convincing?
We were more impressed by the lovely Shawnee Park. We learned throughout the trip that Pennsylvania State Parks are plentiful, well maintained and free. We weren't having much luck geocaching, so we decided to try out one of the rental pedal boats (there were also canoes and kayaks for rent very reasonably) and had a lovely hour circling an island in the lake.
We then needed some showering, so we checked into our hotel. There was little in the area that had gluten free choices, at least that were open. We wound up at Hoss' Steak House, a PA chain. They do have a separate gluten free menu and we had decent dinners of fish, potatoes and lots of salad.
The next morning we went to Horn of Plenty, a local farm to table restaurant, that unfortunately wasn't open Sunday night but had just started their Summer breakfast hours. The menu was limited but our omelettes were full of fresh vegetables and they had gluten free bread and a yummy mix of potatoes and sweet potatoes. The outside looked really old and rustic, but you can see the modern menu below.
Since we had lots of time to get to our Fallingwater reservation, we backtracked a few miles to see the large coffee pot on Rt. 6.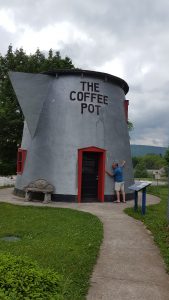 We then drove through the lovely Laurel Highlands and made the stop at the Flight 93 Memorial. It happened that it was memorial day and there was a large contingent of Veterans on motorcycles who were also paying respects.
Then we hit up a geocache in a historic cemetery. This church has a fascinating history and it has been well preserved.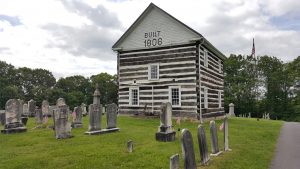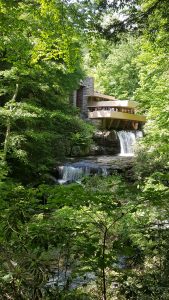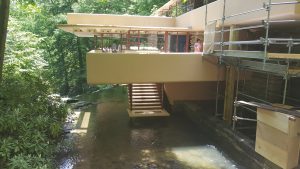 Fallingwater was fascinating, from the history of the people involved, to the story of how the house was built. The blending with nature and the natural light was amazing. The waterfall can be heard from all through the house. The furniture was also designed, mostly by Frank Lloyd Wright to fit the look and feel of the house, with much of it built in. The tour guide was knowledgeable and interesting. You need to be able to walk steps, about 100 of them but well worth a visit. There are also supposed to be some other lovely parks in the area, plus another Frank Lloyd Wright house, but we'll have to save those for another trip.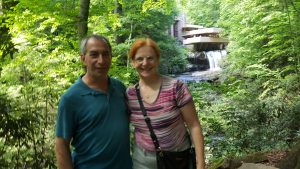 On to Pittsburgh, arriving at our hotel and hungry for dinner. We asked the staff for a recommendation and though at first it didn't seem to be coming up on the "Find Me Gluten Free" app under Mexican, it actually came up as we were looking under a general search. We arrived at Condado and found on the host table a whole list of items that were gluten free / dairy free and which contained other allergens. The inside was quiet noisy with patrons and music, so we choose an outside table along the sidewalk. We were ate wonderful guacamole with fresh corn chips and started our flight of margaritas (three different flavors – I recommend the blood orange) as we filled out the check list for our tacos. They were fresh and messy, I would have preferred a soft wrap to the crunchy fried corn, but we enjoyed and were well stuffed. After the short walk to our hotel, we called it a day. We had chosen the Hampton Inn – Downtown, because it had free parking. We were told parking was difficult and expensive in the City, a fact which didn't seem to play out, though we left the car until the second day.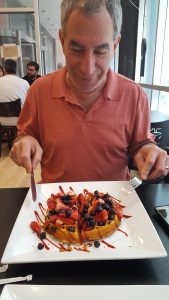 Pittsburgh is full of good food and lots of options to meet different dietary restrictions. We were disappointed that the all vegan ice cream place, Sugar Spells Scoops, we wanted to visit, at least once :), was only open on weekends and we arrived on Monday. This did lead to further adventures later. In the morning we found a great local chain for breakfast, Waffles INCaffinated. Their vegan waffle is gluten and soy free. They offer both mix-ins and toppings, so you can build your own or try their popular combos, which we both did with their Berry Waffle! YUM!!
From there we were able to walk across one of the multitude of bridges in Pittsburgh, which is a city built on three Rivers. On the other side we took the Monongahela Incline. Going up this incline first had an unintended benefit. We were able to use the ticket machine to buy a full day transit pass that included the inclines and the city buses and subways (for some reason the other station only takes cash at this point and doesn't sell the day pass). The view was lovely, but our guide book suggested walking across the top of the hill to the Duquesne Incline because of the better view of the point where the Rivers come together. I would only suggest doing this if the weather is good and you are in good shape, it was a lot of up and down walking and until you come to the other incline houses block most of the views. It was lovely when we got to the second incline and at the bottom the nice ticket seller who was very helpful after we discussed her Cape May shirt, told us how to take the bus back into the Downtown so we could transfer for our next destination.
| | |
| --- | --- |
| | |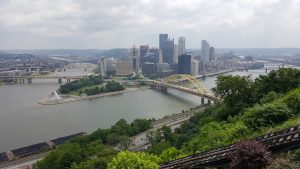 ​Our next destination was the National Aviary, home to all kinds of birds and divided into a number of habitats.
From there we took the bus back to the area known as "The Strip", where there are all types of restaurants, shops, wholesalers and even a fabric museum. We were hungry again by this time and decided to have a snack, which wound up being a lot of food at Chicken Latino. We had yucca fries and sweet plantains and some coleslaw, all really delicious. We wished it was a weekend so we could try their Cheviche which they only serve on weekends. We walked back, seeing the sights and then were ready for cooling off in the pool and shower, a nap and by that time MORE food. This time we went to another restaurant also in walking distance of the hotel, getting there before the rain and leaving after it as seemed our trend throughout the trip. Nicky's Thai had lots of great food and we enjoyed some of our usual Thai favorites.
The next morning we decided to take the car to make the places we wanted to go more convenient and to make it easier to head out after the day, although we did leave our luggage back at the hotel after checking out. First we went to the Goat Bakery for breakfast. A great gluten-free bakery with lots of dairy / soy free options. It probably would have been a better choice for a snack rather then breakfast but hey, on vacation you can have dessert any time of day. Steve actually got a vegan pizza type turnover, along with a doughnut. I on the other hand got a vegan chocolate cheese cake to go with my doughnut; it was rich, amazing and worth it. I had a banana back in the car to balance it a little 🙂
We next went to the Phipps Conservatory, which happens to have Free parking for their guests. There buildings and grounds have an amazing collection of all types of plants. Several rooms have changing exhibits, which when we were there were based on the themes of Monet's paintings with each of the rooms trying to imitate colors and elements from the paintings. They have one room that is a butterfly garden with lots of colorful butterflies flitting about.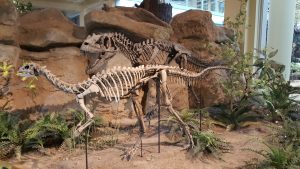 We then drove the few blocks to the Carnegie Museum of Natural History (which is also attached to the Art Museum), although we mostly visited the natural history exhibits. There we did pay for parking, but it was reasonable and there is a discount when you get museum tickets. They included a massive collection of minerals and other stones, lots of dinosaur skeletons, dioramas with animals from all over the World and much more. There was a cool place where you could watch the workers sorting through and cleaning fossils from recent digs.
After seeing most of the collections we decided to walk over to the University of Pittsburgh "Cathedral of Learning". This was another time we we had "weather luck". We walked the few blocks, got inside and looked out the window, it started pouring. By the time we finished seeing the rooms that interested us, the rain had stopped, really was amazing. This building is very unique. During school sessions all the rooms are used for classes, including the rooms we toured, so you need to visit on Sundays or when school is out of session to see everything. The rooms have been sponsored by various national/ethnic communities and are filled with art and artifacts of the County of origin. Often artisans from the Country were brought over for several months to do the elaborate work of building and decorating each room. To visit the first floor rooms, over a dozen of them, you pay a small fee for an audio tour and a key (we got it for a really small fee with Groupon). The third floor rooms you can just walk around freely and the audio portion is controlled by a button in each room. There are a few less rooms up there, but more under construction. I've never been anywhere like it. Some of the seating looks very uncomfortable for classes, any Pittsburgh Alum want to weigh in?
By the time we walked back to the Natural History Museum we decided it was enough touring for one day. We had been debating staying in Pittsburgh for one more day or moving on and decided to head out, though in the end we certainly could have stayed and seen more things. So here is where the adventure with the Sugar Scoops Ice Cream comes in. They mentioned on their web site that they sold their products in a Soergel's Farm Market in a town called Wexford. Wexford is a few miles North of Pittsburgh, the direction we were heading anyway. When we looked into the farm market they also had a wine shop, a hard cider house and a gluten free shop; in other words, it sounded like our type of place. There was a lot of traffic getting there, getting worse the closer we got. When we got there we found out there had been a bad storm earlier that knocked out their power. In fact it had just come back on and since they were saving product, the only part that was going to be open for the rest of the evening was the Arsenal Cider House. We went in and spoke to the person running the cider bar, but having not eaten a lot that day, except the sweets for breakfast, the thought of tasting hard cider wasn't really appealing. Instead we decided to go have dinner and then see if we could come back and try the cider.
What I didn't mention before was the previous night, before going to the Thai restaurant we tried to drive out to a place called Double Wide Grill that had been recommended by some friends before our trip. When we got there we found they were closed due to a broken water heater. Although we were having luck in our travels, obviously some of the places we were going weren't. When we looked on our apps for places to eat in the area, we found there was a Double Wide in Wexford too. It should only have been minutes away on the main road, but when we turned out of the farm market we found that there were downed poles and that there was massive traffic. It wasn't too bad in the direction we had to go, but we weren't sure about getting back. Double Wide had a nice gluten free menu and we enjoyed our dinner. By the time we had finished Google Maps had come up with a work around to get back to the Arsenal Cider House, so we did. We tasted several of the ciders on tap and purchased a few to take home. Then we tasted the grape cider slushies they make. You can only eat them there, because taking any with you on the road would be an "open carry". So we got a cup of the delicious concoction to share.
As we were leaving the cider house, the young woman who we had spoken to about coming back the next day for the ice cream said, she had checked and they actually didn't carry it. As it made sense to stay in the area anyway, we did come back in the morning to check out all the other items the market carried. First, we found that Waffles, INCaffinated also had a store in the area and we couldn't resist another of their great breakfasts. For all our friends in the Philly area, one of the staff told us they plan to be in Philly before the end of the year!
Probably our oddest De Tour on this trip was someplace that showed up in another "off the beaten path" book from the library. Wendell August is a metal working company, that had it's original forge/workshop in Grove City, Pennsylvania. Their flagship store, where they still have workpersons crafting their unique items is still in that town. You can follow a self guided tour through the workshop and see the crafts people, you can make your own souvenir aluminum etching and read about the history of the company. When we got to the display room a gentleman who was working came out and gave us an overview of the history and told us about all the famous people, sports teams, politicians, etc. that they still do custom designs for.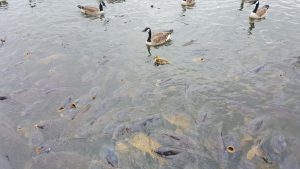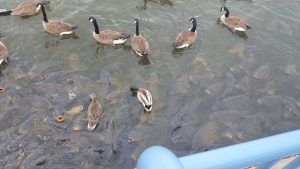 Then we headed North to "the second most popular tourist attraction in Pennsylvania", well that's what they claim.
Where Ducks Walk on Fish is a spot along a spillway where carp from a local hatchery hang out. The tourists feed bread to the carp, which also attracts geese and ducks. If you watch from the right spot, you can see the water fowl on top of the water with the fish pushing up.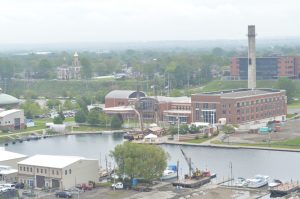 We debated visiting Erie, Pennsylvania and decided we should go at least to say we saw Lake Erie. We took the elevator up the Bicentennial Tower, which not only gave a great view of the City and some of the Lake, but had some fascinating maps posted of three of the Great Lakes and all the shipwrecks in the Lakes. It was amazing to think of the how dangerous it was navigating these large Lakes in the days when they were major shipping channels. I remember reading about a voyage on one of the Great Lakes in a Sara Donati novel (it was part of the Wilderness Series, though I don't remember which one) and it brought back the vivid pictures she painted.
We really didn't have anything else we wanted to see in Erie, though I realized later that it is a wine region, with lots of wineries to visit, but we missed those. We looked for a place for lunch and found a place called "Whole Foods Coop", not part of the chain, but similar products. They had a great cafe, with interesting selections. Steve got a vegan pizza on a cauliflower crust and I got a sandwich, like a gluten free style panini. Both of our "snacks" so wound up being huge, so our late lunch became lupper, and we took it to a local park to eat. We stayed in Warren, PA that night, so we would get a good start on driving and exploring the Allegheny Mountains in the morning.
Not much around for breakfast, which is when we discovered something interesting. We had been staying mostly at Hampton Inns, due to the best deals through Ebates/Expedia and Hilton Points. Usually we just ignore the "free breakfast", because there is little to nothing we will eat and we like to have a good breakfast when traveling. But things are slowly changing. Each seems each Hampton, at least is slowly adding somethings that are healthier. They had freshed pressed juices, even a green juice. We got some juice and hard boiled eggs and used that along with things we had in our travel bags to make a decent breakfast.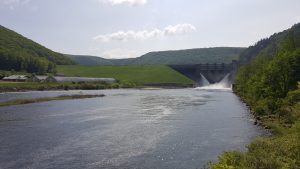 We then de toured to Kinzia Dam, our route book had other options, but it was close. It seems upon returning home and reading more about this dam, it has a very sad history, especially for members of the Seneca Tribe. You could view the dam from both sides, though watching the water pour through the down side was more interesting. Then we head for a park called "Jakes Rocks". It looked from my quick research that there was a spot in the Park with interesting rocks, but it really wound up after circling twice that the only interesting points are those that overlook the Dam from on high. It probably is a great place to hike or bike (what it seems it was designed for), but we wanted to be a little further on before spending a lot of time at one place.
The next stop was much more interesting. Kinzua Bridge or viaduct. Originally built in 1882, at the time the second highest bridge in the World, it had gone through several renovations. In 2002 it was still carrying tourists trains, but was closed for safety and was being rebuilt when it was hit by a tornado in 2003. The twisted portion of the bridge remains as a testament to what happened there and you can walk out on the skybridge that remains. The visitor center tells the story in a variety of ways and anyone interested in engineering, railroad history and /or architecture would really enjoy the exhibits. There are also trails in this park, including a very long rails to trail biking path that looks lovely. A good explore for a later trip. Oddly, the Reader's Digest Guide to the most Scenic Roads that we had from the library was published in 2005 and it still talked about the trains you could ride across the bridge. Obviously a little out of date.
After our limited breakfast we were really hungry when we stopped for a late lunch in the town of Couderport. We decided on Olga's Cafe, as it not only advertised gluten free and vegan but besides that the cafe is set inside a crafts gallery / yarn shop and while you wait for your food you can wander through the beautiful displays. They had a vegan soup of the day made with local leeks and potatoes (which seem to be a specialty). It was really good and we happily awaited the fries, guacamole for the home chips and the portobello sandwich which we were going to share. The guacamole and fries arrived and then the waiter brought the sandwich. The menu said the vegan version was made with hummus instead of the cheese and pesto the other version had. When he brought it, they had left the cheese. He took it back, they remade it and then we realized it had the pesto still. The third version was very good, but we were getting really frustrated and hungry, good thing we had the fries to munch on. The owner did come out and express his apologies, in a vague sort of way, telling us about his transformation to plant based and why he wants to accommodate those type of items. Hopefully it was just a bad day for the chef. The did have a blackberry champagne sorbet as a special that day, which I took for the road and made up for some of the frustrations. Just a note about this area, we learned that it's known for ecotourism as a great, dark area to view stars.
Our last planned stop for sightseeing that day was Pine Creek Gorge, known as "the Grand Canyon of Pennsylvania". Using our trusty gps program, we started winding though a bunch of residential streets and then onto an unpaved road. Now, this is where the title for this trip comes from. As I questioned Steve to whether this could be right, he said he assumed it was a short cut. When I said "you know what assuming does", he promptly replied "it leads to adventure"! I loved the thought, although in this case, he was right, it was just a short cut.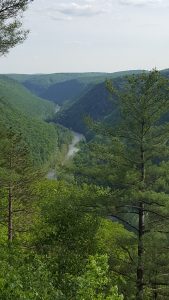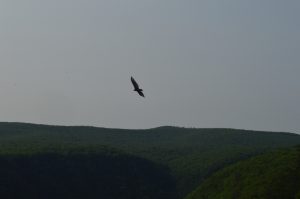 We got to the overlook, which was pretty, though honestly not as spectacular as a lot of gorges we had seen in West Virginia on the "Take Us Home" trip. I wanted to do a little walking after the day of driving. We knew the trail to the bottom would be too hard coming back up but the map showed a loop trail to an different overlook. Unfortunately, the trail was poorly marked and when we realized that we were going steeply down and maybe not on the right path, we headed back up which winded us both. The only plus is we met a nice German family struggling with the same issue. When we went in to ask about trails we found out where we had gone wrong, but a man in the shop told us about another spot where we could drive to and get on a flat bike/walking trail. If it was earlier we could have taken that all the way into the Canyon, but by that point we just walked a bit in each direction and then headed out.
While searching our Roadtrippers app (still good, but not as impressed with the paid version as we hoped) in the weeks leading up to this trip, Steve noted a restaurant called "Cast and Crew". As our yo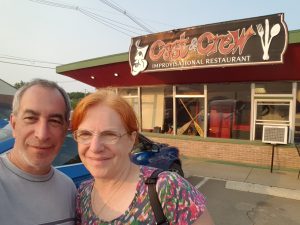 ungest son owns a theater company, in which we all help out, it seemed a must. Shameless plug, check out Aftershock Entertainment. Looking at the menu, it became all the more obvious we needed to visit. They claim to be an "Improv" restaurant. You order from the menu and the chef gives you what he wants. It's a bit of an overstatement. It winds up in each food category, there is one improv item that you can choose, or you can choose standard items. So if you were in the mood for a burger, you could pick one of the listed ones or ask for the chef's choice. Needless to say, with our complicated diets, we went for a sure thing. We actually split a salad with grilled salmon and it was very tasty. All the food looked good, it's a real casual place with lots of locals and an open kitchen so the chef can see what's going on. At one point a young man, who obviously was a regular was having trouble getting the ketchup out of the bottle and onto his fries. The cook walks around and squirts his fries with the squeeze bottle of ketchup from the kitchen.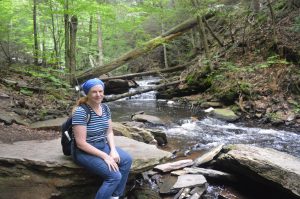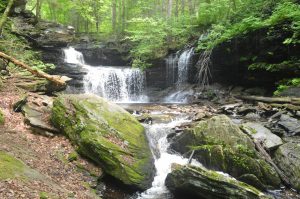 So we had two more places we wanted to visit on our trip and a few days leeway left. Years ago when our oldest was at Penn State, we visited Rickett's Glen. The hiking area is know for it's numerous waterfalls. The day we previously visited it rained and so we only went on some of the lower trails, which also had lovely falls, but not as many and we had been wanting to get back. The forecast this time was for thunder showers, which kept getting moved later in the day but we were unsure if our visit would be successful. We tried to get an early start, grabbing some breakfast between the hotel (this one had really nice cut fruit) and a nearby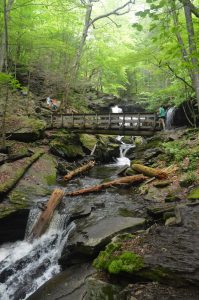 Wegman's. By the time we made the trip, staying close was impossible due to limited lodging and booked hotels, it was about 10. But as our luck had been good with the weather thus far, it held out further and the rain was pushed back to much later. My other concern was doing steep hikes after our experience the day before. The upper trail loop, which has about 25 water falls, is 3.2 miles, but much of that is uphill, the down hill part is steep and can be slippery. I was nervous for a while, but once we were truly committed past the sensible point of turning around I started to enjoy the hike more and we took our time. There are lots of nice rocks to sit on to enjoy the scenery and the experience. The only downside is that being a Saturday, there were quiet a lot of people (and dogs) on the trail, but everyone was pleasant and politely waited for slower walkers and took turns in narrow sections.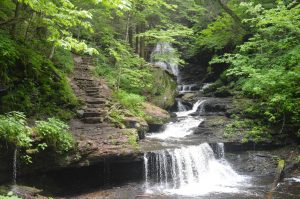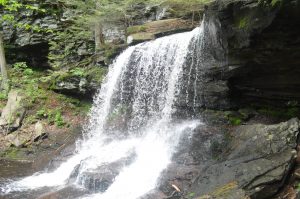 We had read several people's comments on the best route to follow and took them in to consideration, but using our own thoughts and here's what we came out with. We went down the Cannoga Glen, going past the largest waterfalls first, then up the Glen Lea Trail which seemed a little shorter and less steep (still relative, but the trails are beautifully maintained) and lastly across the Highland Trail, which doesn't cross waterfalls, but is a relatively level, slow decent back to the parking area. It took a about three hours but we weren't out of breath. Steve didn't feel much effect but my muscles were aching in various places by the end and over the next few days. We moved the car over to the lake area and Steve had a swim, I was happy just to put my legs in, it was still pretty cold. Like all PA parks it was free and well maintained. We took our blanket and lay out for a while in the shade reading and napping.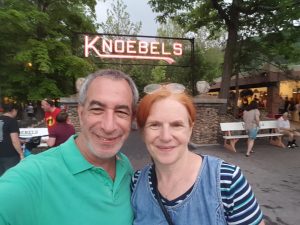 The last place that was a must see for us was Knoebel's Amusement Park. We had friends who used to visit there often and talked about it a lot. It's an "old fashioned" amusement park, where you can still walk around for free and buy tickets per ride or buy the booklet. They do have some all you can ride passes, but only on certain days and times. We just enjoyed walking around and remembering when we used to ride similar rides as children at South Jersey's Clementon Park. We talked about what we had liked and what we didn't when we were young. We had a typical "park" style dinner of a roast turkey leg for me (not nearly as good as at the Renn Faire and much too salty) and some roasted corn for Steve. We rode the haunted house ride, which would seem very cheesy to kids brought up on Disney Theme Park rides but was a lot of fun because it was so silly. THEN the rain hit. That meant we couldn't ride the Ferris wheel and a number of other rides that closed due to the weather. We did manage the old fashioned carousel. We then decided, with all our goals met and the promise of more rain the next day, to just drive on home and have some recoup time before back to work. It was a lovely ramble and the adventures continue.
4 Years Later – Another short PA jaunt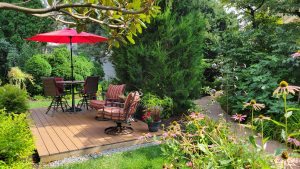 This is shorter than my regular blog entries, but this was a shorter and less busy trip than most, so I thought I would add it as an addendum to our trip several years ago exploring Pennsylvania. One reason is we stayed at the same place where we started our trip those years ago. The E.J. Bowan House B&B and its hosts Diane and Scott are still just as lovely. This trip had been pre-planned as a quick getaway a bit back and then I got a virus that knocked me down for several weeks. We almost canceled the trip but waited too long. This meant we did things a little differently than usual. We left after both finishing work on Thursday.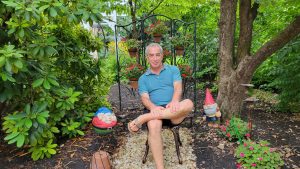 We had already asked for a late check-in, which Diane and Scott were very nice about, we also realized the nearby restaurant Rice and Noodles where we wanted to pick up dinner would be closing shortly after our arrival. We placed a phone order and picked up some vegan soups and spring rolls and brought them with us to the B&B. After checking in, including a tour, and reviewing our dietary needs and interests, we took our lovely dinner and sat out by the coy pond to enjoy.
The next morning, Steve had to work, and I wanted to do some exploring, though knew my energy would limit how much time I could wander around. I took most of my breakfast of blueberry pancakes and fruit back to the room to enjoy slowly as my appetite wasn't normal either, but the food was so good and all gluten-free, dairy, and meat-free, though other guests got different variations. I headed over to the nearby town of Litiz to walk a little in the Litiz Spring Park and then I sat on one of the benches near the water and ducks, to do some writing. I walked in the park a bit more and moved my car into town to explore a little too. Then it was time to go back and rest and read until Steve finished work.
Our hosts had told us it was "First Friday" in downtown Lancaster, so we drove around trying to see if there was an area with a lot happening that might be fun to hang in. Honestly, there seemed really limited things happening, maybe due to the hot weather. Instead, we went and picked up dinner at Root, the same vegan restaurant we had first tried on our last trip. We got a few of the small dishes to take back to the garden at the B&B and try. We enjoyed the good food and the pleasant atmosphere of the garden again.
Saturday morning, another huge breakfast at the B&B and the pleasant company of the hosts and the other guests. Then we headed for the Lancaster Central Market to hit up some of our favorite stalls. We left with lots of organic produce and not only gluten-free bread but some amazing gluten and dairy-free treats. Of course, these were all coming home with us in our cooler, as we were still stuffed from breakfast.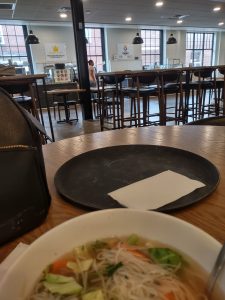 We spent the next few hours driving in the countryside, a lot of the time going in circles. We were looking for some furniture for our new porch and although we got some ideas, mostly we just got turned around and looped around.
Before we headed home we were ready for some lupper and we discovered a great new eating place. I was specifically looking for some good soup, which was just what my body craved. My search lead me to Pho Life that had vegan options inside a building called the Southern Market. It's best described as an upscale food court. I assume during the week it is busy with downtown workers. There is a large bar in the center and the walls are lined with all kinds of interesting places to choose food. Then you can take your selections to some of the comfy booths scattered around. My soup was SO good, and Steve got delicious sushi.
That was the end of our short adventure. I look forward to going back to Lancaster and the E.J. Bowen house when I'm feeling myself and I can enjoy every minute and every bite of good food.