Following a rough Summer, caused by among other things tick tick-borne illness probably picked up on our Delaware Water Gap Trip, we were reluctant to do much planning for our Fall vacation and decided we'd do a lot of the trip off the cuff. Now to the title. 40 plus years ago when I was in college at Boston University and Steve was in South Jersey, he commuted through Connecticut for many visits. There was a major bridge collapse in Connecticut during that time but even before that, there were signs on the major roadways through the State that said, "This road is legally closed". We never found out what that meant, and it didn't stop anyone from using them (maybe a way to avoid liability for roads in disrepair?), but it has been a running joke with us since. Being November we found a number of the other places we wanted to visit, closed for the Season. Hence the title. Now on to what we did get to do and see.
We would have liked to have traveled earlier in the Fall, but for many reasons that couldn't be. We originally planned to go South but realized we really wanted some time to spend with our oldest son and his wife on Long Island, something made hard by our schedules, theirs, and of course the craziness of the last few years. The best days for the two of them were Monday through Wednesday, but we didn't want to waste any of our limited days, so we made reservations for the first two nights in North Jersey. We picked Alpine Haus, Bed and Breakfast in Vernon, New Jersey.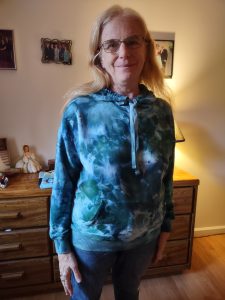 The Saturday promised to be a Spring-like day, so a great day to explore. We stopped in Medford, New Jersey, not so far from home for breakfast, as we had to meet someone to pick up a custom sweatshirt I ordered. It was a good plan, as I used the shirt throughout the trip as another layer, as all the days were not Spring-like. A shout out to Studio 309 Designs for the gorgeous and super comfortable shirt. The breakfast at Medford Bagel Shop was good and very filling. They do offer gluten free bagels but both of us chose lox and onion omelets with potatoes instead. You will know how full we were from the breakfast, when I tell you that we literally had to pass through Princeton on our route and we didn't stop at our favorite place, The Bent Spoon, for some of their vegan ice cream.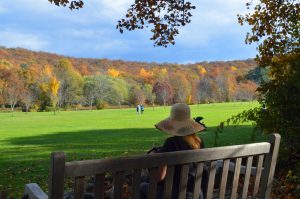 Instead we kept going and reached the New Jersey Botanical Garden and the surrounding park, where a lot of other people were enjoying the amazing weather. Of course not much was blooming in the gardens this time of year but we enjoyed the lovely property, The Castle at Skylands Manor from outside and strolling the grounds in the good weather.
We looked up a nearby hiking trail that required moving the car and found our way after several attempts at another park with historic buildings. At Ringwood State Park there was an art gallery and several other things to see but we choose just to walk the grounds again, which were even more lovely then at our first stop. We started the trail but by that time it was getting a bit late and we decided we had done enough walking for the first day.
Our big breakfast was starting to wear off and we headed to our B&B, Alpine House to check in before finding dinner. Our host was not at home but had left us a note with instructions to find our room and the key. The house was just what you'd expect in a large B&B, an older building but well maintained with a nice room. After getting settled we went to the next town for dinner, a Thai restaurant from Find Me Gluten Free and the Happy Cow apps. As we left the Inn and made a right on the main road, we found we were just down the street from Mountain Creek Resort, a ski resort that used to be Vernon Valley / Great Gorge when we skied there many years ago.
Cravin Thai, in Hamburg, was a busy place on a Saturday night but fortunately they could squeeze us in. Unlike our local Thai restaurants they had a full bar with drinks with cute names Thai Rita (instead of Margareta), so we started our trip off with not only great dinner food but some nice drinks. Returning to the B&B we relaxed and called it a night.
In the morning Steve went down to get coffee before breakfast and finally met our host, Anil, who insisted on making him some coffee instead of letting him figure out the complicated cappuccino machine. Later at breakfast we met Anil again along with some of the other guests. They did breakfast in shifts. We had gluten free muffins and a dish with eggs cooked over an Indian Curry sauce, fresh fruit and more coffee and tea. We learned a lot about Cricket and the obsession of it from the Indian family who was visiting and watching on a phone during the meal, cheering on their team.
Full of fuel for our day, we headed out in the car for some wet exploring, as the predicted rain fell most of the day. We visited a indoor flea market, an apple farm, drove through some lovely countryside in New York and eventually went to the Cidery at Angry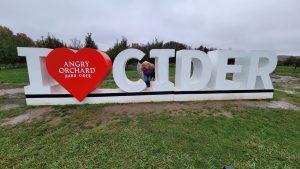 Orchards. The Cidery was a crowded place with cider on tap and some food trucks outside. We had a plate of chips and salsa and a glass of the cider to share and picked up some cans for gifts and home.
When we finally headed back to the B&B for some relaxing, we talked to our host about dinner places.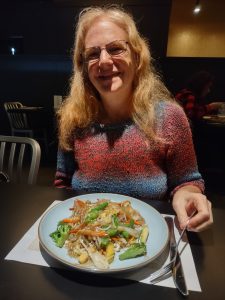 He recommended another Thai restaurant in the opposite direction of the night before and since they had sushi and different options then the previous night, we went there. He was right the food at Warwick Thai was excellent.
The next day after another great B& B breakfast, we headed to Long Island to visit our son and daughter-in-law for a few days.
By the time we got there, our daughter-in-law was at work. So we took our son out and tried a little Mexican place, Three Amigos Fresh Mexican Grill in East Northport, they were extremely accommodating and gave us many options. We took a walk in their favorite local park Heckscher Park. The town was the home of the late Harry Chapin. The theater in the park is dedicated to him . As big fans, the next day Steve wanted to find his nearby gravesite, which we did.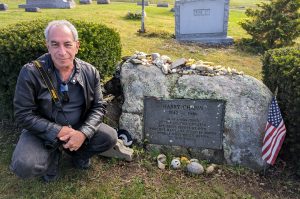 That first evening we did an escape room at Escape Long Island, one of our favorite family activities. It was a unique room with two sides, so one couple went on each and worked together through a window. When they finished their puzzles slightly before us, they came around to help for the final steps. It wasn't the best escape room we had ever done, especially Brian and Lauren who have done far more, but was engaging. With our other son going into the business in the near future we are always critiquing. This brings me to another element of the trip and following pictures. Brian has been 3D printing some gnomes for Josh to use when he opens his escape rooms. We were delivering them back to Josh in Philly. So if you spot Doxy in some of the following pictures, you will see we documented his adventures, along with ours. After escaping we had dinner at a Hibachi and Sushi restaurant, Samurai, in honor of our daughter-in-laws birthday which had been the previous week.
The following day was Halloween, so after brunch at The Hauppauge Palace Diner a few towns over and picking up our daughter -in-law from work, we decided to do some miniature golf. Although it was a nice enough day to be outside, after a walk, we couldn't resist an indoor monster themed course. Did I mention it was Halloween? Monster Mini Golf in Garden City, New York was fun and well done.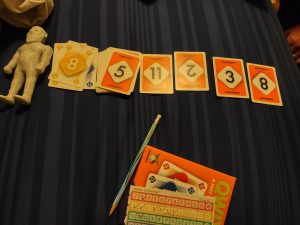 We are a big family of game players, so we played a number of new and old favorites at the kids apartment in-between other activities and of course more food. Dinner Halloween night was at an Italian restaurant. La Parma II was more upscale then our usual choices but they had good gluten free options. The portions were a bit small but we enjoyed the dining and the company and this was to celebrate another birthday, Brian's which was only a few weeks away.
The following day after more food and games, we drove off toward Connecticut. Our original plan was to take the Ferry that would leave from further down Long Island and bring us near Mystic, Connecticut, but the weather was rainy again and it seemed like a better option to spend some extra time with the kids and then drive. We didn't decide where we were going to stay that night until we headed out and then just choose a place that would get us on the path we wanted for the next day's exploring.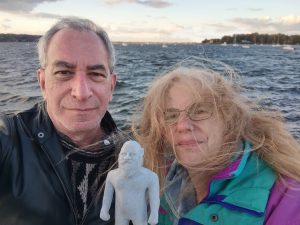 Despite the dreary weather which was clearing a bit as we finally left our kids, we had to explore a bit on the way to Connecticut too. We found a walking path along the bay in Oyster Bay Long Island, which for those of you who are fans of Billy Joel's music you will recognize. It was not only his home town but mentioned as such in his song "Billy the Kidd". It made for some great pictures and a song parody for gnome pictures with Doxy. It wasn't raining but very cold and windy, so it was a short walk, but then we go to drive along the lovely coast of the Sound.
"From a town known as Oyster Bay, Long Island

Rode a gnome, with some humans, to the sand.
And his daring rocky climb,
made him a legend in this rhyme,
heading north, to some other lands."

The rest of the night was just driving to the hotel we picked in Danbury, Connecticut. We stopped in White Plains, New York at The Falafel Place, for falafel with the trimmings to take to the hotel with us. The next morning, when searching for a good brunch, we found a gem. We choose to backtrack a little to go to the Botanika Café in Ridgefield, Connecticut. It was one of the best DeTours in a long time. We walked into the café which was like a little jungle. There were hanging plants everywhere, as well as some potted plants. The "music" was bird sounds. The food was an incredible assortment of vegan delights. We took a long time deciding on our choices as the person behind the counter pointed out lots of interesting choices. Finally Steve settled on a Belgian Waffle with fruit and a I ordered a Pulled Mushroom Burrito. I also had a really rich hot chocolate, they offered vegan marshmallows but I passed on those. If I lived nearby it would definitely become my weekly or maybe daily hang out.
All good meals must come to an end, so time to explore. We had saved this day to do just that, with the goal of winding up in Mystic that night.
Our first stop was at Kent Falls, which is of course a waterfall. It is actually the highest fall in Connecticut which isn't saying much compared to it's neighboring States and their falls, like Niagara in New York, but still lovely. It was a lot of climbing steps, but you could see nice scenery, even if you didn't want to make the climb to near the top. There were plenty of viewing areas starting at the bottom and allowing for rests during the climb. There were other people and of course dogs, but it was in no way crowded, which I would expect if it wasn't November. There were other hiking trails in the park, but they went away from the water, so we decided to go down the same way we went up and move on.
One of the attractions in the area was The West Cornwall Covered Bridge, which didn't seem like a big deal. There were parking signs leading a bit away from the bridge, which we realized was an area where you could view the river and bridge and take some pictures, so we did.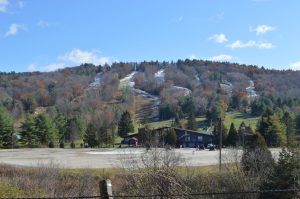 On the way to our next stop we passed a ski area and saw a smattering of snow on the upper trails. We surmised they had started snowmaking, as the night before the temperature had dropped quite low, but then we saw some other spots with some snow on the ground. The hiking area we had planned next was Cathedral Pines, which I had read an article about. It was a pretty spot, but would have been better hiking at another time of year and the path was not well marked, muddy and started climbing quickly. We decided to turn back and not have to navigate the ups and downs.
Instead it had to be ice cream time, first vegan ice cream on the trip. We stopped at The Nutmeg Fudge Company in Torrington, Connecticut. Enjoyed our treat while looking around the town a small bit and then back on the road. With no real plan we thought we'd stop at a winery, since there seemed to be a good number in the region we were traveling through. Of course being Connecticut, some were CLOSED. Finally we settled on Bishop's Orchards, which wasn't exactly closed but wasn't exactly what we expected either. The place wound up being a combination of a farm market, natural grocery store, with a small "bar" like area in the back where they did tastings of their wines. It took a bit to get someone to come back and help us with the tasting and then we tried some pretty mediocre wines, they tasted a bit watered down. I did ask the person who served us about their ciders and although we couldn't taste those, did buy a few cans to try later.
We continued our driving day, making last minute reservations for a hotel near Mystic and once we reached there checked in before going to dinner. We had a little bit of problem checking in, as even though it had been over an hour the Expedia reservation hadn't shown up in their system. Our phone internet was spotty, so we could show them the confirmation but not the number they needed. It took about 10 minutes to straighten out, but in the end no problem. All the hotels complain about travelers using the third party sites to book but don't really offer better options and those sites bring them lots of traffic, usually we don't have issues and save a good deal of money using Expedia "One Key" and Rakuten together.
Trying to find something interesting for dinner, I used my regular apps and wasn't coming up with too much that was open and interesting. Then I did a search for Ceviche and came up with a Peruvian restaurant in New London, CJ's Peruvian Bar and Restaurant. The ceviche was good and filling and always one of our favorite meals. A good end to a very unstructured day.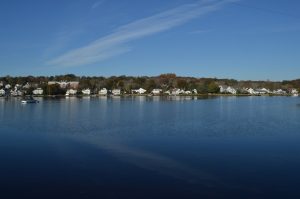 In the morning we found a little place Karma Kitchen Mystic with nice vegan / gluten free choices. I had some delicious avocado toast with egg and a smoothie to catch up on some of the foods I miss on vacation. Steve not only enjoyed his food but the lovely pictures he got down the street.
Then we headed to Mystic Seaport. I remember visiting in the past, including a quick stop with the kids when they were young. Either my memory is bad or they have greatly expanded. It seems it was probably some of both. We got there just in time to join a guided tour of the shipyard, in fact we were the only ones who did, so we had a private tour and all our questions answered. If you are unfamiliar with Mystic, they work to combine a historic seaport and village with a working shipyard where they repair historic and other wooden vessels. After that tour we walked around to see the exhibits and caught several other presentations, at least in part. There were also historical re-enactors in many of the buildings. There were ships you could board and ask questions of the staff. There is a lot there and I gather we picked a great time to visit when it's not mobbed with visitors. (Plan ahead though, it's CLOSED some days off Season, of course).
We had planned to visit the submarine visit in Groton across the River the same day, but although the museum was open the main attraction, a sub you can tour was…CLOSED for maintenance. So we skipped that and went back to meandering. We had a great lunch at Pitzetta, which was near the more famous, Mystic Pizza, but offered gluten free and vegan pizza which was very well done.
Gillette Castle had been our original plan for the day after Mystic, but since the tours of the inside of the castle had CLOSED for the Season, we decided to stop by and just check out the outside and surroundings on the same day we were in the area. Even from outside it was interesting and in a lovely setting. We took the opportunity before it got dark to do a short walking trail and then headed out to see where we would land that night.
By the time we found the Pier Blue Inn, we were just tired and decided to stay in, eat some of our leftovers, play a game, read and crash for the night.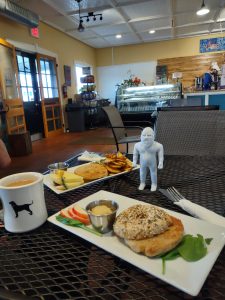 Well rested the next day, we decided to see how things went and possibly spend another night somewhere, possibly drive home a day early since we didn't have places left on our list to visit. As we were searching for the hotel the night before in Old Saybrook, I noticed there were SO many antique and thrift stores that I thought we had to make at least one stop, choosing the Goodwill only because we knew they would have records. Since they weren't open as early as we were ready, we went to look for a Geocache we never found but it took us to a lovely area, The Clinton Land Trust. Got ready to get a closeup picture of a gorgeous heron, but just then he joined some other birds and flew off. It was still a marvelous sighting. There were two interesting places in the area for breakfast. One was a gluten free bakery, Still Delicious Bakery and the other a more full restaurant but that didn't open until later. We went to the bakery and each picked a sweet baked item. I also bought a loaf of bread, either for a later picnic or to take home. It was one of the best gluten free breads I have had to date and we enjoyed it for several days. By then Goodwill was open and they did have a lot of records. We picked out a few to add to the collection we were bringing home for our daughter's art. By then the restaurant, Shayna B's by the Sea, was open and we went to have a more substantial breakfast. They had so many choices and the ones we finally settled on were very good.
We had one more food related stop to make in Clinton, Connecticut. This was a place I had researched from home and it claimed to be a vegan creamery, so I was thinking about vegan cheese for a picnic with the bread we had bought. So we navigated for the location we had, and found it wasn't just CLOSED but missing. We walked around the small town and visited one of it's nice little shops. We realized that the place we were looking for originally had two locations, so we drove the short distance to the other. They did sell some vegan cheeses, but a really limited number and a lot of prepared food that really didn't interest us. There was no way to taste the very expensive cheeses or even buy a small one to try so we just decided to pass.
Next we decided to drive the costal route as much as we could. Our first out of the car stop was Short Beach Park, where we climbed on the rocks, walked by the water and actually found a geocache.
The next geocache we navigated to could only be reached by walking a sandbar at low tide. Not only was the tide high, but it would have to be Summer to walk it with feet in the water (or you can reach it from a boat). I also wouldn't come to the area in the Summer where the parking fees are quite high to keep out the tourists. Still it was pretty.
After getting chilled at the beach, I wanted a cup of hot decaf hot tea, something that was not easy to come by. Then we were back on major roads heading South. Out of travel ideas we figured we would stop for dinner on the way home in New Hope, Pennsylvania, where there is a vegan restaurant we wanted to try. It was hard to tell from their menu which items could be done gluten free but on the second try I finally got someone to give me more information. What that person didn't suggest was a reservation and when we got there we found they were booked for the night. Then we called our favorite restaurant across the river in Lambertville, El Tule. They said they could fit us in in about 45 minutes. We drove over and parked, took a stroll through town and then had to wait a little longer then promised to get seated, but when a seat opened for us outside under some of their heaters we enjoyed our favorite ceviche as usual. This was sort of the end of this trip, but since we cut it short, we took advantage of the following weekend for an impromptu trip. So watch for the telling of that adventure soon.