Several months ago I read a post on Facebook about visiting numerous waterfalls in New York in a six hour driving trip.  I knew immediately that it would take us more time then that to accomplish, especially with our "de tour" method of travel, but loving Vermont it sounded like a great way to spend a few days.  We had an extended weekend, including the two days before the Memorial Day Holiday to celebrate our anniversary, so we made reservations for Thursday and Friday nights in Vermont and figured we'd figure out the rest on the fly.
We were able to leave late Wednesday afternoon, so not to have to do all the driving in one day and begin seeing the Falls on Thursday.  We headed North with surprising little traffic slowing us down.  By the time we were ready for dinner I was searching the apps and came up with a restaurant called Hummus Elite.  As we were driving up, we realized it was in Englewood, NJ and that we had been in this town before for dinner, so if it didn't work out there were actually lots of options.  But it worked out fine.  Great Hummus, feed to us with lots of carrots and celery sticks, falafel, grape leaves and Israeli Salad.  From there we headed on until we got tired and found a hotel to stay at in Fishkill, New York.
We  had a snack between the hotel breakfast and the food we had packed for the trip and did brunch later  at the Iron Gate in Albany.  It was a cafe with a lovely outdoor seating area, with a menu that had many interesting  gluten free and vegan options.  The only downside was the waiter wasn't too interested in interaction, so it was a little uncomfortable, but the food was good.  
We then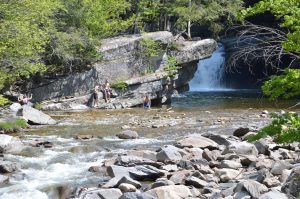 headed for Vermont and our first waterfall encounter, arriving at Bristol Vermont around 2PM.  This is when we found out that the directions were a little lacking for the waterfall tours.  There were actually supposed to be two waterfalls in the Bristol area, we found part of one, though I don't think we were viewing from the best angle, which seemed to be from down below where the locals swim.  The other we are not sure we ever really found.  Now home where it's easier to do research, this seems to be the area we found "Bristol Falls, Swimming Hole" but it may have been Bartlett Falls (or they are the same)???  It seems that this is most likely, but there may also be some trails there we didn't find.  
It seems that the locals don't want some of these falls easily found, to keep the tourists to a minimum, as these are where they swim and recreate in the Summer.  I will try and include the best directions I can for those of you who want to try this.  Bristol may not be worth your time as some of the other areas were more interesting.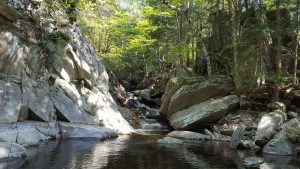 Our second stop was at The Falls of Lana  near Salisbury , these falls were also not marked, but by then we had figured out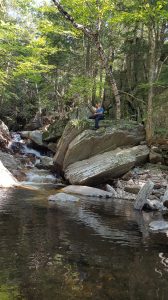 we should listen for the sound of  falling water.  Our gps took us to a spot along the road and we could here the fall back in the woods.  When we got in we saw there was an easier way in The next falls were not only well marked, in a Green Mountain State Park at the Texas Falls Recreation Area.  We were already starting to see how different each of these fall were, with their own colors, patterns, geology and power.  Even the upper and lower Falls were quite different.  and out lower on the road, but the views were lovely and we were all alone.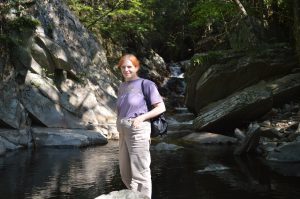 The next falls were not only well marked, in a Green Mountain State Park at the Texas Falls Recreation Area.  We were already starting to see how different each of these fall were, with their own colors, patterns, geology and power.  Even the upper and lower Falls were quite different.  
The next falls were also well marked and right near the road.    Moss Glen Falls at Granville  (this link goes to a great site with information about waterfalls all over New England).
We thought we were done waterfalling for the day, but then we passed a sign that said Warren Falls and we said "why not".  Glad we did.  The trail from the parking lot was winding and a little steep with lots of signs promising cascades ahead, just when we started to doubt the signs we found the lovely area of falls and pools.
Now time to head for our hotel.  On the way we passed through Montpelier, the Capitol of Vermont.  I'm sorry, Vermont, you are still high on my list of favorite States, but I could help but laugh.  Years ago I was in Little Rock, Arkansas, and marveled at the tiny State Capital, well Montpelier is a don't blink kind of town, much smaller. 
Next,  a short de tour to farmer's market in  Waterbury, Vermont   too early in the year for much produce but bought some kimchee for  our son and tried some other locally produced products.
Between Waterbury and Stowe we stopped at Ocha Thai Smile for dinner.  Small restaurant in a small plaza.  Sat outside and had wonderful food.  I was really pleased not only how they accommodated, but really liked the freshness of the food.  Thai can be drowned in sauce, no matter how tasty, but here the main taste was the lovely veggies in with my rice noodles.
The Green Mountain Inn at Stowe was large with all types of accommodations.  Our room was on the second floor of the old lodge, over looking the town.  It was comfortable and clean.  The only drawback was construction vehicles going by all night, lots of road work in Vermont in the Spring / Summer, but we were too tired to hear it for long. I gather they have a lovely pool but we didn't check it out, later when it was raining on the second night after dinner we did sit on the lovely porch in rockers and chatted with some other guests.
Stowe has a small downtown area with shops and restaurants that is easily walkable, with the Inn in the middle.  The rest of the commercial district is spread out along the road leading to the ski area and is close by.
In the morning we headed up the road toward the ski area to find some breakfast.  Noting that further up that road was an area known as Smuggler's Notch (yes, the ski area of that name is on the other side, though the road through the notch is closed in the Winter).  This pass through  the mountains is full of turns and lined with big boulders.  We drove through and back again enjoying the scenery.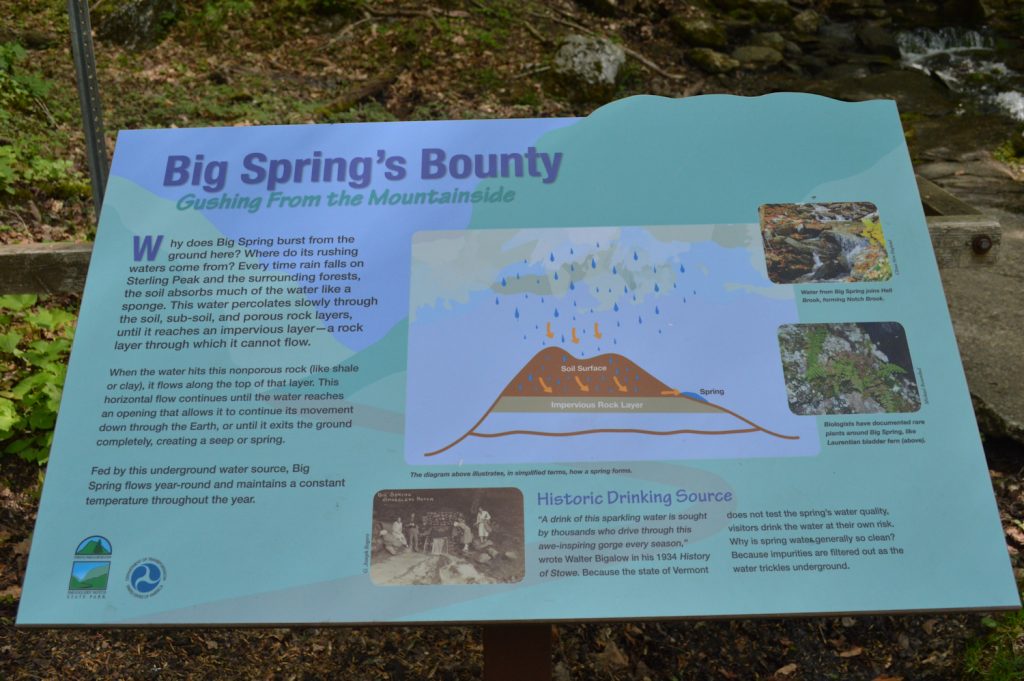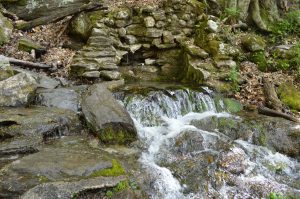 On the trip up I noted a pull off area with some signs and thought it might be one of the local waterfalls.  It was actually a natural spring, known as "Big Spring", with some pretty interesting history.  They discourage drinking the water with signs saying it's not tested, so we didn't.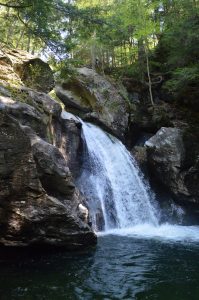 There were also waterfalls along this road, not well marked but if you can find Brigham Falls, you will see some amazing geology.  The top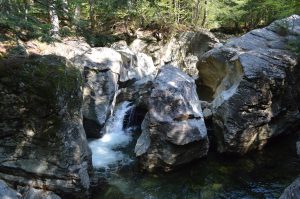 part is a pretty easy hike, just a bit down hill, so remember you need to come back.  The bottom falls are lovely, but do not attempt if it is wet (or especially icy) or if you are really out of shape.  It was a challenge keeping our footing on the way down and a challenge climbing on the way back.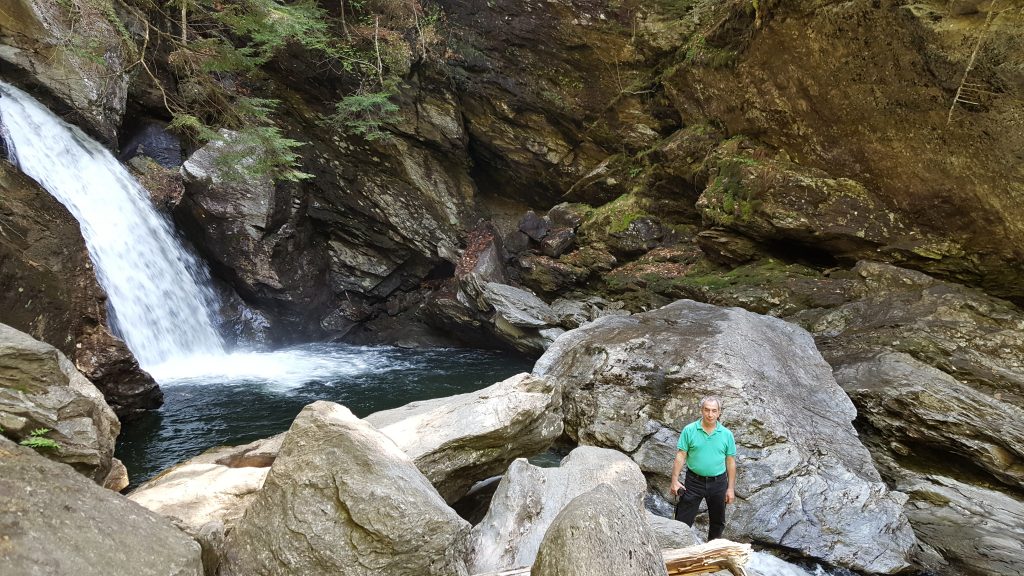 There are two Falls with the name Moss Glen, the one we went to the day before and then the one at Stowe, which we headed to now.  First you walk easily along a lovely, meandering stream (you can certainly take a walk in it as well).  To get to the waterfall, the climb looks daunting, because it is a pretty steep hill, but it is short, just a few minutes and lovely at the top.
Having seen so many lovely Falls, we were next confronted with the decision, did we want to buy a waterfall?  The next fall on our list was know as Jeudevine Falls.  We navigated there and found that the falls were closed.  It used to be part of a business, where they lit the falls at night and you could have a party or other event there.  Now the property is for sale and posted against trespassing.  If you are interesting in buying it, you can find out more here.
We reached out last fall around 3PM, Bolton Potholes.  You need to park at the bottom of the access road where there is small area for cars.  Then you need to walk up up the side of the road you parked on, until you find the guardrail.  Walk on the inside of the rail until you see a mud trail that turns right toward the sound of falling water.  You will have a good view from this level, though better pictures from below if you want to shimmy down.  Locals swim here and the parking / lack of directions are set up to deter too many crazy outsiders.  We instead met one of the "crazy" locals, who was sawing away at a tree that had fallen inside the swimming hole and climbing around on the road with sharp tools to try and right things at his favorite hang out.
The second night in Stowe we walked to dinner after a good nap.  We choose "The Plate" in town.  It took a little effort to find items that worked for our needs but our food was delicious, I accompanied mine with a great local cider (Citizen) that I liked so much I bought some at the grocery the next day to take home.  Then after a bowl of soup and an entrée the waiter told us they had one dessert that was gluten and diary free and that we had to have some.  We split the warm chocolate brownie cake with coconut whipped cream, it was hard being so full, but we managed and ENJOYED.
We went into this adventure, not sure of what we were going to do after the waterfall portion, but figuring it out mostly on the fly.  It wasn't perfect for that but all in all our decisions worked or we made them work.  We decided to head toward Lake Placid, New York.  Some place we've always wanted to go in the Winter, but never had made it there.  Checking out the maps, we found a cool route across Lake Champlain, literally Island hopping. On our way, we made a de tour for breakfast and found one of the gems of our adventure, Sweet Alchemy in Essex Junction, Vermont.  We were lucky we got there when we did, as the line was longer later, there was also a Memorial Day parade starting shortly.  Even so our homemade gluten free, dairy free waffles took a bit of time but we sat with our drinks on the lovely porch.  We couldn't leave without a few sweet treats for the road.  Lots of allergy free choices (everything is vegan), though without cinnamon, I got lemon, poppy seed cake, something I hadn't had in years.
Basically the Route is up 2A, through Sand Bar State Park, onto Grand Island and keep going.  We detoured into Missisquoi Wildlife Refuge.  You are right at the Canadian Border, so if you want to de tour there, make sure you have your passports with you, we didn't.
Scenic views abounded across the Island chain, there were areas that we might have explored more if it wasn't raining.  We did another stop for another Farmer's Market walking with our umbrellas (still got pretty soaked)  and got some lovely soap and a bottle of "Naked Mermaid" wine.
Back on the New York Mainland, we headed South through Saranac, Sugarbush, Vermontville (wait, didn't we just leave Vermont?) and other small towns heading for Lake Placcid.  We weren't sure if we wanted to stay the night, with it being a Holiday Weekend it was very crowded and the lodging choices were limited, but we wanted to drive up Veteran's Highway on Whiteface Mountain.  Along the way we stopped to marvel at some of the former Olympic Sites, the ski
jumps and the luge tracks.  There are tours and some rides you can take at the sites, but we decided to just take pictures and wander around what we could see for free.  Then we got to the bottom of Whiteface and the sign listed zero visibility, we didn't want to take the chance, so we figured we'd stay the night and try in the morning.  
We had passed a nice looking little lodging area with a vacancy sign, even though our web searches said it was unavailable (seems it changed hands recently).  Cobble Mountain Lodgewas quaint, but lovely, except the very loud family with the crying children in the next room.  Fortunately, they quieted shortly after we tried to go to sleep.  As I mentioned the town of Lake Placcid was very crowded but we found a place to park in town and then found the best choice restaurant was a two hour wait,  no other place seemed to be what we wanted/needed so we looked up some places and found one in Sarnac, not that far back.  When we got there it was a bar/pool room, which would have been okay but the one thing I would eat on the limited menu was some type of fish and since they only had one fish left and it was a big piece it would have been expensive.  Not impressed we walked through the small downtown to see if there was another option.  While reading the menu in one place our search brought up a small place we hadn't even noticed across the street.  The Fiddlehead Bistro has a kind of funky menu, the waitress was very helpful figuring out foods that worked for us and we had a delicious and interesting meal.  
We found that actually seeing "Lake Placcid" is not as easy as it sounds, the lake the town borders is Mirror Lake and to get to Lake Placcid it self by car there is limited access, a lot more by boat.  We never did get there.  We also never did get up Mount Washington.  We went and had a good breakfast at Green Goddess Natural Foods and since the clouds were still low, checked out the small Farmer's Market on the site of the Olympic Speed Skating Rink.  Then we decided that it could take hours for clearing, so decided to head instead for the Finger Lakes area. 
This drive took us through mountain roads with lots of small towns that reminded me of Appalachia, most had seen better days.  When looking at the google maps, I noticed a town called "Natural Bridge", which of course sounded like an interesting place for a "de tour?".  It wound up what we found there was not the Natural Bridge, but thanks to the geo caching app, a natural cavern.  It seems there are  a series of underground caverns and streams in the area.  There used to be a tour business that would take you through the caverns but all that is left are the stairs they built, some remnants of lighting, a sign and not much that you can find in the history sources.  If you want to explore here is the geo listing. You can go down, but I wouldn't go far without a flashlight.  I was worried about bats, so just went far enough to find the cache, Steve poked around a bit more.
We got to the Finger Lakes just in time for two wine tastings, though there are hundreds of wineries there, most close around 5 or 6.  Since we had seen so many lovely Falls in Vermont, we thought we should check out the local ones.  The Taughannock Falls Park, said it closed at dusk, but we figured we had a bit of time.  Being so late in the day we didn't even have to pay admission to the Park, but we were not alone.  Unlike the Falls in Vermont, this are was very touristy.  We went to the upper viewing point, thinking that was all we would have time for.  It was very crowded but when we hiked up the trail a short way, more for the walk after a lot of driving, then anything else, we found a more isolated viewing point.  We decided since there were so many people around we probably had time to do the trail out to the bottom of the Falls.  This also was crowded with people and felt more artificial then the quiet walks in the woods in Vermont.  We got there, took a few pictures and headed back as I was getting worried about bats (my biggest phobia). 
 Then we debated staying in the area or heading closer to home.  We went to have some frozen treats before dinner while deciding.  The Cyuga Lake Creamery is known for their sorbets and ice creams made with local wines, but Holiday weekend struck again and they were out of all the wine sorbets and had a few vegan options but not the best ones.  By the time we decided  to stay. we found that the few restaurants that offered a menu that would work for us were booked.  We found a Thai/Chinese place near our hotel and had the most disappointing meal of our trip.  Some of that was our fault, as we were as specific as usual about our needs, but I ordered curry, usually safe with just veggies and they substituted tofu for the meat without asking.  When I told them it was my fault that I didn't tell them not to, they kindly made me a new meal and we did take out and went to the hotel since I was more exhausted then hungry.  I ate some of it, but not recommending the food there.
In the morning we went to the Water Street Cafe, there I would recommend the food.  It's where the locals go and very busy but worth a little wait for the food.  Lots of good choices for gluten/dairy free.  They made gluten free French Toast with Udi's bread and the owner even apologized about the price because Udi's keeps raising their cost.  We left after the Memorial Day parade finished passing by and headed homeward.  Just a few minor de tours along the way, since we wanted to be home on Monday instead of driving in traffic.  Dinner at a Whole Foods in Allentown, so we could do a little shopping for the next few days at home as well.  
All in all a good, packed, extended weekend get-a-way.