We had some time before leaving for our cruise to take a morning geowalk around the neighborhood near the hotel. Then we found out that we had made another smart decision when booking our trip. If we had elected to do the Princess' Cruise Transfer, it would not only have cost us more, but we would have needed to go back to the airport and wait. Princess runs their shuttles throughout the day but they are on a first come, first serve basis, so the wait could have been long. Instead, we had chosen to do the cruise transfer through Alaska Cruise Transportation, they offered a bus that had a tour guide and picked us up at our hotel at a prescheduled time. The bus made a few stops on the way to Whitter to view natural spots and the Portage Glacier. One stop was at the Wildlife Conservation Center, which gave us a chance for some up close looks and pictures of Alaskan wildlife, as seen below.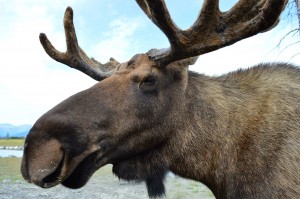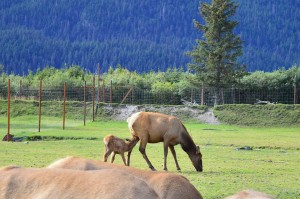 The tunnel into Whitter is very interesting and since it is one lane, you can only go through on a specific schedule. The bus timed it so we barely waited and were through at the cruise terminal very quickly once we arrived. We didn't get to see the "city of Whitter", except from a distance, but it has an interesting history as a military base, now abandoned. It's current, less then 300 year round residents mostly live in one high rise building. (learn more)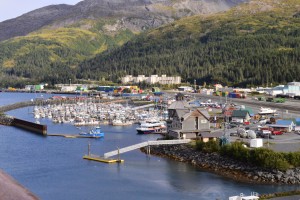 The port and terminal for the cruise ships are well organized. After leaving our luggage with the long shore men, we waited in a quickly moving line in the terminal and were on the ship in about 20 minutes. A few days before we had received an email from our travel agent, that our cabin had been upgraded from interior, to one with a window with an obstructed view. That was a pleasant surprise. A lot of people pay for a cabin with a balcony on an Alaskan cruise so they can watch the scenery from the privacy and quiet of their cabin. We decided we really didn't need to spend the extra and as we predicted spent most of our "at sea" time up on the top deck of the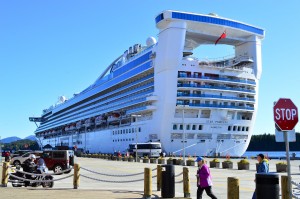 Star Princess. The decks tend to be a bit noisy. There are movies shown on a big screen above the pool several times a day, so if you really like quite you might want to have a balcony. There is at least one major trade off though, on the deck when sailing through Glacier Bay there is a naturalist broadcasting about things you are seeing through the speaker system. When sailing through the Inside Passage the captain would sometimes come on the speaker system to alert passengers to whale or other wildlife sightings off one side of the ship or another. Passengers would also point out wildlife they are seeing to those around. The speakers can not be heard in the cabins, so some of our table mates for dinner (who stayed in their rooms/balconies) didn't hear the announcements, and missed the whales and porpoises we were excited to see. The other downside to staying on your room's balcony (if you have one) is that you can't see both sides of the ship. So if you are on the port side, and there's a sighting starboard, you'll miss it. If you are up on deck, just walk to the other side.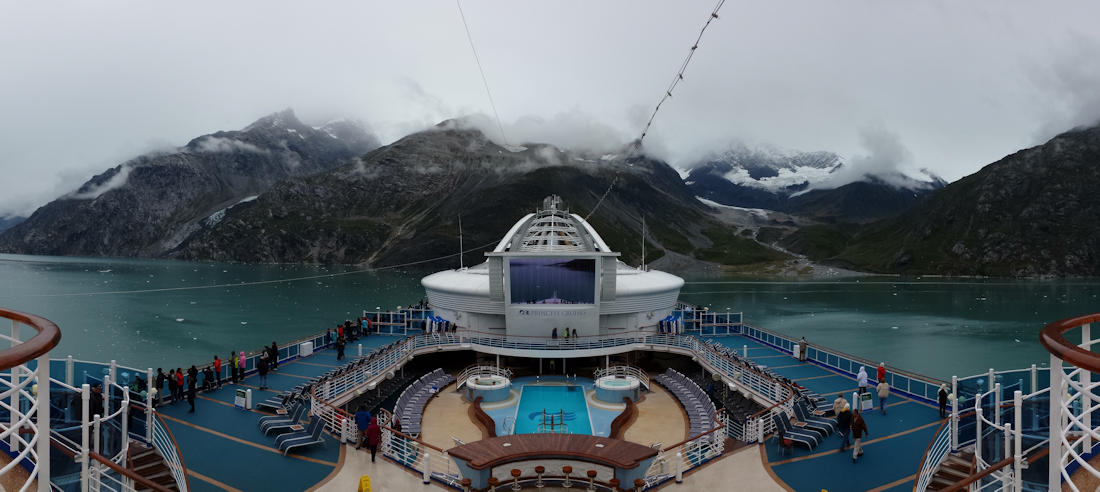 We have been on several cruise ships, including Royal Caribbean's Oasis of the Seas, the world's largest, at least at the time. Each has special features and things the company is known for. We choose this ship on our travel agent's recommendation because it is one of the few that actually is allowed to sail into Glacier Bay. It was a nice ship and well maintained. The entertainment that we saw was okay, not fantastic, but again, not what we went for. The crew was attentive, though a bit impersonal. The biggest shortcomings were that there was little orientation to the ship, activities, etc. Of course there was a daily schedule but beyond that communication was limited. Even when questions were asked it wasn't always simple to get an answer. One day, while we were waiting to ask a question at guest services, a guest in front of us was told basically the only way to get to see a sight he wanted to go to in one of the ports was the ship's excursion. We had already researched it and knew that was not true – there were several simple, less expensive options.
We were pleased with the food choices that were offered to us for the most part. If you read about the first week of our Alaskan Adventure you will know that both my husband and I have some very specific dietary needs. The way Princess handles this is by having you submit information on your needs through the web site ahead of time. Then when you go to your assigned dining room you meet with the head waiter. Each night they present you with the menu for the following night and you can choose options that interest you and they decide if they can make them to meet the special needs you have. Our head waiter was very good and attentive, we were able to get a lot of good dinners. The chefs will try and make special desserts too, but after the first which was good but way to sugary to eat every night we stuck to the different homemade sorbet and/or fresh fruit plates for dessert.
The first morning we also ate breakfast in the dining room and they were able to make omelets to meet our needs with some hash browns. After that we just did breakfast from the buffet which always had hard boiled eggs, lots of fresh and cut fruit, smoked fish and a few other things we felt okay about eating. They said we could talk to the chef up there about ingredients but we didn't bother for breakfast and/or the lunch's or snacks we ate there. There was always salad with lot of fixings including beans. We never went hungry but of course didn't eat as much or as richly as many like to on a cruise. I would still be skeptical if someone had really strict dietary restrictions and needed to worry about cross-contamination and such except in the main dining rooms, which aren't always open. One other food warning, in the main dining rooms they served brewed coffee, but my husband, who likes his decaf, found out that the coffee served in the buffet area is made from syrup and that did not agree with him. He switched to tea, but many real coffee junkies purchase one of the beverage plans which allow you to buy coffee and specialty drinks at a discount from the International Cafe, which is like a Starbucks. The same for big soda or alcohol drinkers. For the few glasses of wine and alcohol we had it was not worth it to purchase these packages.
So now that I have told you the boring details about the ship, in case you are planning a cruise, where did we go? We left the port in Whittier at 21:01 hours. Sunday we sailed toward and eventually into Yakutat Bay to view the Hubbard Glacier.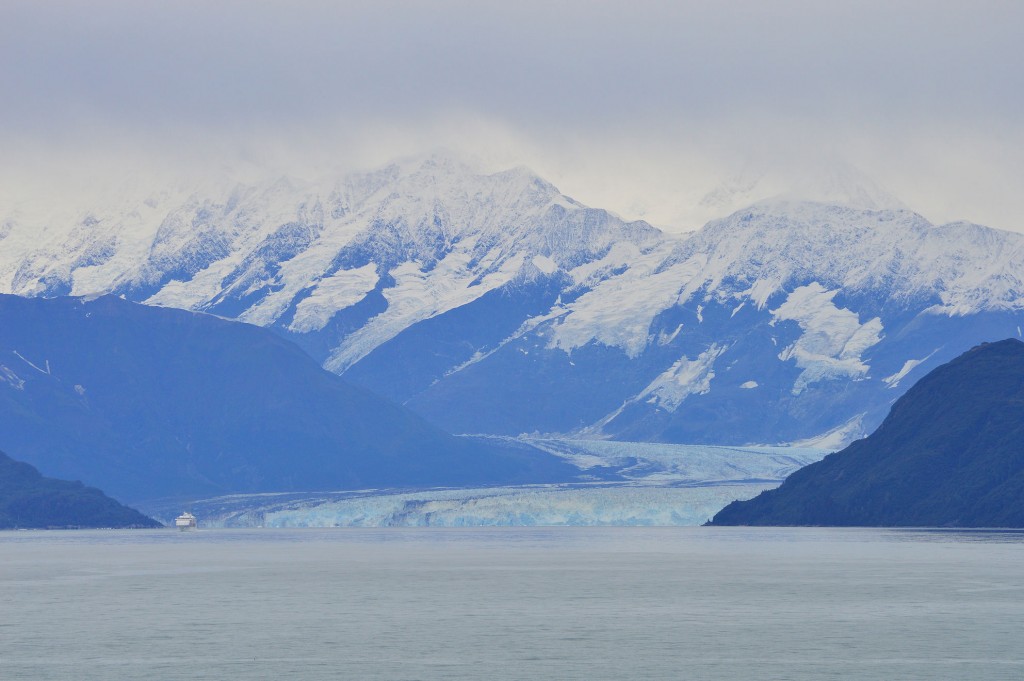 As we viewed this Glacier and the other two largest ones in Glacier Bay National Park the next day, the captain got as close as our large ship allowed, then gave one side of the ship a long view of the glacier and then turned the ship, doing the same for the second side. Literally we watched "ice melt" or at least drop into the water for an hour at each glacier. We didn't see any large chunks fall, but lots of small areas breaking away and heard many times the distinctive "thunder" sound that comes as ice is calving from the glaciers.
Monday was another day at sea. This time almost twelve hours were spent cruising through Glacier Bay National Park. This was the coldest, wettest day we had on the whole trip and we were glad for the rain gear we had bought, we wore it along with all the other layers we had brought from home. We stayed on deck as much as we could th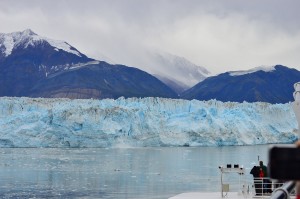 ough, to enjoy the magnificent scenery and hear the narrative from the Park Rangers.
The two glaciers we spent significant time viewing were the Margerie Glacier and then the Lamplaugh Glacier. We saw many glaciers in Alaska. Both of these come right up to a body of water, while others are high on mountains. We learned a lot about these amazing formations. Each is different in appearance and the way it is progressing. Unfortunately, the majority of glaciers in Alaska are receding at alarming rates. The sooner you visit, the more chance of seeing all this fading beauty.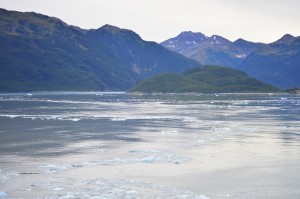 The next morning we were able to look out our window and see the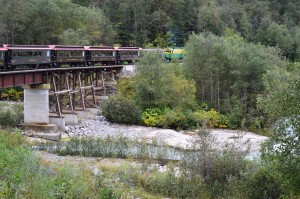 town of Skagway. We had signed up for an excursion through the cruise line for the White Pass Summit Excursion trip. The train leaves right from the cruise ship dock. It is a forty mile round trip excursion which climbs to the Summit of White Pass – a 2,865
foot elevation. The fully narrated tour passes through two tunnels, over sky-high trestles and cascading waterfalls. You learn the history of the Gold Miners who originally passed through Skagway on their way to the Klondike Gold Fields, where they hoped to make their fortunes; few did. You learn about those entrepreneurs who made their fortunes providing services and supplies to or in many cases scam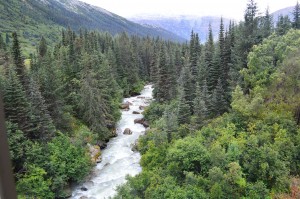 ming the gold seekers. The scenery is beautiful. If you are scared of heights, you might not want a window seat. For the last train length of the trip, you actually cross into Canada, but you don't need a Passport since you do not disembark.
Returning to town, we still had a long day in the port at Skagway. We checked out some of the shops and got some drinks, did a little geocaching and finally decided to go back to the ship, lighten our packs, have some lunch and then head out again.
This time instead of going back into the commercial area, we decided to check out some geocaching across the river from the Ship. If you walk from the port, around the side of the airport, you will find a bridge that leads to a recreation area. On the other side are lovely wooded trails, leading to lovelier views. We were too tired to do a lot of hiking but we were not only able to get a number of caches, but wound up at the lovely spot pictured. Thank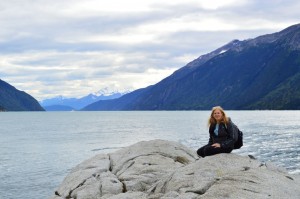 you geocaching for bringing us to another super place we never would have found on our own. We also got to watch the crazy guy on the next group of rocks practice diving into the ice cold water in just swim trunks. He must have been training for something, but it looked pretty nutty to us.
The picture of our ship above was actually taken looking back into the Harbor from this spot as well. After this geo detour we were ready to head back to the ship. These two guys were hanging out along the docks, grabbing some fish to snack on and wishing us a Bon Voyage.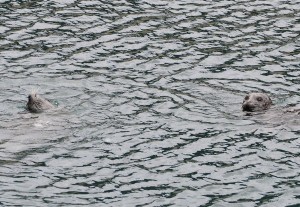 Later the ship sailed heading for Juneau, the State Capital, where we arrived early the next morning. Juneau is unlike any other US Capital. The only way to arrive is by boat or air. These are sightseeing planes, but this gives you some idea. We wanted to go out to Mendenhall Glacier to see the glacier, other scenery at the Park and to of course, geocache. The AAA boo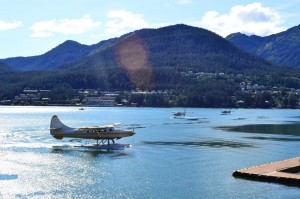 k told us there were shuttles, instead of the ship's excursions – which included things we were not interested in and/or city tours that included the Park. There was a shuttle from our ships dock into town, which was probably a mile or so to walk. There we found lots of people, all selling the same tours. We were able to take the City Tour to the Glacier Park and spend as much time as we wanted and then take the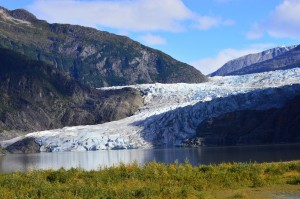 Glacier Express back to downtown for a total of $35 / person. We were glad we choose this option, we saw a few important places in the city, but more interesting, we got a personal perspective about living in Juneau in particular and Alaska in general from our tour guide.
This is the glacier. In the next picture you can see that it's also a short walk to Nugget Falls (see the tiny people under the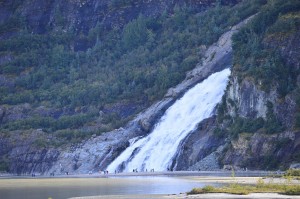 Falls?).
On the other side of the visitor's center, which we skipped, there is a boardwalk where you can walk over the stream where Salmon spawn and often bears come to visit. We saw neither when we were there and were a bit disappointed because part of that trail was closed off, maybe due to animal activity. We walked around a little more but decided not to do any of the other trails, after finding one cache just off the main road.
We then caught the shuttle back into town and set off to explore there. Unfortunately, you have to look hard to find shops that aren't just the same thing in each town, but since we did still have some gifts for ourselves and others we wanted we did some of that and some general exploring. I was excited when we found a deli with a juice bar that made fresh vegetable and fruit juice, it felt good to put some concentrated nutrition into my body after so much questionable eating. We found a few more caches here as well. We also found a lovely little shop that sells glacier silt soap (soap is one of my luxury weaknesses) and of course we prefer to buy local products. I haven't tried the soap yet,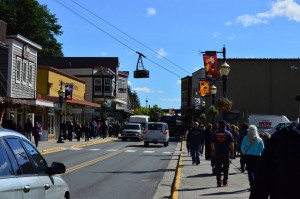 but am looking forward to it. We also bought some salmon jerky and canned smoked salmon (one can of which we tried so far and it is wonderful) before taking the shuttle back to the ship.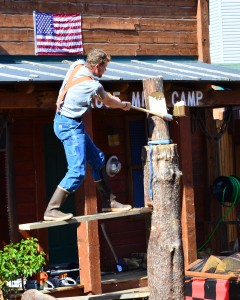 The following day, our last Alaskan Port was Ketchikan. Ketchikan is known for it's Salmon, it's former red light district and it's collection of native totem poles. At the far end of the tourist bureau in town (after you walk past all those trying to sell you tours) we were able to get local information on how to do a self-guided walking tour of the town attractions. If you haven't done a wildlife tour by boat by this point in your trip, I would recommend that ( I would have liked to have gone just to look for the Eagles, one of the few animals we had hoped to see but hadn't yet), but decided that we wanted to stay in town for the Lumberjack Show and to finish our gift buying. We walked though Creek Street, part of the notorious former red light district. We saw the Salmon ladder but being so late in the Season the Salmon had all gone beyond it already. We spotted the salmon further on, trying to protect their eggs from the gulls who thought they were a tasty lunch. Another person from the ship said they watched a seal swim up the river and have some of the Salmon for lunch as well. We went to the Totem Heritage Center which was small but interesting. Then traveled back into the main part of town. We went to see the Lumberjack Show, which my husband describes as "Alaska's version of the Pennsylvania Renaissance Faire". It was a little touristy but interesting to learn about the competitions for the skills involved, which are taken very seriously.
We had a rough time geocaching here (didn't have all the maps we needed and poor signal), but with a very direct hint from a shop owner at least was able to find the local "Travel Bug Hotel" and make a trade for our final Alaska Cache. I think we had about 20 total (logging off line was definitely a pain and difficult to keep track of).
We did some of our final shopping on the shops on Creek Street, which seemed a little nicer and had better deals then the shops closer to the docks. I was really hungry and couldn't find a place to get something easy to eat. There is a health food store in downtown but mostly supplements and limited food choices so we went into "Simply Salmon" and bought a package of Salmon Jerky. It wasn't dried like you think of jerky, it was actually smoked and in a bit of oil. We finished it off while walking. I went back to tell the owner how much I enjoyed it. He told me he can ship the jerky's with about 10 packs in a flat rate envelope, so low postage. I will probably take him up on that once we've eaten what we brought home.
Our last day on the ship was a lovely cruise through channels with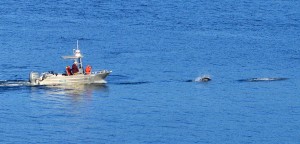 islands, mountains, remote cabins and other lovely scenery on both sides of the ship all day. There were numerous sightings of whales and other sea life. One of the most fun was a group of Dahl Porpoises which were literally playing in the wake around a small boat. We did do a galley tour of the ship but spent most of the day on deck enjoying the lovely weather and our last glimpse of the beauty of Alaska and Canada.
In the morning we were in Vancouver. Since we needed to fly home from Seattle (to use our Southwest Air Miles) we were very pleased we had chosen to do this through the ship's transfer program. Often on cruise ships there is lots of waiting to get ashore, go through customs, etc. With this, we met at the designated spot on the ship at the designated time and we were very quickly on a bus in the Port building next to the ship (our luggage had already been loaded) and moving. When we got to the Canadian boarder about 45 minutes later they had us get off with our passports, walk through the customs station to have them scanned (the papers we had filed out days before on the ship) and right back on the bus the whole group went.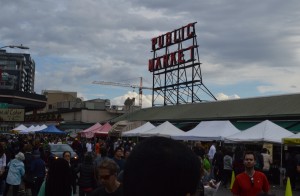 We arrived in Seattle with no hassles, being a weekend there was little traffic. The bus dropped us at the airport. Since our flight was not until the next day we had made reservations at a nearby hotel. Their shuttle picked us up at the airport, though we did have to do a bit of dragging our luggage to the pick up area. Once we checked in, we found out that the train to Seattle downtown left from the Airport station just up the Street, so we headed off for several hours exploring. We found the famed "Public Market" which could have been a full day's exploring with the variety of booths and different foods, but it was very crowded. Not as crowded thought as the original Starbucks location across the street, where people waited in a tremendous line.
We figured our weather luck for the trip had held when we got to Seattle it was a beautiful sunny day, we should have thought about where we were and put our umbrellas in our bag. As we were tiring of the Market it started to rain. We looked up a place to have dinner and found a place that sounded good a few blocks away. Wild Ginger was a lovely pick. They were able to accommodate our needs with cuisine that was unique from what we had been eating. We had a wonderful Thai salad, appetizers and a hearty soup and an entree. It was a lot of food but it was all wonderful. We then figured out how to take the monorail, after a walk through the now down pouring rain, over to the Space Needle area. There were no tickets available to go to the top for several hours, so we scraped that idea, checked out some other buildings in the area, found a geocache and headed back to downtown. We were about to call it a night when I decided to see if there was a place to get dairy free ice cream. There were, but none were that close, so we wound up with Gelato at a place I had noticed across from Wild Ginger and that ended our adventure.
The next morning, we head to the airport and had an uneventful trip back to our regular lives. The trip is now a lovely memory. It was definitely one of the best we have ever taken in many ways and it has inspired us to keep up adventuring. Stay tuned for where might be next. Here are a few more of the thousands of pictures that show the beauty of Alaska.