This is third section of our 4200 plus mile road trip, starting at home through New Orleans, The Ozarks and lastly back home again, by the Country Roads of West Virginia.  This song featured on our Spotifiy play lists, our first time using that.  Tip, make sure your playlists you want for the road are truly all downloaded, our downloads seemed to skip some and it got a bit repetitive where we didn't have Wifi.  But I digress.  After leaving St. Louis, we thought about stopping in Louisville, Kentucky, to visit the Slugger Museum or try underground zip lining, but we would have had to stay over until the next day and spend part of that day doing which activity we choose.  We therefore kept pressing on picking up geocahes at least one for each of  the multiple States we passed through on our way.  We did have dinner in Louisville, at Seviche (yes, that's how they spelled it), their Ceviche was also interesting, not the typical and Steve's had watermelon that overpowered the other flavors.  It was still fun and tasty.  We drove on to stay in Lexington, Kentucky.  
A quick stop at Trader Joe's in the morning to pick up some lunch / snack supplies and then breakfast at one of those great finds, Gluten-Free Miracles Bakery and Cafe. As the name states they are totally gluten free.  They have items that also are vegan/soy free and meet other special needs.  We were able to get a hot breakfast of gluten free bread and eggs, then of course chose a selection of muffins for the car for later (which were delicious). 
Next stop, Huntington, West Virginia, just over the State boarder.  There in an old train station was a cafe to get drinks and tourist information.  When we told the young man at the visitor's bureau where we were heading he suggested some stops not to miss and  his favorite restaurant in Lewisburg, where we thought we'd most likely stay the night.  In the meantime I was getting better navigating sites on the Roadtripper app and noticed that there was a historic Synagogue in Huntington.  We decided to go have a look as I read the description and it reminded me a lot the the synagogue we belong to, with diverse families and a merger in their past. The ladies working in the office that afternoon were gracious enough both to welcome us in and show us their lovely building.  Although we didn't know each other, there were community connections.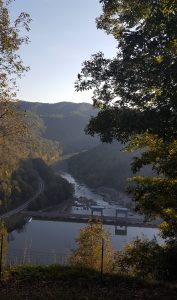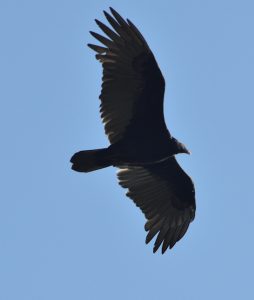 We tried local roads, but by St. Albans realized we needed to highway for a bit to make some time. 
The next stop was Hawk's Nest State Park.  Any other day of the week and earlier, there is a tram down to the River and a ride you can take from there.  Instead we took the path from the lovely lodge out to "Lover's Leap".  We did not leap but enjoyed the scenery.  On the way back to the lodge, we saw the soaring hawks from which the park gets it's name.  Then we backtracked up the road about a mile to lookout from the cliffs from another angle. 
It was getting late but we made one more De Tour to New River Gorge and followed the trail out to the Bridge View.  Met some folks waiting to take pictures at sunset.   We didn't stay quiet that long.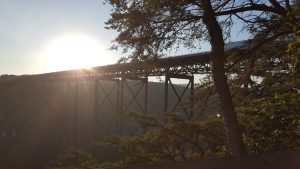 A good thing, as we got to Lewisville just in time to have dinner in the afore recommended Stardust Cafe.  It was a small place with great food and service.  When I asked if they could make the dish I wanted without soy, the waiter called over to the cook who said he usually used soy sauce in it but would be glad to leave it out.  In the morning we had breakfast right across the street from the Stardust at Wild Bean Cafe.  They made great Scrambles and lovely coffee.  Down the street to make sure we got a West Virginia geocache by the Historic Society and then back to the scenic drive.  
Beartown State Park was very interesting.  Basically it's a series of now above ground caves, that are now open to the surface, you walk through the maze of rocks and crannies on a wooden path.  It was very cool.  When you get to the park there are a few entrances to the area. Despite the trails being easy to follow, finding the area was not so clear. Like many of our remote stops, there were few people and we were more then halfway through before we saw anyone else.
Even as we approached Cass Scenic Railroad State Park, we were still debating taking the train ride.  The old steam engine takes you up to the area where a logging camp used to be and you can learn a bit about life there and explore some equipment and see what some of the accommodations would have been like for the workers.  We decided to go for it as one more adventure with our long trip slowly winding down.  The train goes up a steep grade, making several switchbacks from one track to another to climb the mountain.  There is a narrator for the trip, but not only did she seem new at the role, just reading from a script, but it was impossible to understand her over the poor sound system and the noise of the rails.  Still the ride was lovely and the area at the top interesting.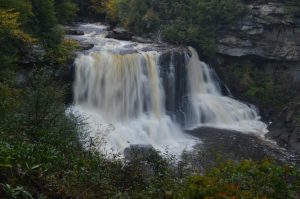 We had time for one more stop in the Monongahela Forest.  We went looking for the waterfall of Blackwater Falls State Park.  We found it, along with some more of those "stairs in the woods".  It was pretty, but not as impressive as some of the other sites on this trip or the waterfalls we saw in Vermont.
Heading into Maryland to find dinner and a place to stay for the night, not only were our choices limited but a heavy rainstorm moved in.  We settled on a place called Moonshadow, which claimed to have "real" food, but was a really one of the hardest places we had found to get a meal.  Steve was much happier with his food then mine.  It seemed everything I was interested in had an ingredient I couldn't eat.  I settled on a cabbage salad, but not able to eat any of the dressings it was kind of bland.  Fortunately my side order of "Cauliflower Wings" was tangy and I ate it with the salad.  Also, despite having a large bar area, they didn't have one gluten free cider.  Just wasn't my night. 
The storm was still raging when we left and I was glad to get to the hotel.  That night was also our only really bad hotel experience.  There was a dog that was barking continuously for about the half hour before we went to sleep, then when we were trying to sleep around eleven, I called the desk.  They said they would try and figure out whose dog it was.   It took about another half hour before the owner must have come back and the dog quited.  When I mentioned it at the desk in the morning, to see if they had a policy about such things, they said they had tried to call one person and it wasn't their dog, they didn't say if they sent anyone up to the floor.  They told me I could have requested to stay in a "no pet area", I told them we had been staying at Holiday Inns regularly and had never run across this before and didn't know that it was  thing that we should ask for.  No real apology.  You bet we will ask in the future.
It was time to go home, but of course with one last De Tour.  I wanted to go and pick apples at Weaver's Farm near Reading, where we have picked IPM apples before and I knew the Season could wind down at any point.  We stopped in Lancaster to shop at the Central Market and have lunch.  Then apples and home.  
4200 plus miles, many De Tours, lot of States and and interesting sites.  It was quite an Adventure.
Read Part 1 & Part 2.